Student's Art Portfolio Draws Attention to Real Life Issues
Even when he was three years old perfecting his stick figures, senior Daniel Wood has always had a passion and a love for art. Wood said that he didn't get serious about art until high school when he was able to start exploring with everything from pastels to sculptures.
"Art has just always been a way to express emotion or express something I'm thinking about, or just to relax in general," Wood said.
Wood's AP portfolio consists of pieces focused around a theme: the search for satisfaction or happiness. Wood said he came up with the idea because he saw certain things controlling his life that were taking away from his time with family and other things that are important to him. He said he also knew this was something others struggled with and wanted to create a portfolio that would not only challenge himself, but other people as well.
"To show a search for happiness I did an idea where I showed people trying to take flight in certain things," Wood said. "And the ways that they were taking flight, whether it's a hot air balloon which was one of my initial pieces, or wings or airplanes, was the things that they sought for happiness or just dedicated their lives to. And I wanted to show in many cases how that can be bad or damaging to other people, yourself, and who you turn out to be."
Wood said he loves metaphors in pictures and chose to cover topics in his pieces ranging from alcoholism, to body image, to even addiction to inhalants. With AP deadlines about every two weeks, Wood has eight pieces so far in his collection. He said if he had to pick a favorite, he would pick the seventh which focuses on the damage of success.
"This one was personal to me because I wanted to do a project where I kind of explored how seeking attention or fame or just any sort of success can be damaging to possibly having a good relationship with my family," Wood said.
Elizabeth Hough, Wood's art teacher, said Daniel has come up with the idea for every one of his paintings, but she has been able to help him think about how to execute those ideas. Hough teaches Drawing and Painting One and Two and AP Portfolio. She said that both as a student and as an artist, Daniel excels. She said that not only are his techniques strong, but his conceptual thinking pushes his artwork to the next level.
"I think a lot of times people look at Daniel's work and are both inspired and intimidated by it," Hough said. "I think that one thing is that he does have a lot of natural skill, but also he puts a lot of work into it. He takes stuff home, he works on it a lot at home. He has the kind of dedication and passion for it and that really shows in his work."
Wood, being recently acquainted with Instagram, created an Instagram account to put his work on a platform. He said he has enjoyed seeing that others like the work he creates.
"It's encouraging because I was hoping to challenge people with this portfolio," Wood said. "That was kind of the whole goal with it, to challenge myself and others. And it's exciting to see that other people are paying attention to it, and hopefully they're just taking into mind what the message is."
With his hopes set on going on a pre-med track in college, Wood said he also hopes he will be able to consider art as a minor. Through the messages he portrays in his work, Wood said he hopes to push others to share what they have to say.
"If you're an aspiring artist, the biggest thing I would say is to be confident with what you put out," Wood said. "Every artist or person has something to say and I think that your opinion is valid and it needs to be shared because there's going to be someone who relates to you or could possibly be changed too by your artwork."
About the Writer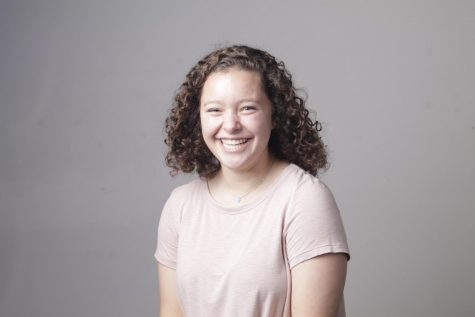 Emily Kutler, Wired Co-Editor-In-Chief
Hi my name is Emily Kutler! I am the Co-Editor-in-Chief for Westside Wired this year. I am currently a senior and this is my third year on Wired. If you...