Season Preview: Boys Basketball Looks for Success Following Coach's First Season
After finishing his first season as head coach with a 11-13 record, boys basketball head coach Jim Simons has high hopes with a season under his belt. With junior Jadin Booth and senior Chase Thompson being the 1st and 3rd highest returning scorers in Nebraska combining for 37 points per game, the Warriors shouldn't miss a beat.
"Our expectation is to try to maximize our potential and to be the best team that we can be," Simons said. "There's obviously some talk that we'll have a chance to be a good group and we think we will and we hope that wins and losses will follow that."
Although the Warriors have many strengths, Simons acknowledges that their size could be a problem.
"We are a smaller team and probably haven't worked on rebounding enough," Simons said. "We were outrebounded pretty significantly by Skutt in the scrimmage."
Simons said he believes that the team's chemistry is very strong this season, partially because they have many returning varsity players.
"They spend a lot of time together and we have a lot of guys back from last year," Simons said. "A big thing for us [is to] solve problems together and do it together," Simons said. "That to me is a big focus of ours."
The Warriors went on a 14-0 run to start their scrimmage against Skutt, and Simons said he believes that big start was mainly caused by their strong defense.
"We came out with really good energy, we played really hard, and we were really disciplined," Simons said. "Defensively we caused a lot of issues for them, we were able to get a number of turnovers, get out and score in transition, and really had the game at a tempo that was to our liking. It was a great start and that's how we hope to play."
Watch the Warriors start their regular season at home this Thursday, Nov. 29 at 7:15pm against Lincoln North Star, following the girls game at 5:30. The theme will be Tie Dye/ Hippie, and tickets will be $4 for students and $6 for adults.
About the Contributor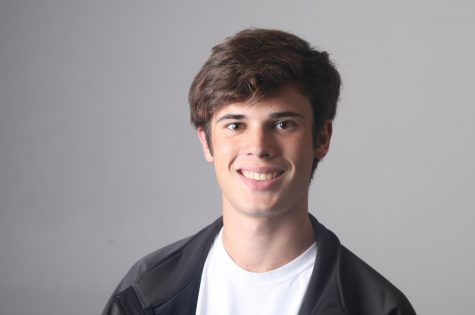 John Maier, Sports Journalism Staff Writer
Hi my name is John Maier! I am a staff writer for Sports Journalism this year. I am currently a junior and this is my second year in Journalism. If you...