Deca Students Create 5K to Raise Awareness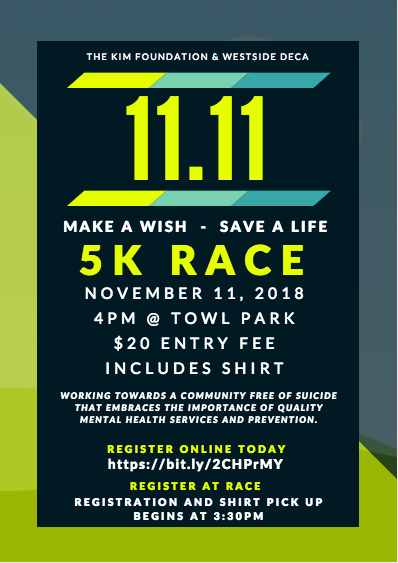 Westside Deca will be hosting a 5K race to raise awareness for suicide and suicide prevention, this Sunday, Nov. 11. Three students have been organizing the race for their Deca project: juniors Reagan Fehr, Abby Hellman and Meghan Maynard.
"The race is going to be held on November 11th, 11/11, and we're using the phrase 'make a wish to save a life' since a lot of people view 11:11 a special time and it's popular to make wishes during it," Fehr said.
All profits earned will go to the Kim Foundation, a nonprofit organization that promotes suicide prevention and mental health awareness, which is the primary subject of the 5K. Fehr said her family is very involved with the Kim Foundation, due to experiencing a loss in the family caused by suicide.
"My family is really involved with the Kim Foundation, after everything that's happened, because we really like their mission of increasing mental health awareness and ending negative stigmas with it," Fehr said.
Hellman discussed how the idea of the 5K was formed and why the topic of suicide prevention is a large factor in their project.
"[Suicide prevention] is a topic really close to Reagan, and [Deca instructors] Schau and Harmon wanted to do something with it," Hellman said. "Yes, it's a sensitive topic, but it's also needed and they wanted someone who felt passionate about it to do it. So when Reagan asked me to join, I said yes."
Deca instructor Sarah Schau said she believes the 5K will bring people together.
"I think it's a great opportunity for the community and students and friends and family of anyone that's been impacted by suicide, or mental health issues to come together and spend time," Schau said.
Hellman said they have received many donations from sponsors, which will go towards their end goal of reaching $10,000.
"So far in sponsors, we have around $4,150, and our goal is to raise $10,000 by the end of the week," Hellman said. "[The $20 entry fee for the race] goes towards the Kim Foundation and the t-shirts and stuff in their swag bags."
Schau said she is hopeful that the 5K will spread awareness regarding mental health.
"The point of it is to kind of create awareness around the cause, so I'm hoping that's the impact it will have and that people continue to think about it and spread awareness around the issue and be ok talking about it," Schau said.
Fehr, Hellman, and Maynard also hope the 5K makes a positive impact and increases the discussion of suicide prevention and mental health awareness.
"I'm just hoping to raise money because [the topic of suicide prevention and mental health awareness] is an important thing and not everyone realizes that people are struggling," Hellman said. "I'm hoping that people come together and have a fun time, it's for a good cause, and raise money for the Kim Foundation." 
Your donation will support the student journalists of Omaha Westside High School. Your contribution will allow us to purchase equipment and cover our annual website hosting costs.
About the Contributor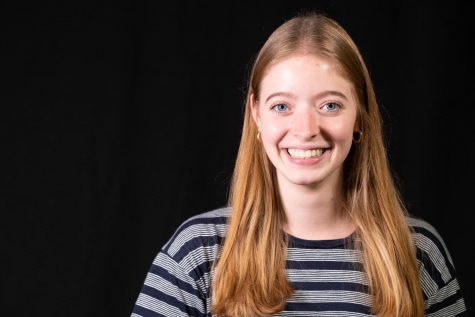 Claire Benson, Wired Co-Editor-In-Chief
Hi my name is Claire Benson! I am the Co-Editor-in-Chief for Westside Wired this year. I am currently a senior and this is my third year on Wired. If you...