RECAP: Volleyball Looks Towards Bright Future After Improving Record
Lead by second-year head coach Korrine Bowers and her six-year assistant coach Kristi Filipi, the 2019 Westside varsity volleyball season ended with a winning record of 18-17. Bowers led the team to their first winning record since 2011, with their highest accomplishment being second place in districts against highly ranked Papillion La-Vista. Coach Bowers explained how she feels about her team's successful season.
"You'll see towards the end, some of those freshmen started becoming leaders," Bowers said. "I really think that this [next year] it's only gonna continue to grow. But overall 'heck yeah' I'm just static, I feel like Westside volleyball has made a statement and it's because of the kids and they believed in the process. They believed what Kristi [Filipi] and I put forward. If we didn't have them believing in it, I don't think I could stand here saying that I was happy about the season. It's just a combined team effort." 
Sophomore outside hitter, Madilyn Siebler has played with Westside since coach Bowers's first year. Siebler has seen much improvement in the program since then and sees it as a whole new chapter for Westside volleyball.
"Korrine [Bowers] was new last year so that's a whole new chapter in itself," Bowers said. "Just considering how the stats show it, I think our chemistry shows it. We have a first winning record this season since 2011. All of us are really close, from everything I heard from the past, it hasn't really been something to be proud of being a part of Westside volleyball. Now I think it definitely is."
With the end of any high school sports season, the loss of seniors is inevitable. For this season, those seniors players are libero Marissa Koch, middle blocker Izzy Nahayo, and setter McKenna Nemecek. Junior specialist Natalie Bratetic explained how she feels about becoming a leader as a senior next year.
"I think that next season, we're gonna bring a lot more and we're going to step it up because we're all really determined to go farther than we did this season and I'm really excited," Bratetic said. "I thought that this season was a huge improvement from my freshman year and sophomore year; because I was playing at a higher level with higher-level girls."
Bowers felt that she ended the season off on a good note, and she said she doesn't see any need to stop the process of improving Westside volleyball. A couple weeks after earning second place in districts, Bowers implemented postseason leadership courses for all her future 2020 varsity players.
"I wanna talk about more direct leadership/situational leadership,"  Bowers said. "Where I'm gonna bring situations to the classroom and talk about how they would resolve that together as a group [on the court]. We have to teach how to talk on the court. It's no longer turning around and 'Let's go guys or come on or pass the ball'. It needs to be exact, directed at them, constructed, and needs to be specific. Right now saying 'come on guys we got it or good job' that's not gonna take us to the next level. It was proven already that from last year to this year we've taken big steps. Now we have to put forth that effort outside of the season. We have the athletes to do it."
In classes, Bowers is assigning players to read one chapter of The Energy Bus every week. The Energy Bus is "about 10 rules to fuel your life, work, and team with positive energy". Bratetic expressed her thoughts on having to read the book.
"Well, I'm not really a fan of reading,"  Bowers said. I'll still do it because this is a responsibility of mine. If I don't do my part, it'll bring the whole team down."
Bowers said her inspiration for these classes came from the feedback of her players and things she's noticed on the court.
"A lot of them have asked for this," Bowers said.  "They asked 'Hey, I don't know exactly what to say to my teammates, can you help me with that.' I've come to realize, no kid knows what to say to their teammate. Because no one has really had a mentor or coach to say 'when you're in this situation, this is what you need to say.' I know Kristi [Filipi] during practice we'll take those opportunities to grab the kid and say 'This just happened and this is what you need to say next time'."
Bowers sees her two years of coaching as just teaching her players basic volleyball skills. She now feels it's been taught and that it's time to introduce the "mental side" of it. 
"In the last two years, we've had to really focus on fundamentals," Bowers said. "That's taken away from a lot of this work we're going to be doing now. So, showing those kids how to react, what does it mean to be a competitor. How do you encourage your teammate next to you? I want more of an aggressive approach [next] year, more [competitiveness] like you'll do anything to win the match. We had that at points this year but I feel that with this group, they have that volleyball experience through club and I think they're really just true competitors. We also happen to have a good incoming class coming in and I hope it'll only add to this."
For the 2020 volleyball season, Bowers looks to fill her roster full of experienced and already trained players. To do so, Bowers is planning leadership courses along with preseason lifting and workouts. Even with Bowers trying to plan a flexible training schedule for her players, she's going use the attendance of training to determine who wants to play and be a leader in 2020.
"I'm thinking [in] April we'll start with weights," Bowers said. "That's a big-time [commitment] for club volleyball so I know a lot of these kids won't be here for weights. It's up to them if they want to show leadership, to show that they want to earn that captain's position next year. This is also their time to start becoming a leader [and] figuring out what it takes to be [one]. Because even though you've had your weight conditioning [during club] doesn't mean you can't be here for your team, to cheer them on or work on a different body part in the weight room. So, I really hope to see somebody step up and be those leaders."
Bratetic gives a word of advice to any volleyball or non-volleyball player looking to be a part of next year's roster.
"The most that you can do if you want to play [is coming] to open gyms and all [the] weight [training] because that helps get a feel of the culture here, to see if you like it or not," Bowers said. "That really helped me when I first got here."
Bowers expressed her final gratitude for all the support given to her team. Including the pride it has given her players to be able to play as Warriors for Westside.
"I just want to thank [parents, Red Shield, and Westside] for their support all year round, following us on our Twitter, and making great comments," Bowers said. "It says a lot to play for your high school, it means a lot more to you. The girls always say 'Let's play for our students, let's play for our school' and to wear that W on your chest when you're playing, that's who you represent." 
On Saturday, November 16th, Bowers and her team will seal the 2019 season with a banquet set to have memories, goodbyes, and recognition from coaches, seniors, and players. 
About the Contributors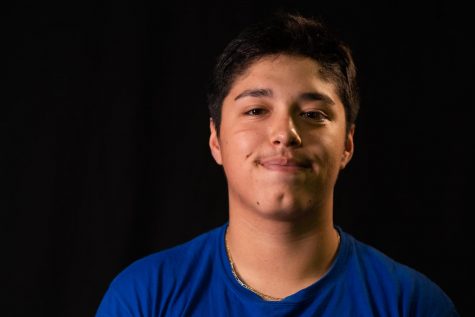 Nathanael Monjarez, Sports Journalism Staff Writer
Hi, my name is Nathanael Monjarez! I am a staff writer for Sports Journalism this year. I am currently a junior and this is my first year on Sports Journalism....