Creative Writing Club hosts student led author's reading.
The Creative Writing Club will be hosting an author's reading on Thursday, April 20 to publicize works that members have been working on. 
Club sponsor Laurie Welch said the club focuses on providing professional events to its members, such as the author's reading. 
"We wanted to do an author's reading because it is a practice that people who go on to write, to be published or to pursue writing do," Welch said. "It's a professional event that the real authors out in the world do, and so we wanted the club members to have some experience with this kind of event. They're very invested and they all are real authors."
During regular club meetings, Welch says original pieces are edited to a high standard, preparing them for future pieces as well as author's readings. 
"We take the time and really kind of pull [a piece of writing] apart and give things that we loved, things that we were confused by, things that we hope that they would improve, so that they get real feedback from other people who care about the craft too," Welch said.
Club member Addison Franklin says the event provides benefits to both the expected audience and the writers.
"It's important that we have at least a little bit of an audience for the experience to feel authentic for both the readers and the listeners," Franklin said. "I want the audience to get the opportunity to witness the immense amount of talent that the young authors at this school have to offer. My peers are all so immensely skilled and getting to hear their work is an invaluable experience. I am definitely most excited to give the spotlight to some people at our school who don't necessarily get the attention as often as they should. A lot of our members are very shy and reserved, but their creative spark can speak for them."
Welch said that the audience will also bring more opportunities to the club. 
"I hope that the Westside Community and those that go to the author's reading gain an appreciation for the vulnerability of readings, [to] just appreciate what that takes the courage it takes to get out there and read your work to a group of strangers, and can really appreciate the creativity and dedication of our authors," Welch said. "These students have worked really hard and we have a lot of fun. We are a brand new club and we have no budget and so it would be really cool if people liked what they saw and wanted to donate to us."
Franklin says the club is not only made up of writers, but a group of students who have developed a close friendship.
"The Creative Writing Club is a very tight-knit community of friends, and I am very grateful for it every day," Franklin said. "We have so many talented authors among our membership, and I am so indescribably happy they all have the opportunity to share what they can do. Ms. Welch, of course, is a lovely teacher and a wonderful club sponsor. She consistently goes above and beyond for the club, doing a lot of the work for this reading such as securing the date and making the posters. Our club wouldn't be the same without her, and that's something all of our membership can agree on."
Welch noted the importance of readings for the club. 
"It's really easy as a creative writing club to just be in the shadows and live only on the page and no one knows you exist," Welch said. "But in this way, we say 'hey, we're here'. We're a new club, we're awesome. The greater excitement is just having a space where students can share their work is really important."
Anyone interested can check out the Writing Club's author reading Thursday, April 20 from 3:30 to 4:30 after school.


Your donation will support the student journalists of Omaha Westside High School. Your contribution will allow us to purchase equipment and cover our annual website hosting costs.
About the Contributor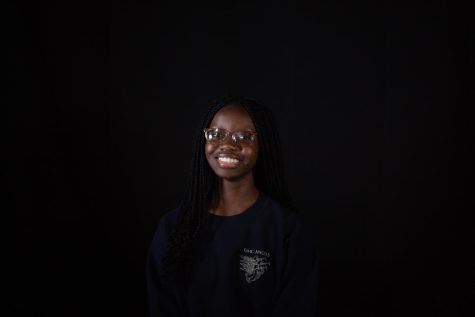 Tanatswa Chivero, Wired Managing Editor
Hello, my name is Tanatswa Chivero! I am a managing editor for Westside Wired this year. I am currently a junior, and this is my third year on Wired. A...