Editor's picks for Class A football playoffs: Part 2
Round 2 State Football Picks:
UPSET OF THE WEEK: Bellevue West over Gretna
PLAYER TO WATCH: Isaiah McMorris, WR, Bellevue West
GAMES:
#1 Omaha Westside (9-1) v.s #8 Lincoln SouthWest (8-2)
Grace's pick- Westside
For round two I am going to start off my predictions with another Westside win. Last week this Warrior team came out ready to play with a 59-21 finish against the Monarchs last week. This Warrior team continued to look promising as we saw a massive accomplishment from kicker Tristan Alvano making a school record with a 57 yard field goal. I think we will also continue to see speed from quarterback Antony Rezac who has 12 total touchdowns for the season. 
Jordan's Pick: Westside
Westside dominated behind another four touchdown game from Anthony Rezac against Papillion-Lavista. The Silver Hawks held on against Millard West at home to win 31-17. Cal Newell rushed for 213 yards and a touchdown, as the Silver Hawks only passed five times. I don't see a reason why the Warriors should be on upset alert this week. 
#12 Millard South (8-2) v.s #4 Grand Island (6-4)
Grace's pick- Millard South 
This game is going to be a tough one to predict, but I am going to have to go with the Millard South Patriots to upset the Islanders. This Patriot team has stuck it out all season fighting for a chance at the title. Now both teams have talent but the Patriots have their quarterback Cam Kozeal back who started last week against Kearny. This matchup will be a close one but Millard South will advance onto the next round. 
Jordan's Pick: Millard South
Both these teams got the job done last week. Millard South stomped on the Bearcats in Kearney, and the Islanders scraped out a close one against Omaha North. This should be a great game that I could see going either way. In the end, I'm still riding with the Patriots to face Westside in the semi-final. 
#3 Elkhorn South (10-0) v.s #11 Creighton Prep (7-3)
Grace's pick- Elkhorn South 
The Jr. Jays have fought hard this season keeping close scores with top ranked teams or just completely blowing out their opponent. They did show promise last week shutting out North Platte who previously beat the number 1 ranked team Omaha Westside. But Elkhorn South is undefeated and have shown their marking on Memorial. With Cole Bellard backing South the blue jays will be going home on Friday night. 
Jordan's Pick: Elkhorn South
The Junior Jays came out and surprised everyone (not me) last Friday night, as they obliterated the North Platte Bulldogs, 27-0. The Bulldogs had no answer for Charmar Brown and Ezra Vedral, who had a pair of TDs. Elkhorn South dominated Lincoln East behind a ridiculous game from Cole Ballard, who rushed for 246 yards and five touchdowns. He's now tied for 5th in the country for touchdowns scored at 38 on the season. The Storm dominance will continue, and Prep's season will come to an end.
#2 Gretna (10-0) v.s #7 Bellevue West (7-3)
Grace's pick- Gretna 
This Gretna team has dominated across the metro area in the regular season games. Last week Lincoln Southeast did stay neck to neck with the Dragons as they only beat Lincoln by 3 points. Bellevue West does have a chance to stay close to this Gretna team but in the end the Dragons will be on top wanting another shot at keeping their title. 
Jordan's pick: Bellevue West
I think everyone agreed that Gretna got hosed with their draw. There's no reason an undefeated team should have to take on a team like the TBirds, loaded with the D1 talent they have, so early. 
Your donation will support the student journalists of Omaha Westside High School. Your contribution will allow us to purchase equipment and cover our annual website hosting costs.
About the Contributor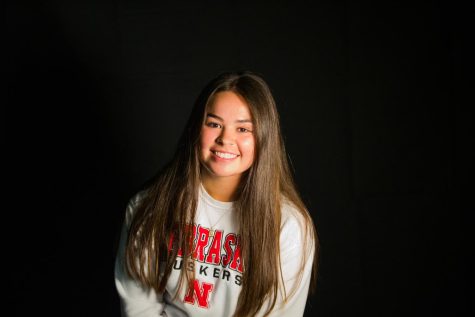 Emma Vondra, Sports J Photographer
Hi, my name is Emma Vondra! I'm a sports photographer for Sports Journalism this year. I'm a senior and this is my first year in Sports Journalism. If...