94th Academy Award Winner Predictions: Animated Feature, International Feature, Documentary Feature, Original Song
Animated Feature: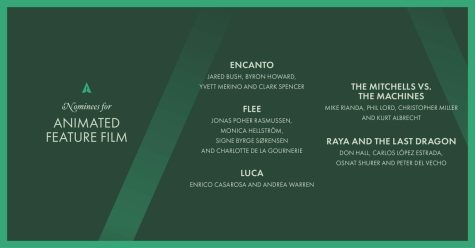 Will Win: ENCANTO
Could Win: LUCA
Should Win: THE MITCHELLS VS. THE MACHINES
It's incredibly irresponsible on the Academy's behalf that any movie released before October of the preceding year is lucky to even be nominated for an award, because it surely won't win anything. "Encanto" is winning this award and I'm not quite sure why, because it is the weakest in this lineup by a long shot. Disney has never won Best Animated Feature the same year it was nominated alongside a Pixar film, and this year with "Luca" losing will be Disney's first victory against its fellow partnering studio. "The Mitchells vs. The Machines" should be dominating this category because of the film's strong message and equally maximized entertainment value. "Encanto" was a slogfest and had family values that have been done countless times before, even by the same studio. I'd be happy with anything else winning over the eventual victor, and it's very disappointing how the Oscars can't break any sort of recency and popularity tradition.
International Feature: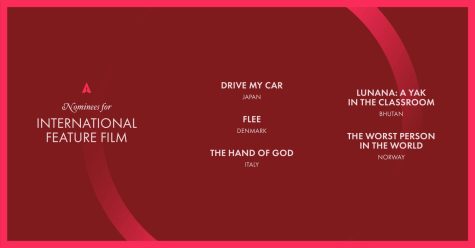 Will Win: DRIVE MY CAR
Could Win: THE WORST PERSON IN THE WORLD
Should Win: THE WORST PERSON IN THE WORLD
"Drive My Car," this is a no brainer. Why would an International film be nominated for Best Picture, yet also lose to something else in its own category, say "The Worst Person in the World." If that were to happen, it wouldn't make any sense. Why wasn't "The Worst Person in the World" nominated for Best Picture or Best Director? The only reason I have it at my number two spot is because it's the only other nominee here that managed to get into another above-the-line category in Best Original Screenplay. The only reason it's my preferred winner is because I haven't been able to see "Drive My Car" yet, because here in the midwest, movies that aren't blockbusters apparently don't exist in major theater chains' eyes. "The Hand of God" is a very uninspired nomination given to a film that was tedious to get through, especially since that, and "Lunana: A Yak in the Classroom" took the spots of Asghar Farhadi's "A Hero." The snub of Julia Ducournau's "Titane" was devastating as well – it was a bit too much for me, but I can't say it wasn't worth nominating. Lastly, if Spain had been smart and decided to push "Parallel Mothers" as its country's film, it would be winning. It was directed by previous winner Pedro Almodóvar, and is tied for the second-most nominations by an international film this year.
Documentary Feature: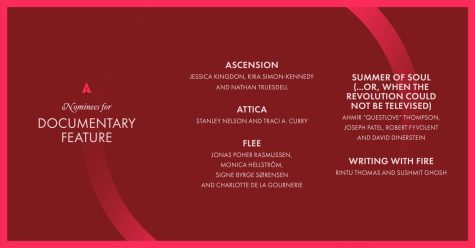 Will Win: SUMMER OF SOUL (…OR, WHEN THE REVOLUTION COULD NOT BE TELEVISED)
Could Win: FLEE
Should Win: FLEE
It's amazing "Flee" was nominated for all of the three of the categories it was in high contention for.However, it more than likely won't win any of them. This is the one category I feel where it's the best of the bunch. "Summer of Soul" doesn't have too much competition here, but it does lack in purpose where it triumphs in craftsmanship and originality. "Ascension" is too random. "Attica" is interesting, though too basic compared to its fellow nominees, and"Writing With Fire" is lucky to even be nominated. The Oscars continue to snub the frontrunner in precursor awards with "The Rescue." This is another award I feel will follow in the tracks of popularity and talent, and I don't mind Questlove winning an Oscar.
Original Song: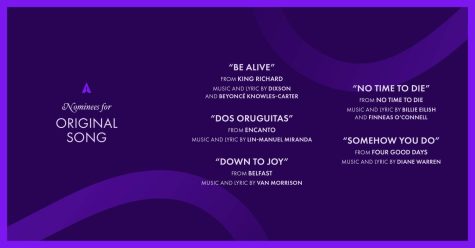 Will Win: "NO TIME TO DIE," NO TIME TO DIE
Could Win: "DOS ORUGUITAS," ENCANTO
Should Win: "NO TIME TO DIE," NO TIME TO DIE
James Bond songs have done incredibly well in this category over the past decade. Adele won for "Skyfall," and Sam Smith won for "Writing's on the Wall" – despite being widely disliked. Regardless, outside of the terrible Van Morrison nomination, this is a solid group of nominees. Whether Billie Eilish, Lin-Manuel Miranda, or Beyoncé win, each one will be one-hundred percent earned. If Miranda wins, this would make him an EGOT. Although, Disney made a mistake for not pushing "We Don't Talk About Bruno," and if he does win it would most likely be for the soundtrack as a whole, and not the one song. If Eilish wins, she would become one of the youngest winners in this category. Continue not to count out Diane Warren because she's been nominated once again – still no wins – and time's come due. I believe "No Time To Die" deserves this most of all because of the gorgeous credits intro design in which the plays over. That, and this is just the best song in the category, but I'm very disappointed Ariana Grande and Kid Cudi's "Just Look Up" from "Don't Look Up" wasn't nominated.
Your donation will support the student journalists of Omaha Westside High School. Your contribution will allow us to purchase equipment and cover our annual website hosting costs.
About the Contributor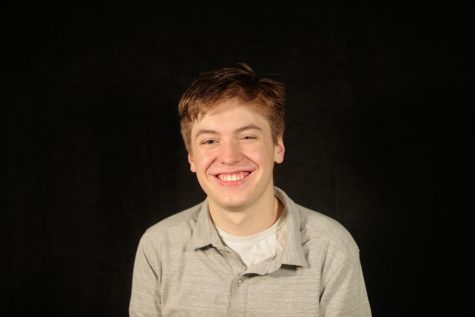 Brandon Siedlik, Wired Staff Writer
Howdy, my name is Brandon Siedlik! I am a staff writer for Westside Wired this year. I am currently a senior and this is my second year on Wired. A fun...