Signing Day Feb. 2: Westside Athletes Get Ready for the Next Level
Westside had a busy signing day on Wednesday, Feb. 2 sending nine student-athletes to the next level. A whopping five of those will be pursuing football in college, rightfully so after they were key contributors in helping lead Westside to three straight state championship appearances, including their first title win in 38 years. With wrestling, baseball, track, and bowling being the respective sports of the other four signees, Westside athletics has been thriving.
  Running back Dominic Rezac blossomed into a superstar during his senior season, when he rushed for 1,411 yards and scored 22 total touchdowns.. Rezac broke the school single-game rushing record with 308 yards against Papio South, reaching paydirt four times. He will be continuing his athletic and academic career at Air Force Academy.
"I loved being around the football program every day at Westside," Rezac said. "The community support we have at Westside is second to none and I am grateful for that."
Grant Guyett dominated during his senior year at Westside, leading the state in receiving touchdowns with 17. Guyett wasn't fazed in the big moments, setting the school and state record for touchdowns in a playoff game (4). He will be showcasing his talents at Minnesota State University in Mankato.
"I chose Mankato because of the relationships I made with the coaches and the opportunities they gave to me to play at a high level and grow as a student and as an athlete," Guyett said. "I am going to miss all the relationships I made with my teammates and coaches and just the brotherhood." 
Defensive end Cole Haberman was one of the heartbeats for Westside, leading the team in tackles and tackles for losses. This past season he recorded 61 total tackles and five sacks, proving his importance to this Warrior defense. Haberman will be continuing his football career at Morningside University.
"I chose Morningside because I built really strong relationships with the coaches and the players," Haberman said. "What I really liked about Westside was going to practice with my brothers and the coaches. I am definitely going to miss the brotherhood and the relationships I built with everyone."
Jack James was the leader of Westside's dominant offensive line that defied expectations in 2021. He was one of the biggest factors in allowing ample time for Westside's two quarterbacks, and helped open up holes for Westside's explosive rushing attack. He will be joining Haberman at Morningside University next year. 
"I think the coaches are really great there [at Morningside]," James said. "The overall culture is good and obviously the success they have had the past couple of years. The thing I'm going to miss about Westside is going on a journey with your teammates and just to achieve something great. That is what sports is all about, and I made great memories."
Jackson Yeager is a two-sport athlete at Westside, participating in baseball and football. Despite being a key player on the offensive line, the first baseman/pitcher is taking  baseball with him to the next level. Yeager will be continuing his athletic and academic career at McCook Community College.
"I chose McCook because I was given a great opportunity to develop for two more years and move on to a bigger school," Yeager said. "I am going to miss going out there with my teammates every day, and I am going to miss my coaches just getting on the field and competing all the time."
Noelle Abels has been exceptional in her four years running track for Westside. Setting her personal record freshman year with a 19:44.1 in the 5,000 meter, Abels hasn't slowed down since. She will continue to run at University of Nebraska Kearney.
"I chose UNK because when I went there the coaches were just amazing and I immediately bonded with the team," Abels said. "I am definitely going to miss my Westside teammates and coaches, they were wonderful to be around every day. I don't know where I would be without them."
Noah Aken was one of the bonafide leaders on the wrestling team and was awarded the KB Wrestling Scholarship this year at Westside Wrestling's Senior Night following a 25-9 start to the season and sixth-ranking in the 145 lb class. Aken is heading to William Penn University in Oskaloosa, Iowa and will compete in the Heart of America Conference. 
"I'm looking forward to wrestling at the next level, meeting new people and new experiences," Aken said. "I'm going to miss my team and coaches, and the bond we made over the four years I wrestled at Westside."
The final signee of the day was Westside football's Ryan Zatechka. Zatechka is headed to play football for the NCAA DII Augustana Vikings, a part of the Northern Sun Intercollegiate Conference following a 9-3 season. Zatechka was one of the biggest pieces to Westside's dominant three man defensive set at the line that took the Warriors to the Class A State Championship game in 2021. 
"The reason I chose Augustana is that it made me feel like home," Zatechka said. "I am definitely going to miss the people and the coaches and going out there with my teammates every single day."
Westside holds pride in the success of these hard-working student athletes, and they'll all be looking forward to achieving new heights at the collegiate level.
Your donation will support the student journalists of Omaha Westside High School. Your contribution will allow us to purchase equipment and cover our annual website hosting costs.
About the Contributors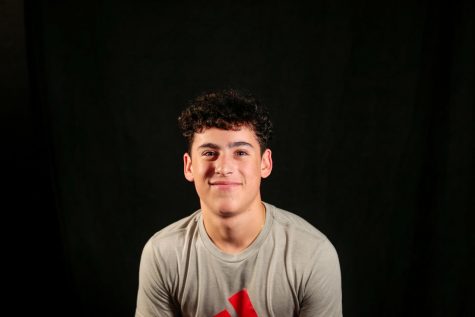 Noah Atlas, Sports J Writer

Hi, my name is Noah Atlas! I'm a writer for Sports Journalism this year. I'm a sophomore and this is my first year in Sports Journalism. If you have...
CeCe Gerard, Sports J Photographer
Hi, my name is CeCe Gerard! I'm a sports photographer for Sports Journalism this year. I'm a junior and this is my second year in Sports Journalism. If...