What to Watch For on Election Night
Note: If you are unfamiliar with the way the electoral college and presidential election work, you may want to seek more information. The national popular vote does NOT choose the winner of the election. 
On Tuesday, Nov. 3, the presidential election between former Vice President Joe Biden and President Donald Trump will come to an end. Biden has an enormous lead in the polls, up 9.9% in FiveThirtyEight's polling average. Trump, the incumbent president, has struggled in the polls since early in his term and has recently fallen much further out of the race than ever before. His handling of the COVID-19 pandemic has been widely criticized, and his debate performance on Sept. 29 was seen by analysts as one of the worst of all time. On election night, we will find out if the president can hold on to his job for four more years. 
Take election night results with a grain of salt if they seem too good for Trump. Far more Democrats than Republicans voted by mail and may have their ballots counted later. However, in good scenarios for Biden, this will often be irrelevant and the race will be decided election night anyway. This only matters if the race is competitive. 
The most important states are these: Arizona, Florida, Ohio, Pennsylvania, Texas and Wisconsin. These six likely decide the election because of their large electoral vote totals and close races. In addition, one candidate is only slightly favored in these states: Minnesota (Biden), Georgia (Trump), Iowa (Trump), Nevada (Biden), Alaska (Trump), Montana (Trump), Michigan (Biden), South Carolina (Trump) and North Carolina (Biden). 
Early in the night
Remember, early in the night you will likely not know, and these numbers will shift as the days go on and more votes are counted. However, it is likely that enough votes will be counted on election night to declare a winner in most states. Remember that results from the East Coast will still be coming in late at night and often shift toward Biden as the hours wear on and more cities report. This is just a guide to the first things to watch. 
If you're a Biden supporter…
Watch for a possible lead in North Carolina. Polls there close at 6:30 p.m. Central time. Smaller counties could give Trump an early lead, but if Biden is above 40% in the suburbs of Charlotte or leading in the suburbs of Fayetteville, he may coast to the White House. These critical counties just outside the Democrat-heavy cities will decide North Carolina. In the national picture, Biden does not need to win this state. However, online poll analyzer FiveThirtyEight's computer model indicates that in scenarios where Biden wins North Carolina, he wins the White House 99% of the time. If Trump wins the state, Biden is still far more likely to win nationally. This state could be the key to an early knockout of Trump. 
If you're a Trump supporter…
Hope to hold Ohio and Pennsylvania. Ohio is one of the closest states right now, despite Trump winning it easily in 2016. In order to have any hope of winning, Trump absolutely must win one and preferably both of these states. Trump is unlikely to win Pennsylvania without Ohio. If Trump is doing well, expect Biden's totals in two of Ohio's largest cities to be below 5%. If Biden breaks 55%in Cincinnati or Akron, Trump may be seriously struggling. On the other hand, if Trump is holding these cities within ten percentage points, he still has a hope at holding on. Moving to Pennsylvania, the results are going to be questionable on election night due to a recent Supreme Court ruling. However, if Trump can hold onto his wall of rural and suburban support in Pennsylvania, he has a chance at holding on. The FiveThirtyEight model indicates if he wins both states, Trump has a 73%chance of winning re-election. Unfortunately for Trump, however, polls indicate this is extraordinarily unlikely and requires some shift of public opinion in the last ten days of the race. 
Once Polls Close in the Midwest
For Biden supporters…
If Biden has been doing well in the East, leading in (or has already won) at least two of the following states: Pennsylvania, Florida, Ohio or North Carolina, then Biden can put the pressure on Trump. We will start to see Iowa, Wisconsin and Minnesota report by 9:00 p.m. Central time. These three key states largely decide whether or not Biden can wrap up the election easily. The most important state in the entire election is likely Wisconsin. If Biden wins it, almost all hope for Trump is gone unless he wins both Pennsylvania and Ohio. If either of those two have already gone for Biden or Biden has a clear lead, Wisconsin is Biden's chance to knock Trump out early. Watch the cities of Green Bay and Kenosha; if either has turned blue, Trump is in trouble in this state. 
For Trump supporters…
The same analysis goes for Trump in Wisconsin, but if he has done well in Pennsylvania and Ohio and appears to be holding both of them, he does not necessarily need Wisconsin. There is only one state Trump has any hope of picking up that Clinton won in 2016—Minnesota. Trump's numbers have improved there while they have plunged throughout the rest of America, and Minnesota is a good way to compensate for a loss in Wisconsin. So watch for Wisconsin first, but if Trump is doing well in Minnesota that is an acceptable substitute. 
Late Night 
By now, there are really two scenarios. We either know who is winning in most states, or there is chaos. It may well be that the vote-by-mail count will distort the numbers and Trump will appear to be winning now. If that's the case, you really shouldn't worry or celebrate a Trump victory without getting all the ballots counted. 
For Both Candidates…
All eyes are now on Arizona (unless WI/PA/FL were close). By now we likely have an image (depending on vote-by-mail counts) of who is doing well and who is doing badly. Those in the media will explain in detail how this works on election night, but it's easier than you think to predict based on incomplete numbers, because we know what precincts are still unreported. So the image should be reasonably clear by now unless Trump has greatly outperformed expectations. If he has, Arizona decides the election. Right now it looks very likely that Biden will win here, but if Trump has made a national comeback he could clinch re-election in this state. The counties to watch are… all of them. Arizona has a highly unusual electoral layout with Republican cities and more remote areas voting Democrat. For the best indicator, look to Phoenix, where Trump won by a handful of points in 2016. 
In the days and weeks after
Right now almost everything makes clear that if Trump does not do something to greatly increase his popularity in today or tomorrow, he cannot win. Unlike 2016, the polls are not close. A few bad state polls were the difference in 2016, and there simply was not the polling error that both Trump and Biden's supporters are now convinced there was. The entire time there was a very good chance of Trump winning, and while most polls had Trump within a few points, most people just failed to acknowledge he could win. 
The idea of "2016!" being a meaningful reason to doubt the polls only goes so far. Right now, Biden's lead is between two to three times as big as Hillary Clinton's was. It is well outside the range of polling errors. If Trump wins, he changed something. Will he do it? Will his last debate performance help or hurt him? We'll know on election night. 
Or not. Questions about mail-in voting raise an even more shocking possibility—nobody will know the winner on election night. And then, most people expect the loser to say the election was "fake" or "rigged.".\ If this happens, expect a mess in the courts that could very well destroy the system we know so well. No matter what side you are on, let's hope the winner has a big margin. 
Your donation will support the student journalists of Omaha Westside High School. Your contribution will allow us to purchase equipment and cover our annual website hosting costs.
About the Contributor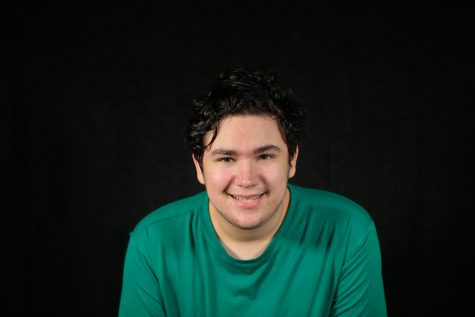 Dan Magruder, Wired Staff Writer
Hi, my name is Dan Magruder! I am a staff writer for Westside Wired this year. I am currently a junior and this is my third year on Wired. A fun fact about...