Westside Hosts Students Teachers Throughout Several Departments
Student teachers study under various Westside instructors and often eventually take over that instructor's class for awhile. Westside hosts many student teachers every year, ranging through several departments. Featured here is an inside look at three student teachers studying at Westside right now: Davis Clouse, Katelyn Hinderer and Derek Porter.
Social studies student teacher David Clouse served in the Air Force for six years. In 2016, he left the military and started taking classes at University of Nebraska Omaha in 2017. Clouse will graduate in May 2020. He said that he discovered his passion for teaching while working in the Air Force.
"I was active duty in the Air Force for six years, and while I was in the Air Force, I was a staff sergeant of all the troops that were under me," Clouse said. "I was in charge of training them [and] preparing them for deployments [and] PT tests , and making sure they were up on their certifications," Clouse said. "I found that I really liked that mentor aspect and training and teaching people, and I figured that would transition well into teaching."
Hoping to become a social studies instructor in the future, Clouse said he is teaching many different classes within the subject.
"I'm currently teaching in Government and Modern U.S. History, and I'm also teaching a Current Events class," Clouse said. "I'm really open to any subject in social studies, but I'd probably say history and geography are my favorites."
Katelyn Hinderer is another student teacher at Westside, studying music education. Hinderer said she began her teaching career because of her interest in leading others.
"I just really love kids, and I have a really strong passion for teaching and leading other people," Hinderer said. "My mom will say that I've wanted to be a teacher since I was four years old."
Hinderer said she already has learned a lot from the staff and students at Westside.
"I am learning so much from Mr. Johnson and Mr. Woodin, and all of the amazing students at Westside," Hinderer said. "I feel very lucky that I am student teaching here."
Hinderer graduated from Millard West High School and is currently studying at University of Nebraska Lincoln. She said she already has received an offer next year for a teaching job in Nebraska.
"My end goal for my career is to stay around this area and teach secondary choir," Hinderer said. "I actually just got my first job as a teacher at La Vista Middle School so I'm excited to start there next year."
Derek Porter, another student teacher at Westside, graduated from Omaha Central High School. Porter then went on to earn his first degree at UNO and is currently studying at Creighton, getting his Masters in education. Porter is currently student teaching for various english instructors at Westside. In order to coach basketball for a living, Porter discovered he needed to pursue a career in education. Although he began teaching mainly for basketball, his time in the classroom led him to realize how much he enjoyed teaching.
"The thing that got me into education originally was coaching basketball," Porter said. "I coached some club basketball over the years and realized that it was something I wanted as part of my life-long career. Basketball is what got my foot in the door, but once I started pursuing it I realized how much I loved being in the classroom."
Porter said starting out student teaching at Westside was difficult because of the unique scheduling system. 
"The [modular] scheduling isn't something you see a lot of places, so it was a bit of an adjustment," Porter said. "Now that we are in the second semester though, I'm feeling really comfortable with it." 
Porter said that he hopes to make a positive impact on his future students.
"My end goal for my career is to be an impactful teacher and to have a classroom that it built on a culture of trust," Porter said. "If I can retire and know that I had a classroom that students enjoyed, students had fun in [and] that they learned a lot through, I would have had a successful career."
Your donation will support the student journalists of Omaha Westside High School. Your contribution will allow us to purchase equipment and cover our annual website hosting costs.
About the Writer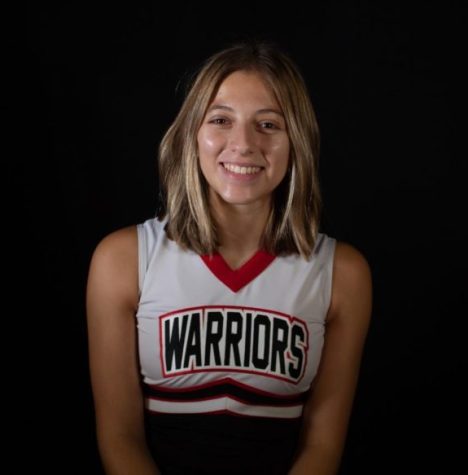 Ainsley Meyerson, Wired Co-Editor in Chief
Hi, my name is Ainsley Meyerson! I am a Co-Editor-In-Chief for Westside Wired this year. I am currently a senior and this is my fourth year on Wired. A...