Teacher's passion for helping grows through experiences
Hang on for a minute...we're trying to find some more stories you might like.
A wall lined with drawings of characters and inspirational quotes that she once said, sits above the desk of educational assistant, Megan Kennebeck. Kennebeck has been working at Westside High School for two years and has developed strong relationships with her students throughout her career.
"I love this job because of the kids, I absolutely adore them and I'm very blessed to be working with kids every day," Kennebeck said.
Kennebeck has been working with kids with different types of needs since she was 18 and worked at Boys Town previously. Kennebeck said she got burnt out at Boys Town after seven years of working with children removed from foster care due to abuse or neglect. When she was at Boys Town, one of the most memorable stories Kennebeck has, was handling a situation where a young girl thought she was a cat and had nine lives. Kennebeck said the girl went up to the roof and tried to jump off but Kennebeck and her coworkers had to negotiate her off of the roof.
"She started using her cat language and ran out of the house. At that point the police were called," Kennebeck said. "She then found a way to get up the side and she got up there and we were trying to talk her down. We couldn't go hands on obviously because she wasn't harming herself or others, so we were trying to talk to her using all of the tools we learned, but at that point it's mostly just, take it easy don't jump."
Kennebeck's past with children allows her to be a role model for her students. One student, Piper Cole, said Kennebeck is always positive and a really great person to be around. Cole said the two tell each other everything.
"She's a really good person to be around and to talk to," Cole said. "She gives really good advice and helps me a lot with my work and is always positive."
Kennebeck said she has always known she wanted to work with kids, even throughout her childhood. She said she has always wanted to help people and her mom tells her that has been a trait she has had her whole life. Although Kennebeck considers her childhood to be normal, her relationship with her four sister as kids, shaped her passion for helping people.
"She used to snap her fingers (my older sister), and I had to make myself into a chair so she could sit on me," Kennebeck said about her connection with her older sister as a kid.
The gray cement wall covered with student's drawings is one example of her passion for her job. The wall began this year when Kennebeck's students began taking awareness of her constant positivity.
"The wall started in the beginning of the year and Miss Megan would always say 'you make my heart smile' so the students started writing for the wall," Cole said.
Kennebeck received an Associate's Degree from Iowa Western and a Bachelor's Degree from Bellevue University to allow her to pursue her passion. Kennebeck loves her job because the constant change makes everyday different. Kennebeck says she wants her students to know how much they're worth and hopes they can all succeed.
"Unfortunately I've been to several funerals for my kids because they've been murdered or taken their own lives," Kennebeck said. "I've seen both sides of it."
Having students that come to her for educational support and emotional and behavioral support, is why Kennebeck said her passion is to see kids work to their best ability no matter what type of disability they have.
"Every child should feel like they have someone who believes in them and their dreams for the future." Kennebeck said.

About the Writer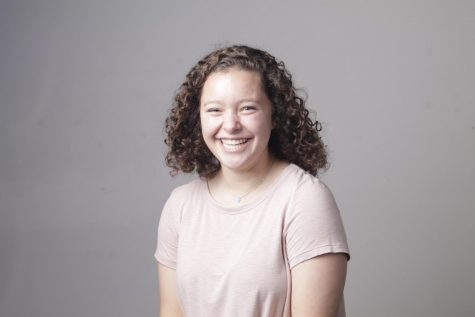 Emily Kutler, Wired Co-Editor-In-Chief
Hi my name is Emily Kutler! I am the Co-Editor-in-Chief for Westside Wired this year. I am currently a senior and this is my third year on Wired. If you...