Westside High School Band Takes Part In The "Sounds of Excellence" Competition
Westside High School Band members took home second place in the preliminaries on Saturday, Oct. 9, during the "Sounds of Excellence" Competition at Elkhorn Stadium. 
Sophomore Nish Singh said that the band could not participate in the finals due to the fact that Homecoming was the same night.  
"In the preliminary competition, we got second place and we didn't have finals this time because of Homecoming," Singh said.
Singh also said that the band ensemble works diligently to prepare for their competitions every week. 
"It normally consists of doing marching fundamentals during evening night rehearsals on Mondays," Singh said. "[We also] have morning rehearsals at 7 a.m. on Tuesday, Wednesday, Thursday and Friday. [Looking back at previous competition scores], we hear what the judges have to say in a recording so we can apply that to our next competition."
Singh said that competition days are a lively experience, and that there are opportunities to get feedback and see other groups perform. 
"It normally consists of getting there pretty early in the morning, around 10 a.m., and then we eat most of the time or get snacks and then we change into uniforms," Singh said.  "We warm up an hour before our performance and you only get fifteen minutes with the judges each time after we get off the field. If we have time we will go and watch the preliminaries and other people performing as well."
COVID-19 caused bands all around the country to not be able to perform in competitions last year, and Singh said that this caused a setback in the skill-level and readiness for the band's first competition. 
Singh also said that it was difficult for her to be constantly watched by a judge during their performance. Once the ensemble performed their first show though, Singh said they improved. 
"The first time we did really bad because we basically have like two years worth of Freshman because of [COVID-19] and not having competitions last year," Singh said. "In that experience, it's also really scary to see a judge right up front criticizing you, staring at your feet. It was nerve-wracking the first time, but after a couple times it gets more fun and the nervousness goes away."
Senior Gavin Gillespie also attended the Sounds of Excellence competition as a member of the band ensemble. He said that mental preparation is a critical part of getting better during performances, especially looking back at past performances. 
"When we're on deck waiting for the band before us to finish their performance, I close my eyes and run through the entire show through my head, making sure that I remember things that we might have changed between the current performance and the previous one," Gillespie said. "I also think about my bad habits and remind myself that I need to eliminate them during the performance." 
Even though Gillespie mentally prepares before each show and works hard during rehearsals, he says that he still struggles with nerves during the show.
"I'm always very nervous during my performances, and our performance [that] Saturday was no different," Gillespie said. "Even though we've worked on the show for many months now, I'm always very nervous because it's very easy to mess up." 
Even before stepping inside the stadium, Gillespie says he and other band members always have fun on the bus rides to their competitions. 
"My favorite thing about competition day is the bus ride to and from the competition," Gillespie said. "We always have a speaker with a microphone in the back, so the entertainment is endless."
Gillespie said that he runs into several challenges that could hinder his performance skills. 
"It's extremely difficult to not get over excited during the performance, because it can lead to bad tone, technique, or time, which will dock us points," Gillespie said. "When you're in the moment, it's very easy to get carried away and overplay during certain sections, so staying mentally engaged during the performance is key." 
To keep updated on the Westside band's performance during competition season, check out @WestsideHigh66 on Twitter.
About the Contributor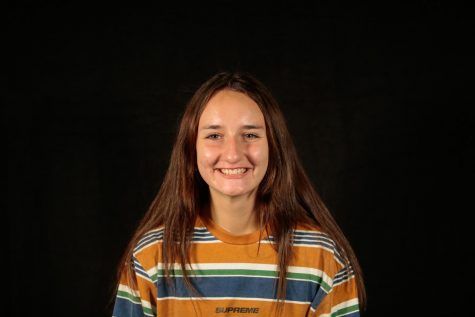 Sammy Marvin, Wired Staff Writer
Howdy, my name is Sammy Marvin! I am a staff writer for Westside Wired this year. I am currently a sophomore and this is my second year on Wired. A fun...