Girls Cross Country Ends Season at State
On Saturday, Oct. 10, the girls cross country team traveled to Kearney to compete in the state meet. They spent the week prior to the race physically resting to save up energy for the big race. Noelle Abels, junior and captain of the girl's team, discussed the team's preparation prior to the meet.
"We talk about our strategies and what we're going to do and our goals and then we'll go and carbo-load," she said. "[The day of], we always try to stay in a positive mindset. Before the race, we weren't thinking about the race. It was so cold we were just thinking about staying warm."
The team has seen a range of different types of courses throughout the season, but the course at Kearney is only used for state so that none of the teams can practice on it and use that to their advantage. The westside cross country team and coaches had come up with strategies to help adjust to the course set-up and difficulties.
"It's a really hard course. We all had a strategy where after the [second kilometer] we were supposed to make a move and catch a pack of 20 girls. It was super hard," Abels said. "Because it is the state meet, all of the girls want to go out at an 18-minute [five kilometers], and if you do that you burn out at the end."
Abels also mentioned how the cold may have had an effect. The low temperature in Kearney that day was 34 degrees, nearly freezing. This is colder than the team had dealt with at any meet in the regular season.
"I think if it was warmer we could have definitely run faster," she said. "My feet were frozen the entire time."
The team placed eighth overall out of the 12 teams competing. Abels mentioned how many of the Westside runners stuck to their plan and what went well for them.
"We all did make a move at the [second kilometer], and we didn't go out too fast," she said.
One of the coaches of the team, Jonathan Preister, gave credit to the team as a whole for their hard work at the state meet.
"At the state meet, we couldn't have asked for the better performance. Almost every single girl [achieved a personal record] or ran a [personal record] on that course," Preister said.
Claire White, a freshman and a school-record holder on the team, made it a goal to hang with the more experienced runners of the race. She had to alter the original team strategy in order to compete with Kaylie Crews, a senior from Papillion-La Vista South. White and Crews had been neck-and-neck in all of Westside's four in-season meets. Crews came out above White two times out of those three times.
"Claire had to make her move before the [first kilometer] because that's what Kaylie Crews was known for doing," captain Noelle Abels said. "There was like a pack of four girls together, including Claire, until the fourth [kilometer]."
Claire White placed fifth in the meet, below Kaylie Crews who placed third. Noelle Abels, along with Reece Young-Oestmann, also placed in the top forty of 96 total runners.
Coach Jonathan Preister expressed his pride in the team for their hard work put in throughout the season.
"I think that there were all kinds of improvements that they made as runners individually, from Claire White all the way down to our last runner," he said. "As a team, they really banded together and started to really buy into the team aspect of cross country."
Because there are no seniors on the girl's cross country team, the entire team will be returning next season along with the next year's freshman class. Coach Preister spoke about the youth of the team and how this year can help motivate them for the years to come.
"Their goal as a team should be to challenge [themselves and] be one of those top three or four teams," he said. "If they all put in the off-season work they should all be ready to compete with anybody in the state."
Your donation will support the student journalists of Omaha Westside High School. Your contribution will allow us to purchase equipment and cover our annual website hosting costs.
About the Contributor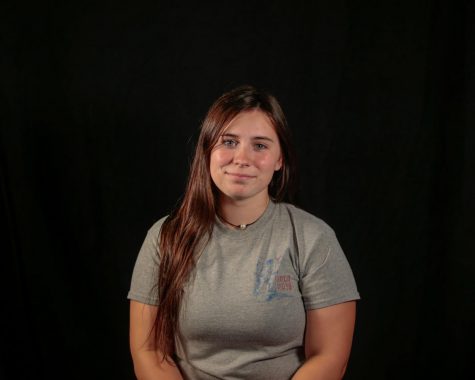 Natallie Pease, Sports J Writer, WTV Live Tech Producer
Hi, my name is Natallie Pease! I'm a writer for Sports Journalism this year. I'm a senior and this is my second year in Sports Journalism. If you have...