Westside Boys Basketball Bounces Back in Second Weekend of Action
The Westside varsity basketball team was successful during their back-to-back stretch this past weekend. The Warriors started off against Omaha North on Friday night, winning 64-47. Following that up, the team would blow-out Norfolk 85-64 the next afternoon. Starting sophomore Tate Odvody, scoring 18 points against North and 20 against Norfolk, was a big difference-maker in Westside's wins. Not only was Odvody in double-digit points throughout the weekend but double-digit rebounds as well (11). This would give the Warriors much needed help in the paint. After a rough loss against Millard North opening weekend, Odvody feels confident going further into the season.
"Just short term memory, moving on to the next game and focusing one game at a time," he said.
After losing seniors Ryan Adkins and Carl Brown, the Warriors' size seemed to be their biggest weakness coming into 2020. After transferring from Elkhorn South, Odvody has stepped up as a strong force in and outside of the paint. After a rough first weekend, Odvody felt he and the team had to clean some of their mistakes up from the previous games. Being more efficient on defense and taking advantage of rebounds were their main concerns.
"Getting into the paint and kicking out, finding your teammates for open three's and my teammates knocking down shots. We really changed up our defense," Odvody said. "We've been trying to pressure more because that is what gives our offense trouble is pressure. We've been working every day in practice pressuring the ball and getting in the passing lanes."
Head coach Jim Simons and the Warriors still have a lot to improve on early in the season. A group in which none of the top eight leaders in minutes are seniors, Westside looks to continue to grow as a young core and get themselves to their best going forward. Although comparatively limited on offense this year, the Warriors' defense has allowed the fourth least points per game in Class A this season.
"We are certainly much better at this point defensively than we were last year," Simons said after Friday night's  Omaha North win. "I thought in the first three quarters we were really locked in with our equal size across the board, we were able to switch a lot of stuff and we did a really good job at that."
The Westside Warriors look forward to their next opponents Omaha Benson, who this last weekend lost brutally to the Millard North Mustangs. Looking to capitalize and continue their momentum, Westside hopes to come on top against the Bunnies on Friday, Dec. 18 at 7:15 p.m.
About the Writers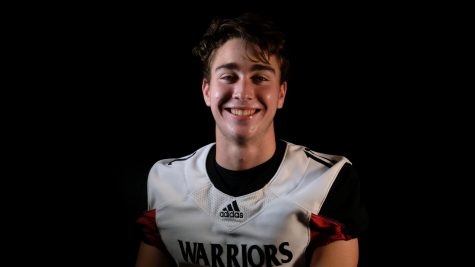 Tristan Alvano, Sports J Writer
Hi, my name is Tristan Alvano. I am a staff writer for Sports Journalism this year. I am a freshman and this is my first year of Sports Journalism. If...