HATCH Program Offers Insight into the Business World
Westside's School of Entrepreneurship, also known as HATCH, is a student-driven program offered to seniors interested in business. HATCH is not an acronym, but was named by the senior students of the 2017-2018 school year. Students are able to choose their own schedule, scheduling four mods a week with business teacher Jeanette Kleppinger. HATCH students also meet on Wednesday mornings as a group. During these mods and outside of class, students work on their individual projects as well as work with businesses in Omaha. Kleppinger said that she believes Westside has a really strong business program, and HATCH helps the students gain real-life experience.
"It's a whole idea of dreaming big, learning by doing, and taking those risks, and then figuring out when it doesn't work out for you and how to pick yourself up because they don't all succeed, and that's okay," Kleppinger said.
Currently, there are 13 senior students in HATCH, as well as one junior, Bryson Wood. A few students have created their own business and are working towards managing them. Others are working with businesses in the Omaha area. Senior Sawyer Barnhart owns his own landscaping company and is currently working towards developing an app to help landscapers.
"As I've run the landscaping company, I've figured out that it's really hard to manage the daily needs after everyday of work," Barnhart said. "So I've wanted to develop an app that could change the daily needs of a landscaper or an independent contractor."
Senior Owen Jansen has created Build Fishing Skills, a fishing company for beginner anglers. Currently, he said he is trying to find a way to make it more feasible for high school students, including transactions through PayPal. Senior Bram Sullivan has started an advertising business connecting community businesses to the high school. He has also been working with Road 2 Eagle, a Boy Scouts program, to help the scouts work towards accomplishing the rank of Eagle Scout. Senior Katie Duggan has been working on an app called 'Community Service' for the past two years. She said that she is hoping to automate the process of Westside students receiving credit for their volunteer hours, as opposed to filling out paperwork. Seniors Biruk Tewodros and Kellen Goc have been working on planning and hosting a networking event for teens across the Omaha area, including a local business owner to speak in front of the teens.
"Our goal is to provide a professional environment for young people to learn important skills for the business world," Tewodros said.
Goc, along with seniors Alec Folsom, Jordan Bowen, and Cedric Homan, have also partnered with Nebraska Furniture Mart [NFM]. Together, they are working on different aspects of helping NFM, such as designing a landing page for their See's Candies website and helping improve their customer service.
Bowen, Jansen, Tewodros, as well as seniors Kaelyn Mettler and Nick Connelly, are working with American National Bank [ANB] at their corporate office on 90th and Dodge. They have two main goals. One is to increase their retention rate for new hires and to create a video on the history of ANB.
Senior Matthew Sutej is working on creating a solution to help the "at home workout" market to maximize the weights they currently have and overall gain a better workout. Senior Rachelle Tomasek is looking at careers in accounting, as well as following through with job shadows.
"In order for communities to grow, we need entrepreneurs, we need risk takers, we need people to build the workforce; so I'm super excited to see that these kids are taking on that role and starting at this young age," Kleppinger said.
About the Writer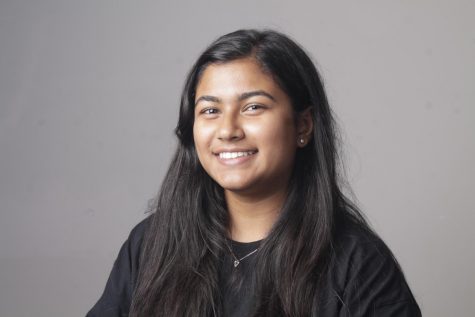 Simmy Niroula, Staff Writer
Hi my name is Simmy Niroula! I am a staff writer for Westside Wired this year. I am currently a junior and this is my second year on Wired. If you have...