Westside Basketball Continues 18-Game Winning Streak
The Class A Boys District basketball tournaments begin across Nebraska later this month.  The next three weeks will be crunchtime for the Westside varsity boys basketball team.
The Warriors are 19-1, and ranked No. 1 in Class A, heading into their final four games of the regular season and their feet won't be coming off the gas any time soon.
Over the weekend, Westside blew past Millard West and Bellevue East, winning both games by upwards of 30 points. The victories served as a great refresh from their close wins the previous week.
"We thought last week we didn't play how we wanted to play," Coach Jim Simons said after the game Friday night. "Our transition game didn't get going, we didn't share the ball as well as we had been. It was a big emphasis this weeked to try to get back in transition, share the ball offensively and be a little more disruptive defensively. I thought we did that this weekend."
It's imperative that the Warriors play to their highest potential every game, especially with post-season play so close. The past weekend was a great way for them to start building momentum into the end of the season.
"We're starting to get ready for Districts and State so we can't take our foot off the pedal," said senior Charlie Davis. "We have to keep moving. Last week, we didn't really play very well. Today, I think, was a good start for the end of the season and one of our big goals is to play well in transition. We did that really well tonight."
Davis scored a career-high 22 points in the game on Friday night. He was able to connect on five 3-pointers, solidifying the Warrior's lead over Millard West of almost 40 points by the end of the game.
"I love when teams play zone defense because that's when I can shoot 3's because I'll be wide open," Davis said. "I'm glad I could finally get 20 points in a game. I needed that in my high school career. I wasn't really feeling it when I shot those but they went in and I'm happy about that."
Davis isn't the only Warrior who set a new personal record for points in a game. Reggie Thomas, a four-year starter on the team, scored 25 points on Saturday against the Bellevue East Chieftains, contributing to the Warriors' season high 90 points on the night.
"It just felt good," Thomas said. "The shots were falling in and it was an all around fun game. I just felt good about it."
David and Thomas are just two guys on a team full of Warriors that know how to get the job done on the court. That's what sets Westside apart from so many teams in Class A: their depth. The Warriors are more than a strong starting five, and it's allowed them to maintain a high level of intensity no matter who they have on the court.
"It makes your job as a coach a little bit easier when you have the depth of talent that we have. The best part about this team is that there's a different guy in the spotlight every night," Simons said. "We have enough quality players that, if a guy or two has an off night, somebody else is there to pick him up."
This Saturday, Feb. 12, the Warriors will participate in the Heartland Hoops Classic, a showcase series for the top high school teams in the Midwest. Westside will face Grand Island, a fellow Nebraska Class A competitor. The Islanders have had a rocky season this year, and they rely almost entirely on senior Isaac Traudt. Traudt is a four-star commit to Virginia, has put up 23.8 of the team's 54.6 average points per game.
Traudt is backed by Dylan Sextro and Andy Poss. Poss has the second highest average of points per game at 8.8, and Sextro has the second highest total on the team of both offensive and defensive rebounds. Despite Traudt, Sextro and Poss's talent, the Islanders have failed to make the Class A top 10.
"We just know it'll be a fun game this weekend with better competition than we've had in the past couple weekends," senior Chandler Meeks said. "We're trying to work game-by-game, so we'll get ready for it after Central on Friday."
With only four games left in the regular season, the Warriors are preparing to face some of their toughest opponents. Currently, Westside is ranked third in the NSAA wildcard standings, even though they've been rated No. 1 by the Omaha World Herald for six weeks straight.
With upcoming games against No. 4 Omaha Central and No. 5 Gretna, the Warriors could improve their wildcard standing, giving them a backup route to the state tournament. Coach Simons is ready to push his team on the court, and he's looking forward to the next few weeks of competition.
"We've talked about it all year: keep moving forward, keep trying to get better," Simons said. "The last teams we face will all bring considerable challenges, they'll all bring unique challenges because they're all different in how they play. That's exactly what we need. We want to be playing quality competition as it gets close to the post season because if you're going to advance to the State Tournament, you're going to have to beat several quality teams."
The Warriors will tip off against the Omaha Central Eagles at 7:15 on Friday, Feb. 11. The following day, Westside will travel to Grand Island to face the Islanders in the Heartland Hoops Classic.
Your donation will support the student journalists of Omaha Westside High School. Your contribution will allow us to purchase equipment and cover our annual website hosting costs.
About the Contributor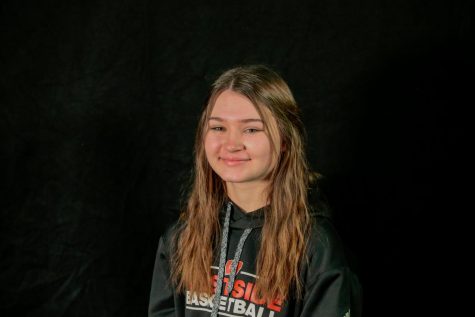 Zoe Gillespie, Sports Photographer
Hi, my name is Zoe Gillespie! I'm a sports photographer for Sports Journalism this year. I'm a junior and this is my third year in Sports Journalism. If...