Top-Ranked Westside to take on Fifth-Ranked Creighton Prep in Renewal of Top Rivalry in Nebraska
There are few high school rivalries that maintain a well-known status across the city of Omaha. One of those few happens to be the Westside-Creighton Prep rivalry, which has been intense for decades. The two teams always come to battle when going head-to-head in any sport. The Warriors will make an effort to defend their home basketball court against the Junior Jays once again on Friday, Jan. 21. Westside and Creighton Prep met twice last year and the Warriors lost both games. This season, the Warriors are at the top of Class A, where they are ranked No.1 with an impressive record 14-1. The No. 5 Junior Jays will enter the matchup with a record of 10-2.
Most years, both teams would have an entire week of preparation for the coveted rivalry match. Due to weather during the recent weekend, that won't be the case this year. Westside faced off against Papillion La-Vista on Tuesday and came out with a dominating win, topping the Monarchs 86-41 and solidifying their momentum into the rivalry match.
"We played well," said head coach Jim Simons. "I thought it was a really complete performance by our group. We played very hard defensively and got the game into an up-and-down pace."
Both the Warriors and Junior Jays had rescheduled games on Tuesday, leaving both teams with only two days of practice to prepare. This meant that both teams would have to spend time honing their own play style, as opposed to studying their opponent's.
"The keys for us are going to be using a full-court defense, pressuring them and using that to make them play at a pace that we want to play at," Simons listed. "We'll have to stay on top of interior- and post-defense because they have the ability to score on the side. With two days to prepare, we've tried to identify three or four things that they do really well and we'll make sure our guys have a good understanding of what Prep's strengths are and how to counter them."
Simons' goal for his team is to treat this game like any other game they've played this season, because that's what it is.
"They're very good, they've been very good at basketball for a long time," said SImons. "At the end of the day, it's just one game. Our goals really don't have anything to do with one game. We're trying to be the best we can in March, and this is just another part of that."
The matchup is critical for both teams because the outcome will have an effect on wildcard standings. Both teams need to improve their records as a back-up plan to advance to the state basketball tournament. Westside is currently third in the wildcard standings and Creighton Prep is sixth. In a game like this one, records can be thrown out because the rivalry means more to both schools. For years, the Westside-Prep rivalry has been a loud, fast-paced game in the middle of an overflowing gym full of fans.
"There's history behind it, it's a big rivalry," said junior Tate Odvody. "I wasn't here my freshman year but I still knew about it so it's a well known rivalry and we're excited to play. It's cool to see all of the fans come out. They get as hyped up as we do and it's a great environment to play in."
The rivalry game this year is likely most important to the six seniors on the team. The class of 2022 has done its job within Warrior basketball, helping the team defend their No.1 ranking and now 13-game win streak. 
"I hope the seniors enjoy it," said Simons. "When you're old like I am, you don't remember all of the games you played. There's some that stick in your mind more than others, and this is one of them. My hope for them is that they enjoy the moment, compete really hard and make some memories."
Senior Reggie Thomashas participated in rivalry games for his entire high school career. Every year, the team gears up to play the most talked-about game of the season. This will be the last time Thomas and five other seniors on the team face the Junior Jays on their home court.
"It's probably our last time playing them at home, and I love how everybody's there to support us and the energy that they give us on the court," said Thomas. "We come to work every day and keep fighting. We still play like we have a chip on our shoulder, and this game will be no different."
The Warriors will tip-off against the Junior Jays on their home court on Friday, Jan. 21 at 7:15 p.m. The game will be broadcast on westsidewired.net, and commentated by Creighton Prep's Brennan Preisman and Westside's Jaden Taylor. The pregame show will begin at 6:45 p.m.
Your donation will support the student journalists of Omaha Westside High School. Your contribution will allow us to purchase equipment and cover our annual website hosting costs.
About the Contributor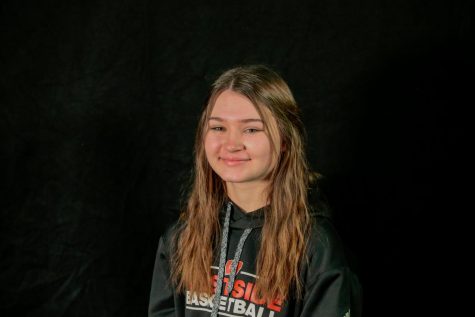 Zoe Gillespie, Sports Photographer
Hi, my name is Zoe Gillespie! I'm a sports photographer for Sports Journalism this year. I'm a junior and this is my third year in Sports Journalism. If...