Show Choir's Plan in a Pandemic
Westside High School is known as the home of three award-winning show choirs. Due to COVID-19, these choirs are uncertain about the upcoming season. Although competitions may not be in the picture, many participants are hopeful for the season, whether it is competitive or not. 
Doran Johnson, choir director and director for both the varsity show choir, Amazing Technicolor Show Choir (ATSC), as well as the director for the preparatory show choir, Warrior Express (WX), said he is still unsure about the upcoming year, but has talked with other directors from across the state about show choir. Johnson said the directors decided the season will not be competitive, but that their plan is well developed.
"We made a collective decision to do something that looks like show choir, but doesn't have the competition aspect of it," Johnson said. "A lot of people have just straight up canceled their events, [but] I'm hoping that we can take [Westside's] competition, at the end of January, and transform it into a showcase of groups. Something of a different scale where we aren't awarding first, second and third place trophies."
Because of the restrictions being made for show choir and how much they affect the performance that the Westside show choirs would be putting on, Johnson said he decided to put their previously planned show to a pause until things return to normal. 
"We were at that point of no return back in July where [we were asking] 'Do we move forward and invest in a show that could potentially not ever make it to a stage?,'" Johnson said. "That's why I put my competition plans on hold for the year and went back and we are doing a 'best of ATSC' show. We are going back to pieces that are really near and dear to my heart and the history of what we've done here. They are great pieces and we are having fun."
Greg Woodin, choir director and director of Westside's unisex show choir, Simply Irresistible (SI), has also had to make big changes to the female ensemble and their show. With help from SI's choreographers, the performers will have some new opportunities that will come about this year. 
"Our choreographers offered to do like seven or eight songs just because we aren't under the constraints of having to be done by January," Woodin said. "They are willing to do a few extra, that way when and if we can perform in April or May outdoors somewhere, we could do a different show each time. There's also a song we might do with another women's show choir in the area or multiple at the same time and learn it together and maybe even perform it together."
With all of the uncertainty about the year, it has become best to roll with the punches and try and adapt. Westside students have gotten used to doing this, even those in show choir. Senior Ava Williamson, a member of ATSC, said she is just trying to be thankful for whatever they get to do. 
"I am really happy that we are still doing a show," Williamson said. "It is my first year [in] ATSC so I was a little sad at first because that's something that all of the new seniors won't get to experience, but at this point, I think we are happy with whatever we get. I am just looking forward to doing some sort of performance and once the show is done, hopefully putting it together [with] costumes and hopefully the band."
Your donation will support the student journalists of Omaha Westside High School. Your contribution will allow us to purchase equipment and cover our annual website hosting costs.
About the Contributor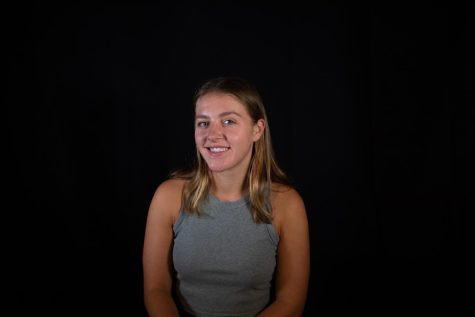 Charlotte Murphy, Social Media Coordinator
Hi, my name is Charlotte Murphy! I am the social media coordinator for Westside Wired this year. I am currently a senior and this is my fourth year on...