Westside Community Schools Announces Week Long District Wide Closure Due To COVID-19 Concerns
Westside Community Schools recently emailed a district wide statement regarding the closure of all district facilities on the afternoon of Friday, March 13. This closure is to be effective starting on Saturday, March 14. 
"With guidance from local medical and health department experts, we feel it is in the best interest of our students and staff to close Westside Community Schools for the week of March 14-20," Westside Community Schools stated. "This is effective tomorrow (Saturday)."
The statement gave details as to what the closure of all school district operations involves.
"Closures mean no school, no practices, no travel, no meetings, no weight room, no contests, no testing, etc. from March 14-20," Westside Community Schools stated. "We are closing all school district operations down for the entire week, to begin and include tomorrow (Saturday). As we expressed yesterday (Thursday), our closure also means the Westside Foundation Early Childhood Centers and Club 66 are closed. Please make plans for childcare in your family."
The district also stated that this decision was one of great difficulty, and the decisions regarding the upcoming weeks will be later announced.
"This has been an extremely difficult decision that we didn't take lightly," Westside Community Schools stated. "There are literally thousands of issues we factored in and continue to discuss. We will continue to discuss our plans moving forward, immediately focusing on the week of March 23 – March 27. We will communicate that decision late next week. Beyond that, we are operating with a week to week mindset. This situation is literally changing by the hour."
Westside Community Schools Superintendent Mike Lucas tweeted out a statement involving his thoughts on the subject on the evening of Wednesday, March 11, prior to the closure statement, mentioning that it was important to remember the many families within the Westside district who rely on the district's food services to provide nutritious breakfasts, lunches, snacks, and sometimes dinners for their students. In the most recent statement from Westside Community Schools, it is said that they will soon give information regarding food availability and pick up locations for families in need.
"By this coming Monday afternoon (March 16), we will communicate information about food availability in our community for those in need," Westside Community Schools stated. "We will be establishing various pick-up locations and dates/time. Providing support for all of our students and staff is always a top priority."
The statement also included that by the evening of Tuesday, March 17, Westside students and families will receive further details about Westside's Extended Campus Learning plans.
"By Tuesday night, students/families will receive updated details about our Extended Campus Learning plans," Westside Community Schools stated. "We ask for your patience as we prepare to implement the plans we have been working on across our district."
Students and staff throughout the district were given instructions to take their technology devices and other personal belongings home with them on Thursday, March 12. For students who still have medications or other important items at their respective schools, the district stated that each building principal will keep their building open on Monday, March 16, from 9:00 a.m. to 4:00 p.m. to ensure that families can collect those items in need.
"Our building principals will all ensure that each building will be open on Monday between 9:00 AM – 4:00 PM for any families that need to come to school and pick up medications and other items of interest," Westside Community Schools stated. "All students were advised to take their technology home Thursday, so we are hopeful they have the tools they need at home."
Westside Community Schools stated that throughout the upcoming weeks, they will be communicating updates to the Westside community regarding the situation at hand.
"We will continue to do our best to communicate on a regular basis with updates," Westside Community Schools stated. "Thank you for your continued support of District 66. We will do our best to support our students, staff and community through this unprecedented time."
Your donation will support the student journalists of Omaha Westside High School. Your contribution will allow us to purchase equipment and cover our annual website hosting costs.
About the Writer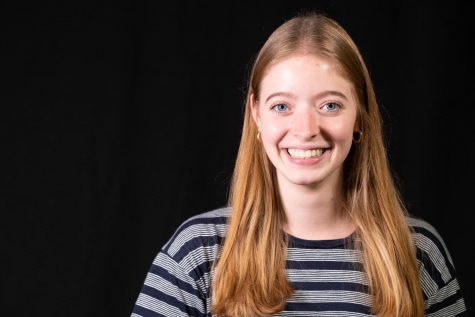 Claire Benson, Wired Co-Editor-In-Chief
Hi my name is Claire Benson! I am the Co-Editor-in-Chief for Westside Wired this year. I am currently a senior and this is my third year on Wired. If you...