Westside Boys Basketball Stays Hot, Wins a Pair to Extend Win Streak to Four
The Westside boys varsity basketball team moved to 7-3 this past weekend after picking up a pair of wins against Omaha Burke and Omaha Bryan. The Warriors beat Bryan 65-53 in which junior Chandler Meeks had 24 points and eight rebounds. Another standout performance was from sophomore Tate Odvody who had 22 points and five rebounds. The next night, the Warriors took down Burke 71-47. Junior Reggie Thomas returned to his early season form with 18 points and five rebounds. Odvody would continue his impactful season with another productive game adding 20 points and 10 rebounds. Odvody has now had at least 20 points in his last four games as just a sophomore. Meeks thinks that the adjustments they made at halftime against Omaha Bryan won them that game. 
"What we did in the week of practice showed in the first quarter we didn't do anything we worked on," Meeks said. "We got in trouble and made some adjustments and then maintained our composure and just got better as the game went on." 
 This season Westside has struggled against top ten teams, currently 0-3. With five more current top ten teams on their schedule, Meeks believes the team just needs to continue their drive throughout all parts of the game.
"[We gotta} play a full 32 minutes," Meeks said. "That's all our coaches said, every practice, every day. Even in our practices we have to really start and or we have a really good end but it's not a full two-hour practice. Keeping our game, the way we play it for a full 32 minutes will help us play the best basketball we can." 
Thomas and Meeks have been starters since they were freshmen and love to see some news faces in the transfer of Odvody, along with freshmen Caleb Benning and CJ Mitchell. The two freshmen have played in all 10 games this season and come up with some big baskets in multiple games. 
"There's a lot of chemistry going on that we knew we would get, they are very good players and I'm glad we got them. Now we will just keep building as a team and see where it takes us," Meeks said. 
The Warriors' had a bit of a slow start against Omaha Burke but head coach Jim Simons made some adjustments which helped them get a big 24 point win. 
"We did a good job getting the game at a tempo we liked. They are a big physical team, we are a smaller, quicker team. We pressed more tonight than we have previously had and the cumulative pressure throughout the game gradually got us to pull away," Simons said. 
Westside will take on Papio next week, for another top ten matchup as they will try to add another game to their win streak. 
"Each game is different, the teams we play are good teams, they're watching film, they're practicing, and working to get better too. They're a good team, they have a lot of guys back from a team we played last year in the district final. We have lost to three teams who have lost a combined three games this year. So we have lost three very good teams and Papio will be a good test," Simons said. 
The Warriors' will face Papillion La-Vista at home Friday, January 15th at 7:15pm. 
About the Writers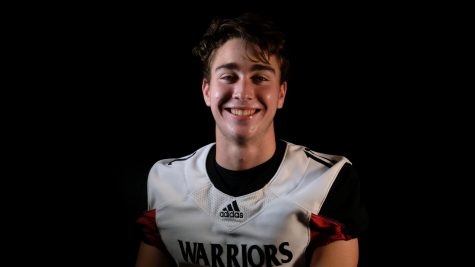 Tristan Alvano, Sports J Writer
Hi, my name is Tristan Alvano. I am a staff writer for Sports Journalism this year. I am a freshman and this is my first year of Sports Journalism. If...