Westside Boys & Girls Swim Each Place Third at State Championships with Two Individual Gold Medalists
The Westside boys and girls swim teams finished in third place at the NSAA State Swimming Championships. The boys team had two individual state champions in Jack Ellison and Nate Germonprez. Ellison won the 500 freestyle and Nate Germonprez won the 100 butterfly and the 200 freestyle, in which he broke the state meet record.
Westside head coach Doug Krecklow explained how satisfied he was with the overall performance of the whole team.
"I was very very pleased with how the team performed," Krecklow said, "We always have a great Saturday, the biggest factor over the last several years was how we perform on Friday to put us in scoring positions come Saturday, we graduate one girl and three boys and we have everyone else come back."
Ellison, who recently broke the school record for 500 free, recognized the crowd and the pressure that came with swimming for the state championship at the Bob Devaney Sports Center.
"I really just had to reference to last year what it was like being on that stage," Ellison said. "Having your name announced to the public, and having the crowd go crazy, that's the only reference point. When I was behind the blocks, I really just had to zone in. Just think about the past four years, and not let down my coaches and myself."
Germonprez, who broke the 200 free state meet record in prelims, broke his own record in the finals. The University of Texas commit also acknowledged the pressure that comes with performing on such a large stage.
"Devaney was great. It was packed. The deck was crowded, the stands were crowded," Germonprez said. "There was a ton of people there, but it helps the overall atmosphere, makes everything more exciting. With people watching, the adrenaline was higher."
Germonprez, who also took home a state medal as a freshman in 2019, had explained the feelings behind becoming a state champion again and breaking records at a high level.
"It's been a goal. I was able to do it once freshman year, so just being able to do it again now, it's a great feeling."
The Westside junior has checked off more milestones than just about any other  swimmer in the school's history, holding all eight of the individual boys records. Germonprez expressed that he's been eyeing the Westside record boards since day one.
"The first time I came to Westside, I was looking at the records, and I was figuring out which ones I might be able to pick off," Germonprez said. "It's kind of cool to come full circle and finally break some of those records. It's a great experience."
With a full year left on his resume, Germonprez expressed that there's still room to improve.
"The ceiling is limitless, your state and championship meets just reflect on how hard you've been training," Germonprez said. "Next year, I'm really gonna be training as hard as I can. Fixing technique, becoming more powerful. I don't wanna set a cap on how high the ceiling is, and I'm gonna reach as far as I can."
Coach Krecklow, also talked about having such an exceptional swimmer coming back next year in the 2022-2023 season.
"I've said it before, he is a generational swimmer, we've had guys in the past but we've never had this kind of talent that could come in and swim in any event and be competitive in any of the races." Krecklow said. "Quite frankly he would've challenged for every gold medal and when you have someone that can do that it's a very rare feat."
Sophomore Natalie Harris placed fifth in the 200 free, third in the 500 free and fifth in the 400 free relay. Harris described her feelings following the finals races on Saturday.
"It feels pretty good," Harris said. "As I was swimming, I was thinking and I really didn't want that fourth place again. I really wanted that third place. It's not a lot but it's one placement up into the top three, and I'm still super proud about it."
Harris had also been a part of a controversial end, after a false start on Westside's end, they had been disqualified from the 200 free relay. Harris had explained what exactly had happened and what she had felt in the heat of the moment.
"I don't know exactly. I heard it was an early transition, but it's kind of hard to say," Harris said. "When we look at videos of it, we don't see any false starts on our transitions. We're not quite sure what happened. It was probably nerves, we really wanted to get the school record. We all learned from it, and we'll do better next year."
The Westside swim team has plenty of youth and talent on their side, so the Warriors will look to continue their success as a program in 2022-23.
About the Contributors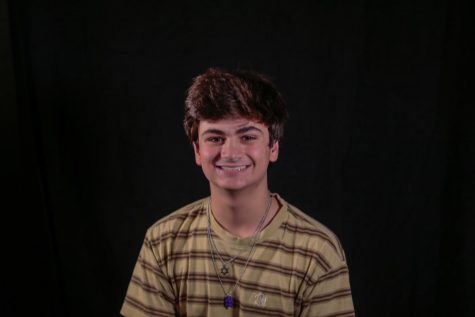 Ben Kaufman, Sports J Writer
Hi, my name is Ben Kaufman! I'm a writer for Sports Journalism this year. I'm a sophomore and this is my first year in Sports Journalism. If you have any...