Westside Wired's September Playlist
The first month of school is always an exciting time of year; football season is starting, students have new classes and are meeting new people, and everyone is getting back into a comfortable rhythm at school. Such an important month of the year as this one deserves an amazing soundtrack. 
This month's playlist aims to reflect the enthusiasm in the air. Popular songs are heavily featured, many of which, like The Neighborhood's "Sweater Weather" can either be perceived as relaxing or energetic depending upon the setting. Many of the songs also have prominent guitar melodies. 
Steve Lacy is featured twice on the playlist, and both of his songs, "Dark Red" and "Bad Habits" heavily feature guitar riffs and solos. Lacy began his career playing guitar for a jazz band in highschool, and jazz music has had a continued influence on his work. I don't know why exactly the jazz R&B melodies remind me of September, but they are featured not only in these songs but also in "Cigarette Daydreams" by Cage the Elephant 
With football coming into full swing this month, there are many classic songs associated with games to choose from. "Movin' Out" by Billy Joel personifies the atmosphere around football games without being as overplayed as songs like "Sweet Caroline" and "Party in the USA." The song's unapologetically loud rock n' roll sound reminds me of cheering at football games and hanging out with my friends. Billy Joel also relies heavily on the guitar in his music, a hallmark of the era in which he was most prevalent. 
The playlist also draws attention to the relationships that begin and end at the start of every school year. "Dreams" by Fleetwood Mac is about how our individual lives continue despite people coming in and out of them. It can be hard to maintain relationships with friends and significant others once school begins and we no longer see the people we saw during the summer as frequently. 
There are also new friendships that form from being around people we didn't know as well before we had more classes or open mods with them. "Stargazing," another song by The Neighborhood, represents the new relationships that are fostered through school settings. 
As always, enjoy Westside Wired's monthly playlist. You can listen to this playlist on your iPad by clicking on the playlist to your right or you can scan the spotify code and listen on your mobile device. 
Bad Habit – Steve Lacy

Sweater Weather – The Neighborhood

Cigarette Daydreams – Cage the Elephant

Dark Red – Steve Lacy

Where'd All the Time Go? – Dr. Dog

Show Me How – Men I Trust

Dreams – Fleetwood Mac

Stargazing – The Neighborhood
Still Beating – Mac Demarco
Movin' Out – Billy Joel
Your donation will support the student journalists of Omaha Westside High School. Your contribution will allow us to purchase equipment and cover our annual website hosting costs.
About the Contributor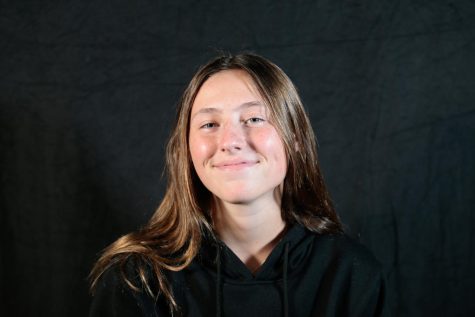 Rachel Dowd, Wired News Writer
Hey, my name is Rachel Dowd! I am a Managing Editor for Westside Wired this year. I am currently a junior and this is my third year on Wired. A fun fact...