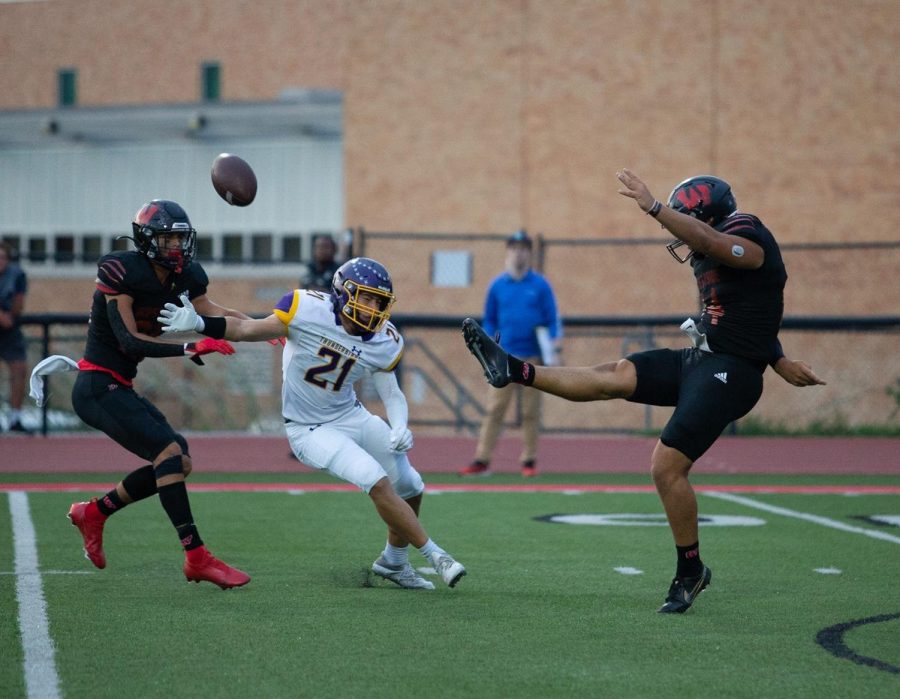 Emma Vondra
The top-ranked Westside football team hosted third-ranked Bellevue West on Friday, Sept. 9 and won the game handily by the score of 56-35. 
A highly anticipated matchup, the offensive firepower was put on display for both teams. Bellevue West's wide receivers Isaiah McMorris and Kyrell Jordan both logged over 140 yards receiving, yet Westside prevailed with a second half comeback. The Warriors were led by junior quarterback Anthony Rezac, who reached the end zone four times, three of them on the ground. 
"It's a huge advantage since being able to run opens up a lot of passing lanes and makes the defense respect the run or play action a little bit more," Rezac said. "It played a big part against Bell West because I don't think they prepared for it enough."
The victory adds on to Westside's win total, helping them improve to 3-0. Although it is an ideal start for new head coach Paul Limongi, the Warriors continue to play with chips on their shoulders.
"We constantly tell the guys to not be satisfied," Limongi said. "The goal is to continue to grow and get better every day and every week." 
Westside has their eyes set on 12th-ranked Millard North, their opponent for tonight's game. 
 "We're locked in," Rezac said. "Preparation and repetition all week plays a big role in getting us all ready for whatever might be thrown at us."
The Mustangs head into this matchup with a record of 2-1, coming off of a 20-14 win against a solid Millard South team. Limongi has consistently emphasized his three pillars to success for each game.
"We want to play smart, play hard, and play together," Limongi said.
Westside looks to remain undefeated tonight, Friday, Sept. 16 by picking up their fourth consecutive win against Millard North at Lyle Buell Stadium.