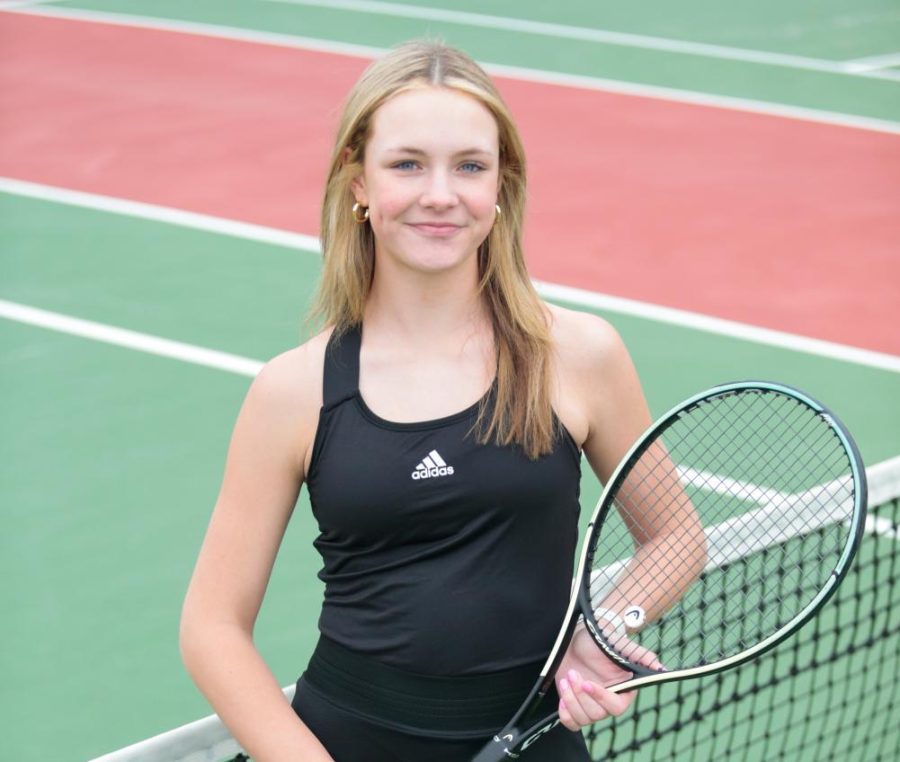 Zoe Gillespie
Very rarely do you find an underclassman, much less a freshman, starting off the year at No. 1 singles for tennis. The most recent underclassmen to do it being AJ Shefsky this past fall for the boys, following a state-champion campaign in No. 2 singles the year before as a freshman. Grace Greenwald, a freshman on the youth-filled girls varsity tennis team, has secured the No. 1 singles spot to start off the 2022 season.
"I feel very fortunate to be able to represent my school at such a high position so early in my high school career," Greenwald said. "Everyone on the team is so supportive and they're always trying to make everyone as important as the next."
Tennis is a family tradition in the Greenwald family, her dad, Doug, being a tennis pro at Omaha Country Club. His growth in the sport came in a unique way.
"My dad when he was younger really was interested in the sport, but his parents didn't want to sign him up for lessons," Grace Greenwald said. "He would go out and try to hit against a brick wall for a while until he finally started to take lessons. He really started liking it when he was at UNO and his freshman year the boy's tennis team got cut due to funding, so he wanted to pursue tennis elsewhere. He used to go out and play tournaments in the Missouri Valley and was the number one in the valley for some time before he began to set teaching more as a priority." 
Teaching for Doug Greenwald changed paths when Grace first got into the sport. Spotting her love for the game, his work ethic rubbed off on Grace. 
"I've been playing since I was little," Greenwald said. "I would always watch my dad and it inspired me to start working on my game. I think it's nice to have the coaching dynamic around me. I feel I'm able to coach myself on court and fix mistakes I might have made, thanks to him."
Getting to this position certainly wasn't easy given all the hard work that was spent practicing in the years prior to high school.
"I've always played a ton of tennis," Greenwald said. "Whether it was practice or playing in tournaments, I'm very grateful to have a dad who's a tennis coach so I feel I have an advantage in how much I can practice." 
Coaching a hard worker like Greenwald seems like it would pose as an easy task. Head coach Bart Jeseritz would second that statement, watching her start off the season going 4-1 in No. 1 singles.
"When it comes to tennis, Grace is an incredibly serious person who puts a ton of work and effort into her game," Jeseritz said. "It has paid off as she is one of the best players in the state as a freshman.  
An important aspect of success with a team begins with balance and making sure to not overwork yourself. This is something that Greenwald has been incorporating into her tennis lifestyle on and off the court.
"Grace takes the training of tennis very seriously; however, she doesn't take herself too seriously," Jeseritz said. "I think that her balance has shown an impact on the team in that you can both have fun, enjoy what you are doing; while still putting in the work and the effort to be an elite."
With someone who has as much talent as Greenwald, it's very easy to see the great potential. Being a freshman, time is most definitely on her side. 
"Grace is an amazing player and will get better with every year she spends on the team," senior captain Claire Bonnett said. "I have no doubt her tennis career will take her wherever she wants to go."
Greenwald's future still has lots to be written, but she knows her capabilities and with those comes high expectations.
"I think my main goal this year is to obviously win state but also to have a good solid season," Greenwald said. "My end goal would probably be to play college tennis at a highly competitive level."
Watch Grace and the Warriors varsity girl's tennis team in action at the Koch Tennis Center this Monday, April 11th.