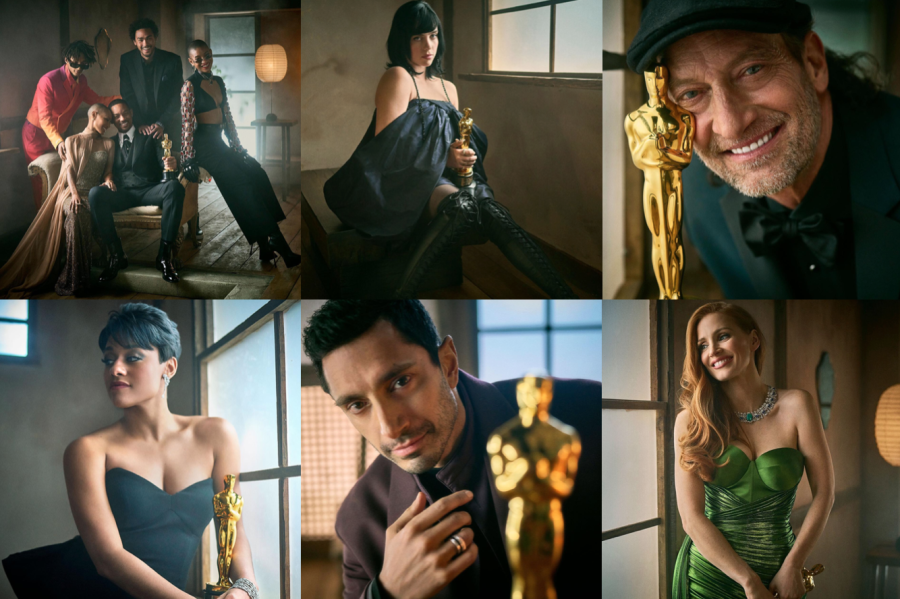 Images from Vanity Fair
This years Oscar's took a major step-up from last year's live telecast held at Union Station. One of the big reasons for this is that we're back to what it used to be: it was broadcast from the massive Dolby Theater and hosted by someone, after years of being hostless. It finally feels like an awards show and not the afterparty. There was much speculation when the Academy first announced that they would be having three hosts. Would it be the three Spider-Men themselves: Tom Holland, Tobey Maguire and Andrew Garfield? Would it be Steve Martin, Martin Short and Selena Gomez from "Only Murders in the Building?" Instead, they went with the most random picks possible with Amy Schumer, Wanda Sykes and Regina Hall. The theme of the show this year was meant to be "movie lovers unite," and these three names don't sell the pitch. That being said, I don't believe anyone should've doubted or slandered their comedic ability, because they kept the show alive in some of its lower moments. While certainly not every one of their jokes hit, they did the best they could with the eye rolling jokes they had.
Editing Down Categories: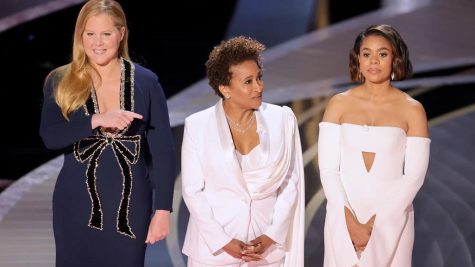 Sometimes decisions must be made to improve the quality of the show, but I don't believe that cutting down eight categories to condense the running time of the show was the best choice. The goal was three hours, yet they still went over by forty-two minutes. A live performance of "We Don't Talk About Bruno," featuring Megan Thee Stallion was entirely unnecessary, as it was not nominated. The absurd "fan favorite" Oscar did not take valuable time, but should not be something that returns. It's also hilarious how this award was created to hand out awards to "Spider-Man: No Way Home," yet it backfired and both awards went to Zack Snyder's two films that came out last year, "Justice League" and "Army of the Dead." The Oscars should be about the Oscars. I don't care if the ceremony is five hours long, these people should have their moment in front of a full theater on live television accepting an award they may very well never get again, not accepting it in front of a few celebrities and journalists who decided to skip the Red Carpet, as everyone's loudly and distractingly making their way to the seats. Not only that, but I would've liked to have also seen Samuel L. Jackson and Danny Glover accept their honorary awards on screen and not off of a phone recording in the middle of a crowd.
Will Smith vs. Chris Rock: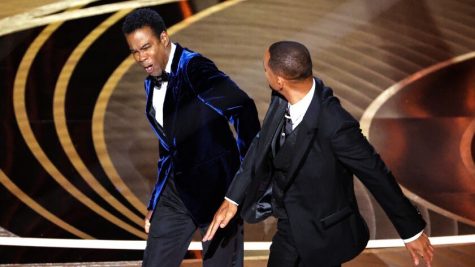 Everyone knows what happened, and no, it was not staged. Chris Rock made a joke in poor taste about Jada Pinkett Smith's hair, surely unaware of her having Alopecia, and what followed was completely unnecessary. Freedom of speech, yes, but the amount of discomfort that was displayed and glory taken away from the winners – Questlove especially – was the worst part. I'm also not sure what triggered Will Smith in the eight seconds from when he was laughing to when he was up on the stage smacking Chris Rock across the face. Smith has since apologized, but that doesn't mean he won't face a consequence. That night, there was consideration of kicking him out of the show, and even taking back the award he accepted just thirty minutes later. It was a bad action he took to defend his wife in front of millions of viewers. He made the right decision a few days later by apologizing, followed by resigning his Academy membership. Who knows what this means for humor in the show's future, but the thing we know for sure is that presenters must stick to the script from here on out. This is still far from being one of the Oscars ugliest moments, the ugliest being when they awarded both Roman Polanski and Woody Allen post-allegations, which ended in people walking out.
"Dune" Sweeps: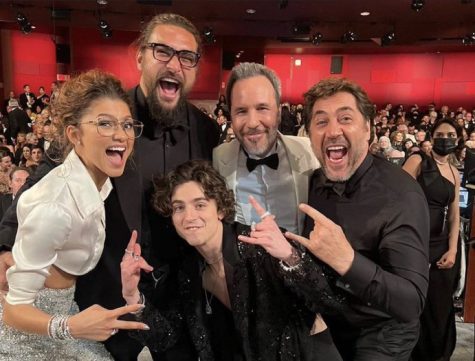 Funny how a film without a director managed to win six Oscars, all in craft categories. In all seriousness, Denis Villeneuve being denied for a Best Director nomination is the biggest snub I can think of in recent years. No film has ever won more than five Oscars without a nomination for its director until now. I knew it was going to be hard to beat, but I thought they would've thrown a bone to something else in at least one of these categories. It's as I've said for months now; "Dune" shouldn't be underestimated. I guess when "Dune: Part Two" releases, all the films of 2023 have to look out because it is most definitely going to be a "The Lord of the Rings: The Return of the King"-level sweeper. 
Predictable Winners: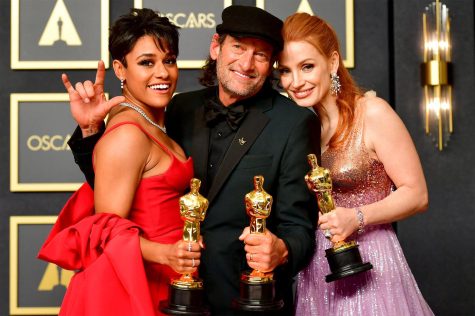 Something that may never, ever happen again in my lifetime; I got twenty-two of the twenty-three eventual winners right, missing only Animated Short. Otherwise, I liked all of the winners. It may not be the work they won for, but I like the sound of "Academy Award Winner Jessica Chastain" or "Academy Award Winner Kenneth Branagh." It fits. Of course there were preferred winners I would have chosen (in nearly every category), but there are some people who won this year that I would bet on not getting the chance to win ever again. The Best Original Song category remained interesting because it's cool that Billie Eilish won, but Lin-Manuel Miranda wasn't the youngest person granted EGOT status and Diane Warren has yet to win an Oscar after thirteen nominations, the most anyone's ever been nominated for without winning. Troy Kotsur was by far my favorite win of the night, and he gave one of the best speeches.I also loved how Yuh-jung Youn signed to him when she announced him as the winner. "The Power of the Dog" fell extremely short after all of the smaller critics groups awards, because it only walked away with Best Director for Jane Campion (the only film to only win Best Director since 1967's "The Graduate"). I hope to look back on this year as a great group of individuals who were recognized, and not the travesty of events that surrounded them during the show.
And the Oscar Doesn't Go To…: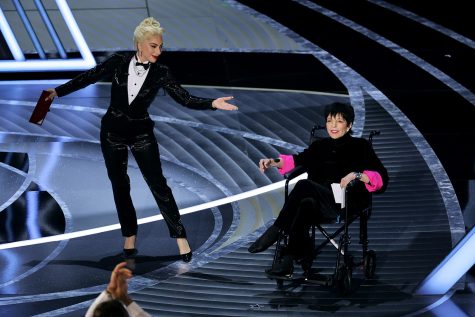 It's not often that every Best Picture nominee gets to take home at least one award, and in a year where only three films won more than a single Oscar ("Dune," "CODA," and "The Eyes of Tammy Faye"), "Don't Look Up," "Licorice Pizza" and "Nightmare Alley" join the elite club of Best Picture nominees that win zero Academy Awards. I like it when the Oscars choose to spread the love, I just think it's wild that films like "The Power of the Dog" and "West Side Story" walk away with less than a shot-by-shot remake of an unknown foreign film, a slightly above average biopic and a movie about harvesting drugs out of sand.
"CODA" Changes the Prediction Statistics: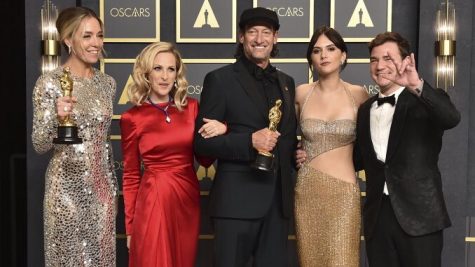 It's crazy how "CODA" is now one of seven films who won Best Picture along with every other award it was nominated for, neither of which being Best Editing or Best Director. Should this have won Best Picture, or even Best Adapted Screenplay? No. However, I like that Siân Heder has an Oscar now. What makes me curious is that if this was as strong of a player as it managed to be, how did it not at least get nominations for Best Original Song, Best Supporting Actress for Marlee Matlin, Best Director or even Best Actress for Emilia Jones? I can easily see this landing in everyone's top three films for the preferential ballot in Best Picture, yet it still gained enough support behind its script. I found that slightly odd. Unlike last year where Hulu distributed "Nomadland" after its theatrical run, Apple TV+ (of all streamers) has become the first official streaming service to win Best Picture for a film it acquired. Netflix was close behind with "The Power of the Dog" after they've been coming for Best Picture for years now, but it looks like they'll have to wait another year once again. "CODA," a low-budget film to spread awareness about the deaf community, started out with zero Oscar buzz coming out of Sundance, and, I guess, in the end, whoever campaigns the hardest wins. This team (Marlee Matlin especially) has been going at it the past few months, even screening it in the White House for President Joe Biden and First Lady Jill Biden. Look where all that got them.