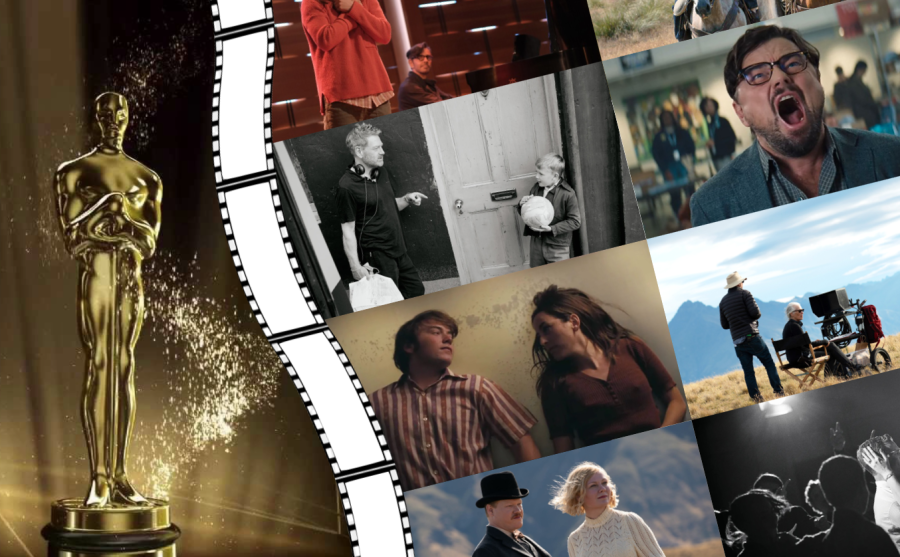 Images from Netflix, Apple TV+, MGM Studios, Focus Features
Best Picture:
Will Win: CODA
Could Win: THE POWER OF THE DOG
Should Win: DON'T LOOK UP
First thing's first: no one can deny how cool it would've been to see the two movies that brought people back to theaters ("Spider-Man: No Way Home" and "No Time To Die") be honored for the greatest achievement in the entertainment industry. The lineup we ended up with is good at best. I like seeing the variety now that we're getting a locked-in ten nominations, but there are only two films in here that were in my personal top five of 2021: "Don't Look Up" and "Licorice Pizza." For the record, I'm prepared to be wrong on this, but I have nothing to lose. "The Power of the Dog" has been leading "best film" awards all season up until the SAG awards, and it is the most Oscar-nominated film this year. All of the long-lasting stats are working against "CODA." I didn't take that into consideration whatsoever, because the actors branch is who votes at SAG, and the only big competition "CODA" had there was "Belfast." The PGA awards then went ahead and decided to give it to "CODA" as well. I'm getting the impression that this is going to go down the same route that "Little Miss Sunshine" went down: winning PGA and SAG ensemble, but not getting a Best Director or Best Editing nomination at the Oscars (no film has won Best Picture without one of the two of those nominations since the 1930's). It also won Best Supporting Actor, but then lost Picture. I don't think that's going to happen, only because I believe"CODA" will overtake "The Power of the Dog" in another category as well. Listen, I love "CODA," but something that looks this much like a Disney Channel Original Film shouldn't be winning here, period. I just find it funny that both Hulu, and now Apple TV+, will possibly win Best Picture before Netflix does. 
Director: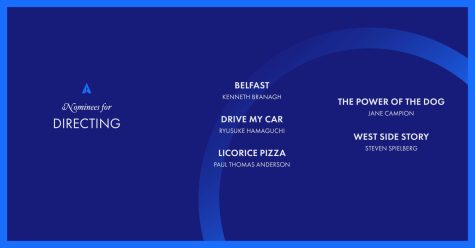 Will Win: JANE CAMPION, THE POWER OF THE DOG
Could Win: KENNETH BRANAGH, BELFAST
Should Win: KENNETH BRANAGH, BELFAST
Jane Campion winning is even more of a lock than any other above-the-line category. She has not missed anywhere. I'm fine with it, but she is far from my favorite in this category. Had Denis Villeneuve been nominated over Hamaguchi (undoubtedly the worst snub this year), she would be my least favorite pick here. Kenneth Branagh is my personal pick because "Belfast" is such a personal story, and Branagh has been nominated in more categories (seven) than anyone else in history, and hasn't won a single Oscar. "West Side Story" and "Licorice Pizza" were both phenomenally directed, but in such a strong lineup I don't think Spielberg should get his third just because, or Anderson for a movie that has a better chance at winning for its writing.
Original Screenplay: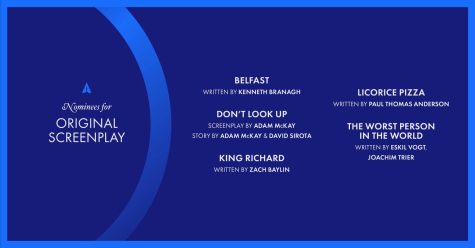 Will Win: BELFAST
Could Win: LICORICE PIZZA
Should Win: LICORICE PIZZA
Oddly, I believe this is the most unpredictable category of the night, but it's only between "Belfast" and "Licorice Pizza." I would be happy with either, as Kenneth Branagh or Paul Thomas Anderson would be winning their first-ever, long overdue Oscar here. I lean towards Anderson only because I prefer the direction in "Belfast," and the material they're winning for here is wildly different. "The Worst Person in the World" is a very close second favorite for me, and I could change my opinion on the "should" any day. Where I find this to be hard is "Belfast" winning Best Screenplay at the Golden Globes (where they don't split the categories between adapted and original), and also winning at Critics Choice, because those awards feel a lot more like predictions than actual awards. BAFTA's is where I find the most helpful information, because even for the British awards, "Belfast," a British film, couldn't beat "Licorice Pizza." The WGA awards is where it gets tricky because "Belfast" was ineligible for a nomination. "Licorice Pizza" was nominated, yet they still went with "Don't Look Up." It's less of the increasing support gathering around "Belfast" and more of the lack of support for "Licorice Pizza" that could be the determining factor.
Adapted Screenplay: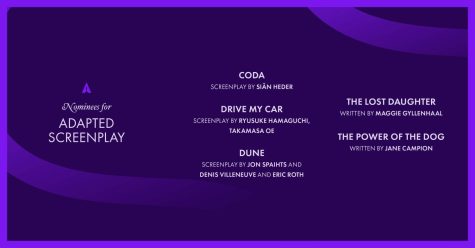 Will Win: CODA
Could Win: THE POWER OF THE DOG
Should Win: THE POWER OF THE DOG
I think it is wild that "West Side Story" missed here in favor of "Drive My Car," "The Lost Daughter" and "Dune." I'm going off of gut instinct here – as well as what the BAFTAs did – "CODA" will be the first movie with the preferential ballot system in Oscar voting to sweep all of its awards. That, and "The Power of the Dog," is also ineligible at the WGA awards, so why not? Again, I'm prepared to be wrong, but the best thing about these awards is that you don't know who the eventual winner will be before it's announced. I'm predicting chaos, and I love chaos, acknowledging that "CODA" is by far and away the inferior script nominated here.