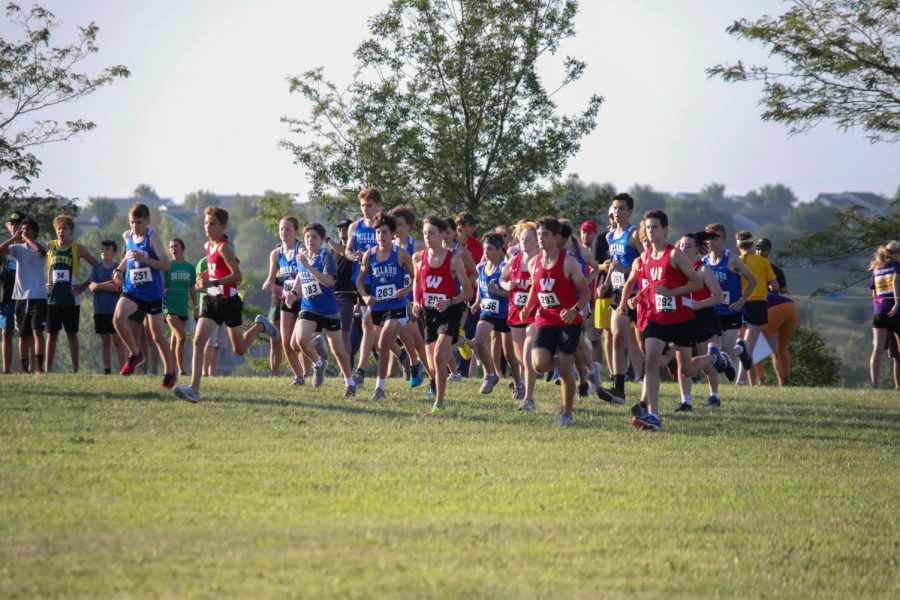 Eliza Haney
The Westside girls cross country team took fifth place in the NSAA Class A State meet on Friday, Oct. 22, at the Kearney Country Club. The Warriors had three runners place in  the top 20. Sophomore Claire White was one of the top runners after finishing third in the race.
Head coach Theresa Gosnell was very pleased with the results of the team.
"We placed eight last year, so we definitely improved as a team getting fifth this year." Gosnell said.
Assistant coach Jonathan Preister was happy with the improvement in results of the team since last year's eighth place finish.
"For them to come up and battle to a fifth place finish really sets us up for next year," Preister said, "They all ran as good as we could've hoped for"
After last year's fifth place finish as a freshman, White moved up to third place.
"I think last year I wasn't as experienced and it showed," White said. "This year was a little shaky at the start, but I really believed in myself towards the end and I used what I knew to get me where I am.
Senior Reese Young-Oestmann raced in her final meet as a Westside runner placing 15th in the state race.
"I'm very happy I got 15th because that was my first time medaling at state, and I did it my senior year." Oestmann said, " It was a nice way to end it."
The Warriors were happy with the outcome of the meet, and expressed their feeling of satisfaction and excitement for next season.
"[I'm] very excited for next year," Gosnell said. "This year was exciting too with three top 20 runners in the, that doesn't happen very often. So I'm very excited for what next year will bring, but it was a fun season."
White also expressed her feelings about next year's season. Marian transfer Stella Miner was unable to compete this year after being a state champion as a freshman.
"I am already so excited for next year," White said. "I feel like having Stella Miner with me  next year is going to be so much fun and I can't wait for us to really get out there and show what Westside can do."
Westside will return four out of the top seven runners from the state meet. The Warriors could make a very strong bid for their first state title in 2022.