93rd Academy Awards Recap
I have watched the Oscars since Faye Dunaway and Warren Beatty accidentally awarded "La La Land" Best Picture and gave it to "Moonlight" two minutes later on that fateful night in 2017. That means that I've also experienced numerous upsets like "Green Book" winning Best Picture and Olivia Colman beating out Glenn Close in 2019. However, none of that holds a candle to how poorly orchestrated the 2021 awards show was.
The viewership dropped to nearly 10 million, almost 60% lower than last year's 23.5 million viewers; that may be due to the lack of "interesting" nominees. The "new and improved" structure was a big change for this year's show. Despite Steven Soderbergh winning an Oscar himself for directing, I felt his vision for the show was too cinematic. If awards shows are to be televised, that means they're willing to allow viewers to tune in, in contrast to many shows that are private and their results are put out in press releases. When televised, the priority of the event is to not only entertain those in the room but those outside of the room as well. This is the first year since its opening in 2001 where the Academy Awards were not held at the Dolby Theater. Instead, they were held at the Union Station, and I much prefer the formality of the Dolby Theater over that of what looks like a wedding reception location. The absence of clips is one of the major reasons for the amount of boredom there was, but they were understandably removed to provide more time for speeches and prevent winners from being played off the stage.
The structure as a whole was poorly planned by the producers of this year's show. All five songs nominated in the Best Original Song category were recorded by each respective performer and were played during the pre-show when nobody was watching. Whoever was tasked with ordering the categories made big mistakes all around; this mainly took away from much of winning glory and anticipation for "Nomadland." The director category was presented within the first 45 minutes of the show, before the shorts. As you'll see later, placing the lead acting categories after presenting Best Picture was the biggest screw-up that could've happened.
What I Predicted Correctly: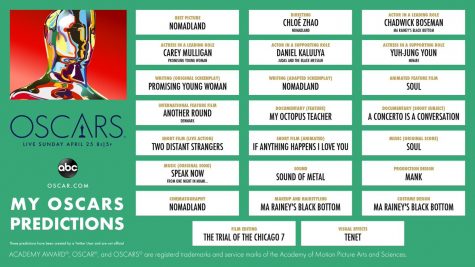 "Nomadland" wins Best Picture

Chloé Zhao wins Best Director

Daniel Kaluuya wins Best Supporting Actor 

Yuh-jung Youn wins Best Supporting Actress

"Promising Young Woman" wins Best Original Screenplay

"Another Round" wins Best International Film

"My Octopus Teacher" wins Best Documentary

"Soul" wins Best Animated Film and Best Score

"Sound of Metal" wins Best Sound

"Mank" wins Best Production Design

"Ma Rainey's Black Bottom" wins Best Costume Design and Best Makeup and Hairstyling

"Tenet" wins Best Visual Effects

"Two Distant Strangers" wins Best Live Action Short

"If Anything Happens I Love You" wins Best Animated Short
What I Got Wrong:
The majority of this year's awards were predictable, although that doesn't go without predicting some incorrectly. Aside from Best Original Song, everything else that took home the gold over my number one was next in line. "The Father" started its round of awards by winning Best Adapted Screenplay over Chloé Zhao's "Nomadland." This didn't hurt; Zhao still got two of the four Oscars she was up for, and "Nomadland" had a lot of improvisation in it. It almost acted as a lite documentary, with Frances McDormand and David Strathairn as the only actors in the film, with everyone else as real life nomads. "Sound of Metal" won Best Editing, which was the only place "The Trial of the Chicago 7" could gain any attention. This category typically goes for fast-paced movies, but the editing in "Sound of Metal" was in tandem with its sound design. I hope that going forward the combining of sound categories is not at the expense of the editing category. Best Documentary Short was the other area I wrongly predicted, but none of the shorts in any category try to be publicized, so I don't feel bad about not seeing any of the fifteen nominated. All in all, this is one of the most democratic Academy Awards in a long time. They spread the wealth by giving seven films two or more awards, yet Aaron Sorkin's "The Trial of the Chicago 7" still couldn't get a single win.
Major Upsets: 
Besides the lasting impression of the show itself, the biggest upsets of the night were Best Cinematography and Best Original Song. "Nomadland" went into the night as a sure lock in three categories: Best Picture, Best Director and Best Cinematography. While it still won three, Chloé Zhao's partner, Joshua James Richards, did not get an Oscar of his own. Instead, voters took the easy way out and gave the award to the same ol' non-standard-looking film. "Mank" won over the considerably more beautiful film that was shot entirely with a 1940s black-and-white aesthetic. H.E.R. winning Best Original Song for "Fight for You" in "Judas and the Black Messiah" was unexpected as well. This could be a case of vote splitting, because she beat out three nominees who were sought as more likely to win: Leslie Odom Jr. for "Speak Now" in "One Night in Miami…," "Husavik" in "Eurovision Song Contest: The Story of Fire Saga" and Diane Warren's losing streak persists after her 12th nomination in this category for "Io sí" in "The Life Ahead."
Other Notable Moments: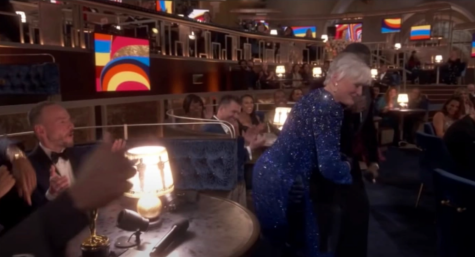 Glenn Close may now be the actor with the highest losing streak at the Oscars, but the national live television booty dance was the highlight of the night, even if the preceding bit was scripted.

Thomas Vinterberg's heartbreaking speech, which honored his late daughter who was killed at the time "Another Round" was filming.

Chloé Zhao became the second woman to ever win the Best Director award.

Daniel Kaluuya's hilarious acceptance speech with his family in the audience.

Yuh-jung Youn being (relatably) starstruck when meeting Brad Pitt, who was a producer of "Minari" and presented her award.

Hulu became the first streaming service to win Best Picture.
Lead Acting Categories: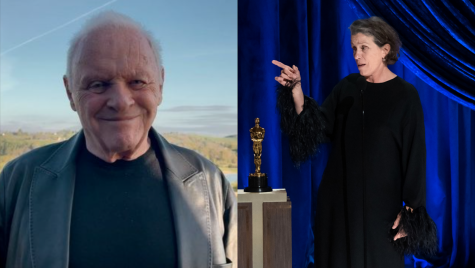 Just as the producers did, I'm saving discussion about the lead acting categories for last. For the past few days, Frances McDormand and Anthony Hopkins' victories have soaked in and I've accepted that reality, but that doesn't wash over my immeasurable anger for this inexplicable decision. When it comes to Best Lead Actress, I would've liked to have seen Carey Mulligan get this award. However, I believe that everyone in this lineup will be nominated again, where someone in another category can't. McDormand will probably be nominated in this same category once again next year for either "The French Dispatch" or "The Tragedy of Macbeth." With this being her third acting win (she also won for Best Picture as a "Nomadland" producer), she is in an elite group with six other actors who have accomplished this; now that she's going down that path for a fourth, I'm rooting for her. Frances McDormand is also one of three actors who have won three Oscars in leading roles, the others being Daniel Day-Lewis and Katharine Hepburn, who is the only actor to ever receive four acting Oscars. I believe that if McDormand managed to get two Oscars in four years, she can definitely catch up to Hepburn's record. As I mentioned, could it be next year? Could she get this achievement before 21-time nominee Meryl Streep?
As I said when predicting these categories, Anthony Hopkins may be my favorite performance in the category. But when the producers tried to restructure the show with the risky choice to "profit" off of the final award as a remembrance and "guaranteed" win of Chadwick Boseman, it backfired gloriously. I'm not in any way complaining about the winners, but this could have been the most diverse lineup of acting awards ever, instead of just meant more boring, old, familiar white people. I cannot in any way enjoy Hopkins' win, and, out of literally anyone on the planet, Joaquin Phoenix presented this award. Anthony Hopkins also has an Oscar already, and as it's been evident from the 2020 Oscars, he doesn't care enough to show up. This year, of course, it could've been a health risk to stick an 83-year-old man in a room with hundreds of (vaccinated) maskless people, and since there was a "no Zooming in" rule this year, he didn't bother to go out to one of the Academy's remote filming locations. Olivia Colman was meant to accept the award on his behalf, but that didn't happen because of the rushed moment, so we were robbed of that speech as well. I believe this is more of a matter that he does not care for awards than health, because at the BAFTAs earlier this year, his family cheered when he won and Hopkins was in another room painting and thought they were watching sports. This occurred when Zooming in was a possibility. I understand that the award is supposed to go to the best actor, but there have been countless times where voters feel attracted towards a person when they feel that "it's their time," and will vote for them over the significantly better performer in the category. It's a truly tough thing to talk about, because while Hopkins is entirely deserving, Boseman's legacy did not go out as it should have, and I wouldn't be surprised if the Academy realizes that they have screwed up, and decide to give him an Honorary Award next year. Blame should be put on the producers for structuring the show to conclude on the worst possible note, not on Anthony Hopkins.
About the Writer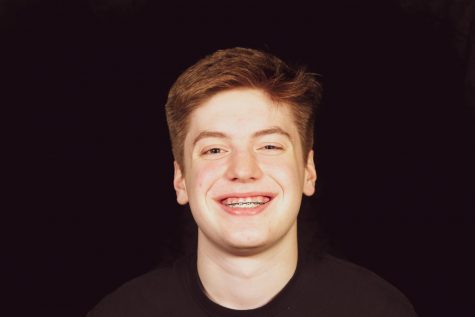 Brandon Siedlik, Wired Staff Writer
Hi, my name is Brandon Siedlik! I'm a staff writer for Westside Wired this year. I'm a junior and this is my first year on Wired. If you have any questions...