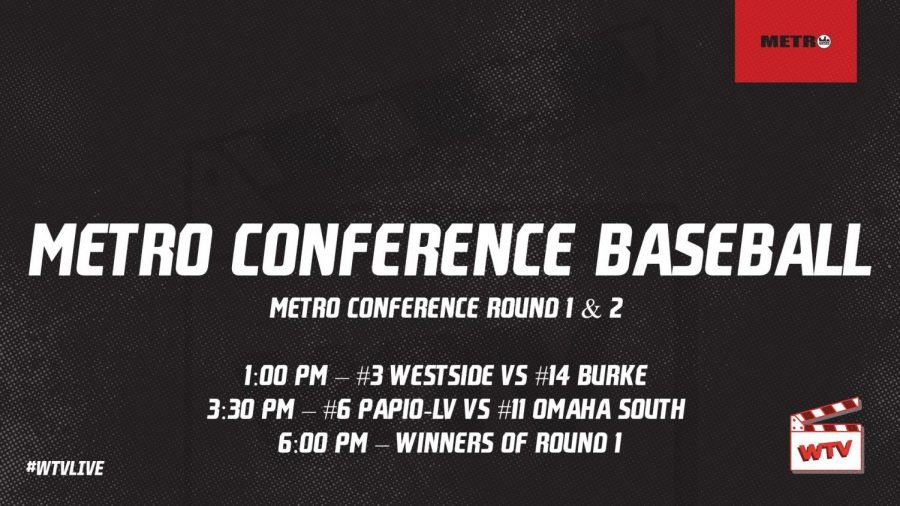 17 teams will compete in the 2021 Omaha Metro Conference Baseball Tournament and the first round of action starts at 1:00 p.m. on Thursday, April 15. Westside will host four teams in first and second-round action on Thursday looking to make some noise in the discussion for the top team in the Omaha metro. Warrior Television will bring you all three games in a Thursday afternoon triple-header. Jackson Gutta and the #3 Warriors will start off the day up against the #14 Omaha Burke Bulldogs at 1:00 p.m. followed by the #6 Papillion-La Vista Monarchs and #11 Omaha South Packers at 3:30 p.m. To end off the night, the second round of action will decide who moves onto the semifinals at Elkhorn South. Watch live as Jaden Taylor, Kade Martin, Ross Jernstrom, and the entire WTV Live crew give you Metro Conference baseball action.
Schedule:
1:00 p.m. – Westside vs Omaha Burke:
3:30 p.m. – Papillion-La Vista vs Omaha South:
6:00 p.m. – Second Round WHS/BUR vs PLV/OS
Don't forget the Dunkin Trivia Question of the game after the third inning. First-person to tweet #dunkintrivia with the correct answer will receive a $10 gift card to Dunkin Donuts.
Also, check out this matchup on (7) Warrior Television – YouTube
Interested in being a part of WTV Live? Fill out the form below or email [email protected]
Remember to watch live on your school computer on Safari.