Season Preview: Wrestling Ready to Compete and Stay Safe for their 2020-21 Season
In a year full of lockdowns, quarantine, and online school, varsity wrestling Head Coach Michael Jernigan, is excited and grateful to have a chance at a full season. Jernigan believes this year's young wrestling team has a chance to be better than most teams in Westside's recent history.
"I'm just excited for a season right now, with all the crazy things that we went through with football, I'm just excited for this season to finally start. Our team's going to be really good this year and still really young, hopefully we can crack that top 10 for the first time ever in my coaching career," Jernigan said.
Jernigan expressed pleasure with the way some of the wrestlers have been preparing in the offseason, and how he can't wait to see how much the returning wrestlers have improved over the spring.
"We had a lot of guys continue to wrestle during the spring and summer, and represent our school in some national tournaments which is awesome, so I'm just excited to see this youth," Jernigan said. "There's a lot of sophomores and juniors with just the 2 or 3 seniors, so I'm just excited to see what those guys can do and see how they improved."
Having eight of his nine State qualifiers returning, Westside is ranked 5th going into the season. Although preseason rankings are just that, Jernigan realizes this year's team has great potential.
"I saw some rankings today, and you know rankings are an imaginary number but there's enough respect for Westside High School right now that they have us 5th in Class A, so we got a lot of work ahead of us if that's where we want to finish," Jernigan said.
Sophomore Logan Edwards, a returning State qualifier, also has high hopes for the team as long as they can get through the season without cancellation. 
"I'm most excited for State wrestling, if we have it. I'm looking forward to having a good year as a team again. We have a lot of State qualifiers returning and if all goes to plan we should have a lot of them in the State finals," Edwards said.
To have a great State finish, everyone has to stay healthy and safe. Jernigan said, talking about his goals for the year, but his main one was keeping everyone healthy and making sure the team does what they need to do to keep a season.
"We have to control what we can control. Making sure we're safe and staying healthy, communicating with each other, but I'm excited for them to get back out there and compete," Jernigan said.
Wrestling related, Jernigan just wants to make sure everyone gets better as the season goes along. Although in a season every match and tournament is important, Jernigan talked about how improvement is the main thing needed throughout the regular season, to have success in the later part of the year.
"No one ever asks you how you did at the beginning of the season, you know it's always 'How did you do at Districts?', 'Did you qualify for State?', and also 'Did you medal at State?', so it's the end of the year when everything has to come together," Jernigan said.
The varsity wrestling team competes for the first time on Saturday, Dec. 5 at 8:30 a.m. in York.
About the Contributor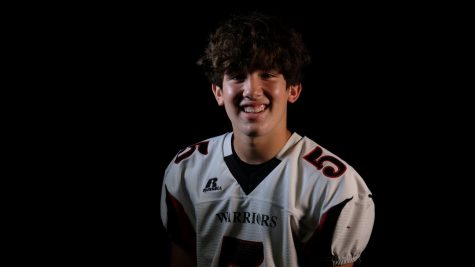 Caleb De La Cruz, Sports J Co-Editor in Chief
Hi, my name is Caleb De La Cruz. I am a the Co-Editor in Chief for Sports Journalism this year. I am a junior and this is my third year of Sports Journalism....