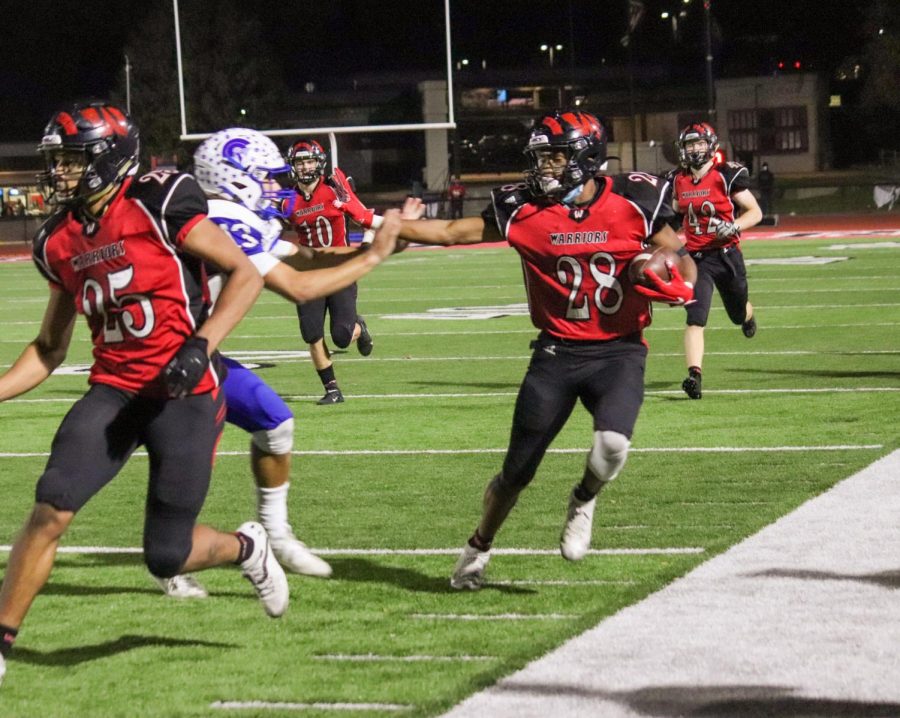 Zoey Gillespie
The Westside Warriors undefeated streak is staying alive after a victory against the Lincoln East Spartans last Friday, Nov. 6. Westside put up a scoring of 49 points and Lincoln East was in the game with a total of 29. Quarterback Cole Payton had a very balanced offensive night with 166 rushing yards and three touchdowns, as well as one passing touchdown with 107 yards. Yhe Warriors were able to keep steady control. Although the Warriors are known for their abilities on offense and defense, the special teams were the story of the night.
Senior Koby Bretz had a 90-yard kick return touchdown. The kickoff touchdown extended Westside's lead to 28-13 after the Spartans cut it to a one score game a play earlier. The next Spartans' possession resulted in a three-and-out. Koby Bretz returned the punt to the Spartans' four-yard line setting up a Cole Payton running touchdown. 
"The kick return really gave us a spark," said Bretz.
With only a few seconds left, Lincoln East had one chance to get the ball in the endzone from the one-yard line. On the last play of the half, the Westside defense stuffed a last second run up the middle. The defense kept the score at 21-7 when going into halftime.
"Tremendous play right there. It helped our momentum coming back out of half and killed their momentum going into half," said defensive coordinator Justin Haberman. 
Westside will face Millard South in the semi-finals of the playoffs. If the Warriors advance they will be facing a new opponent in the championship. There will be no rematch between the Warriors and Thunderbirds after Bellevue's 41-40 overtime loss to Kearney. 
"We definitely wanted revenge on Bell West this year. It didn't come out like that but we just want to go to Memorial Stadium and get this ring to finish the job," Bretz said. 
Westside Warriors will face the Millard South Patriots on Fri. Nov. 13, at 7 p.m. at Phelps Field.