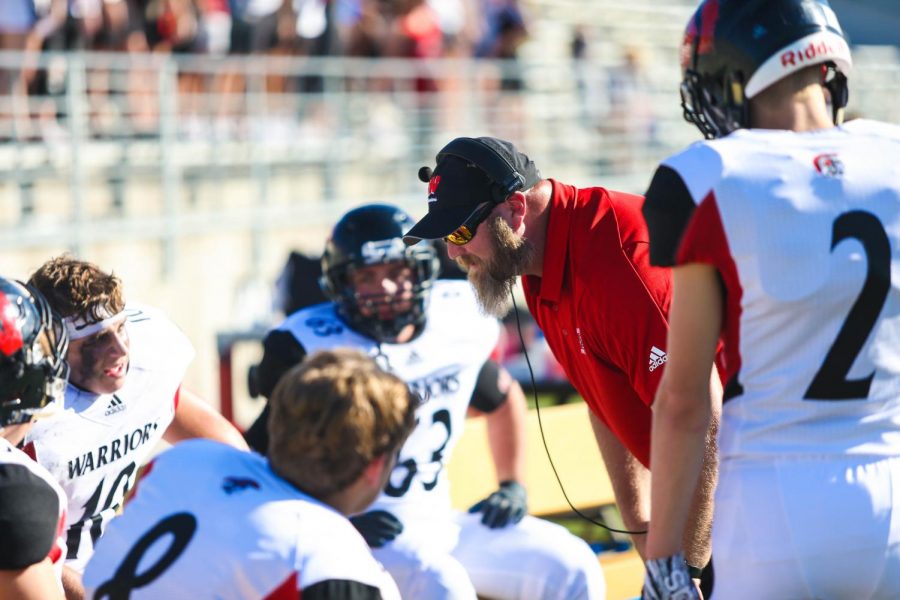 Alex Estopare
Athletic success in the Haberman family isn't something that is exclusive to junior Cade Haberman or sophomore Cole Haberman. Their father, Justin Haberman, a Westside physical education instructor, football, and track and field coach has also made a name for himself when it comes to athletics. 
"I grew up in a town called Beaumont, California," Justin Haberman said. "It's a small, middle class town out in California, right outside of the Palm Springs desert. [In] my upbringing, my folks were very middle class and blue collar. [They] taught me work ethics. I was a three-sport athlete in high school. I was an All-State defensive end. My senior year, my head coach wanted to move me to linebacker. I ended up making All-State Linebacker [and] fullback my senior year. I was named the Citrus Belt football player of the year. I was also a four year letterman in track. As big as I was, I was super fast. I anchored our four by [four] relay team." 
Along with Justin Haberman's natural talent for the sport of football, basketball and track, he said he didn't limit himself when it came to sports, even trying out for ones he never played in his life.
"My sophomore year, I went out for soccer," Justin Haberman said. "I never played soccer a day in my life. I made the varsity soccer team just because I was super fast. They put me as a defensive back. By mid-season, [during] the mid-season league meeting, they voted me out because I had too many red cards."
Justin Haberman's future of sports was looking bright with a chance to head to San Diego State. The only problem was a previous high school injury that he overlooked.
"Out of high school, I had some scholarship opportunities, but I had a lot of shoulder issues," Justin Haberman said. "I tore my shoulder up my senior year of football. I didn't want to miss basketball season, so I played through basketball season with a shoulder injury. I went through track with a shoulder injury. It was to a point that I couldn't lift my arm above my head without my shoulder dislocating. When I went down to San Diego State, I couldn't pass the physical. I needed to have shoulder surgery. So, I went back to my high school." 
This small setback didn't stop Justin Haberman from achieving his dream. He said he knew that there were other options to continue to play football.
"I went to a junior college called College of the Desert," Justin Haberman said. "It's in Palm Desert, California, an amazing school. Day three of football practice, I hit a kid and completely blew the shoulder out tearing everything connecting the shoulder and chest completely apart and had major shoulder surgery the next day. I sat out my whole first year of college. I was coming back from that and working out quite a bit, and in the spring I crushed my lower back bench-pressing 420 pounds."
Even with both injuries, Justin Haberman recovered and sought to play Division One football at big name colleges.
"I had a tremendous junior college career, even received some scholarship opportunities," Justin Haberman said. "[I] thought I was going to go to the University of Arizona, but the spring semester I messed around and messed up some classes I needed to graduate, which made me academically ineligible to play Division One football. The best option would be to go to a smaller school so I would pay attention better in class. Without even seeing anything or visiting, I picked Dana College [in Blair]. I came out here, played two years of college football at Dana College, had a great two years, made All-Conference both years [and]got preseason All-American my senior year. Then I met my beautiful wife. I tell people all the time, the last thing my mom said to me was, 'Don't go out and meet some nice girl and get married and stay out in Nebraska.' That's exactly what I did."
Justin Haberman's journey to Nebraska, filled with trial, error, achievements and love, gave way to his career at Westside. Originally from Blair, the Haberman family's move to Omaha and Westside was a choice every member had a voice in.
"Cade, our oldest kid, was going into the end of his eighth grade [year]," Justin Haberman said. "We [thought], 'What are we going to do? Are we going to leave him in Blair or put him in Westside?' I really let him make that [decision]. It was a hard transition for Cade. Cade was the super athletic, real popular kid in Blair. Coming into Westside as a freshman, he didn't know anybody and the hard part was, looking back, he didn't hang out with any of the freshman kids because he was put on varsity football immediately. He never told us that it was hard for him, but now he looks back and will tell us it was a little tough. But he loved it."
Junior Cade Haberman is set to break records. He most recently broke Westside wrestling's 84th pin record and said he hopes to make a name for himself,  not only for his glory and the legacy of his family name, but to set a higher standard for future Westside athletes. 
"I want to leave a legacy here at Westside,"  Haberman said. "I don't just want to be known as the kid who was a good athlete and played college football, I want people to remember me. I want teachers to remember me, I want students to remember me, I want to put my name on as many things as possible, and when I set records, I want them to be broken someday. That's what they're there for." 
Competitiveness is a trait the Haberman family is known for. While Cade Haberman is breaking records left and right, his younger brother sophomore Cole Haberman said he is focused on taking the spotlight away from him.
"I see myself as a state champion wrestler my junior year and senior year, and I'm really looking forward to beating all my brother's wrestling records my senior year," Cole Haberman said.
With junior Cade Haberman, sophomore Cole Haberman and future freshman Chloe Haberman, the Haberman legacy at Westside is gradually being made. Justin Haberman directed all the family's athletic success to Westside's coaching and teaching staff.
"The reason that [Cade's] name is going to stay is we have tremendous coaches," Justin Haberman said. "Coach Froendt, the head football coach, is a tremendous coach with the culture and stuff he does with the football team and how he develops football players. Coach Zahn, his defensive line coach [and] Coach Williams, his offensive line coach, they're tremendous coaches, and that's what helps. Here at Westside, we have tremendous teachers, but they're also tremendous coaches.
Cole Haberman said he agreed with his father and that along with coaches here at the high school that helped with his success, there was one particular coach at the middle school who helped create the athlete he is today.
"In middle school, Coach Apfelbeck was a huge influence on me," Cole Haberman said. "He knew how to challenge me and build my confidence as a wrestler and athlete, and all of the football and wrestling coaches at the high school have helped shaped me into the person I am today."
When asked about what made him the great athlete he is, Cade Haberman thanked his childhood friend for growing his competitive spirit.
"I contribute a lot of my success to Dexter [Larsen] being my wrestling partner," Cade Haberman said. "Growing up, he was always the better athlete of us two. He would kick the crap out of me during wrestling practice, and of course I hated it, losing to my best friend every day, but looking back at it now it was the best thing that ever happened to me because I hate losing. I almost hate losing more than I love winning."
Even in the heat of competition, Justin Haberman said that competitiveness among siblings shouldn't be stressful or bring someone down, but rather it should  make both people better.
"I want people to understand, life shouldn't be a competition between siblings, life should [just] be a competition," Justin Haberman said. "Compete to push each other to be better, encourage. People always want to tear down, and I'll tell you my boys will be the first to tell you, they don't harp at each other. They don't gripe at each other. There's too many people that want to tear people down. As a school, if we worked on building each other up instead of tearing people down, we'd make this a better place."
In the end, all Justin Haberman said he cares about is how his children are perceived as people, not as athletes.
"When people think of Cade Haberman or Cole Haberman or yet Chloe [Haberman], what I hope they know is that they're good kids, that they work hard, that they have a work ethic," Justin Haberman said. "I just had a young lady interview me. [She asked], 'Who makes the biggest impact in [your] life?' My father instilled in me a hard working mentality. [I'm] not afraid to put in the grind, not afraid to stand alone and stand up for what's right."