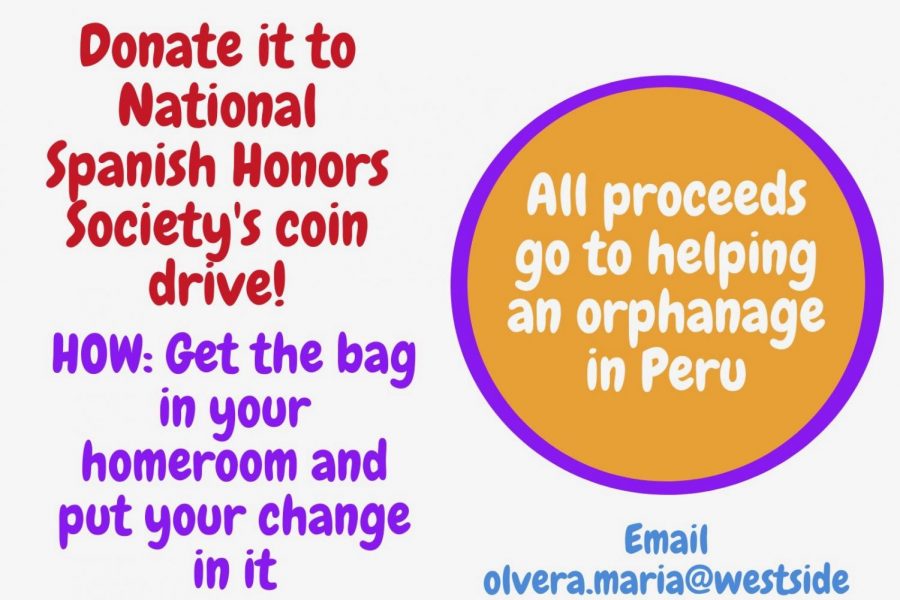 Image courtesy of Westside Community Schools' Twitter
Westside High School's Spanish National Honors Society has recently initiated a coin drive which students can donate to during homeroom, that started Monday, Dec. 9. This year, the club is using their donations to support an orphanage in Peru with the goal to afford transportation for the kids staying there. Since the goal is set high at $10,000, club sponsor and Spanish instructor Maria Olvera said she would encourage as many people as possible to donate.
"We encourage all homeroom students to drop their change in the bag," Olvera said. "We [want to] gather as much money as possible towards our goal."
Olvera said the club is starting multiple fundraisers in order to receive the $10,000.
"The coin drive is one of [our club] fundraisers, but we are also doing a movie night," Olvera said. "[In order to raise money], we will also be doing a SnapRaise starting January 13." 
Senior Jacob Lang is a member of Spanish National Honors Society and said that donating your spare change helps support a good cause.
"You're helping people that are in need," Lang said. "If you're not using the change, than [donating] it is a good way to give it [to a good cause]."
Olvera said she is hopeful that students will donate to the various fundraisers to support others in need.
"It is important to extend our resources to others," Olvera said. "And it's a way to show students that there is always something we can do to help other people."