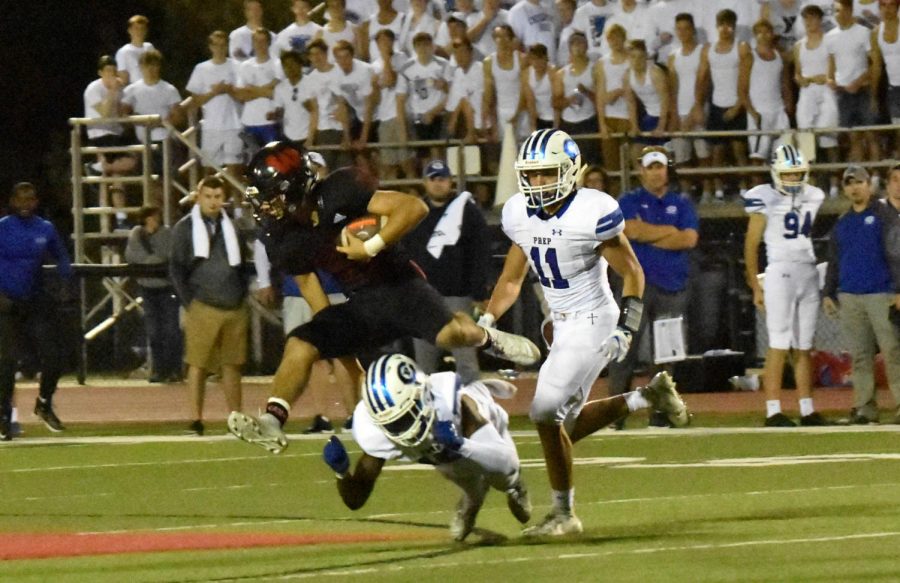 Emma Rieser
The Warrior varsity football team began their 2019 postseason campaign up against a familiar foe in the Creighton Prep Jr. Jays. In their most recent meeting at Phelps Field earlier this season, the Warriors, behind a five touchdown night from Quarterback Cole Payton, took down the Jr. Jays 49-21.This matchup would be a little different for the Warriors. In the first half, both teams stayed consistent but the Warriors couldn't quite pull away, leading 14-6 at the half. The Warriors would come out of the half with Avante Dickerson taking a reception 60 yards to the endzone, which helped the Warriors pull away for the 49-13 win. 
With a slower first half in comparison to ones in the past junior running back Raoul Kolani said he feels the team had some help from something special to get them back to full force in the second half.
"We call it the wizard," Kolani said. "The wizard usually talks to us about how we can go through struggles on the field and get out of that as soon as possible and focus on what's important."
With this being these teams' second meeting this season, both of them have experience of what the other has in store for the matchup. Sophomore Jack Wimmer said he felt that the entire team was well prepared for what Creighton Prep would throw at them.
"We knew what they were going to do all week, and they stayed true to that in the game," Wimmer said. "The coaches did a great job of preparing us for what we were going to see."
With the win, the Warriors will head down to Lincoln this Friday to go up against star running back Nick Halleen and the second-seeded Lincoln Southeast Knights.