Red Shield Leaders Chosen for 2019-2020 School Year
With Westside's 2019 Red Shield leaders graduating, the club has appointed several juniors to lead the student section for the upcoming school year.
Junior Dylan Folda, incoming leader of Red Shield, said that a few years ago he knew the crowd would get bored of all the reoccurring chants, and his goal is to make sure that does not happen next year.
"We are just going to try and be involved," Folda said. "The more involved that we are and the more events we can get to, then we will be more accepted and we'll have bigger turnouts. We need to come up with new ideas to keep it fresh because we don't want anybody to get bored."
Folda believes that the seniors this year did a great job and filling in their shoes will be challenging.
"I'm looking forward to the fun stuff that we could think of," Folda said. "Of course we will be using some of Cedric's ideas. Filling in his shoes will be a big thing because he was probably the guy with the most school spirit out there."
Junior Tommy Sullivan, also an incoming leader of Red Shield, said he feels Westside needs to increase the amount of people that attend away games.
"I think we could do better on numbers of how many people we could get to go to all of the away games, not just playoff games," Sullivan said. "Our home games are usually sold out and packed and that's always good, but away game numbers we need to get up."
Westside's current Red Shield leaders were successful in winning the award for the best student section. Sullivan said he believes winning the award this upcoming school year will not be a challenge.
"No, [winning the award for the best student section again] is no challenge," Sullivan said. "We are going back to back and taking it. We have no worries."
Junior Kenna Nemecek is going to be the first female leader for the Red Shield club and said she is excited to take on this new position.
"I am very excited to be a big part of Red Shield next year and add this experience to my high school career," Nemecek said. "I am looking forward to taking on the role of being the first girl red shield leader and bringing more girls into the whole picture and making them feel more welcome."
Nemecek said the best way for her to increase school spirit is to make memories with others, something she believes is important in high school.  
"The easiest way I'll maintain spirit and positivity is just making fun memories with everyone," Nemecek said. "I feel like that's what high school is all about, just appreciating every moment and supporting your school."
About the Writer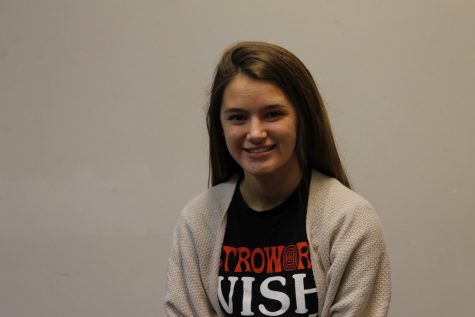 Elizabeth Matz, Staff Writer
Hi my name is Elizabeth Matz! I am a staff writer for Westside Wired this year. I am currently a freshman and this is my first year on Wired. If you have...