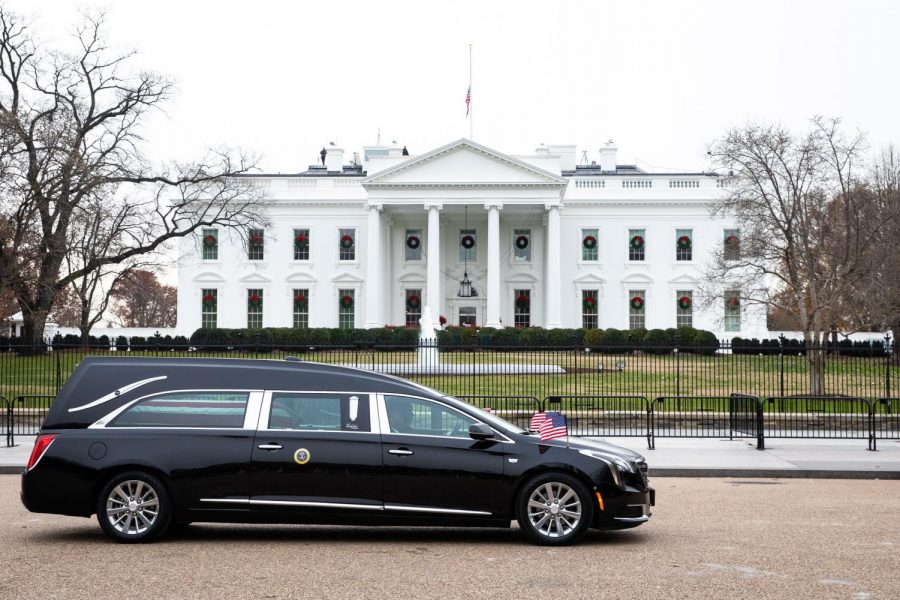 Official White House Photo by Tia Dufour
Last Friday, Nov. 30, the United States's 41st president was laid to rest. George H. W. Bush served as president from 1989 to 1993, with previous political experience as a representative, ambassador, and Director of Central Intelligence. A few of Bush's notable achievements include serving in WWII, ending the Cold War, and his advancements regarding domestic policy.
Bush's funeral for friends and family took place on Thursday, Dec. 6 at St. Martin's Episcopal Church in Houston, TX. This was the exact same location that Barbara Bush was honored seven months prior after she passed away. Bush's state funeral, a public funeral ceremony, occurred the day before, Wednesday, Dec. 5, at the Washington National Cathedral.
Social studies teacher, Bob Brousek said he was not old enough to vote in Bush's first election in 1988, but recalls his run against Bill Clinton in 1992. Brousek also said he remembers how the majority of the country reacted to Bush's 1988 election.
"I can remember much of the country feeling pretty good about it because [they] felt like it was an extension from Ronald Reagan's successful presidency since the economy was doing so well," said Brousek. "It was looked at [as] being a continuation of good economic times."
Brousek said Bush's death took him by surprise although he knew he was getting old.
"I guess I didn't realize he was deathly ill," Brousek said. "It makes a person like me make me think 'gosh I'm getting older' when presidents of my lifetime are dying."
Linda Bramblett, an ACP instructor said that in 1988, she was happy to see him elected. Bramblett said she was also one of many Americans who was saddened to hear about his death.
"It was sad because he was truly very respected and well-loved," Bramblett said. "I think it impacted a lot of people because he was a true patriot for this country."
Many Americans mourned the loss of George H.W. Bush. Brousek said he believes Bush had a successful presidency and will be missed greatly.
"I always found him to be a genuine person; he was someone that I think deserved respect," Brousek said. "Watching the eulogies given on his behalf I think speaks to the fact that my perception of him, and how many other Americans felt, was [that he was] a man of dignity, a man who felt strongly about his country and had strong values."