Recap: Volleyball Senior Night
Head coach Korrine Bowers has to soon say goodbye to her four seniors: Rachel Poppert, Ruby Secora, Natalie Bratetic, and Kendel Gifford. She said she plans to stay positive in spite of it being their senior year. The Warriors took on the Millard West Wildcats for their senior night game, falling three sets to none. Despite the loss, Westside looks to use these last two games as momentum for the upcoming metro and district tournaments.
"We picked captains this year already, Maddy Siebler, Kensington TeKrony, and Jocelyn Healy. They're all underclassmen and that's different. Usually, you have a senior somewhere in there. Honestly, the seniors are going to be missed because they were sophomores when I first came into this program, almost three years now, and they've adapted to my coaching and what it takes to become a winning program," Bowers said. 
Westside has taken a different approach with their captains being underclassmen and not going with the typical senior leaders. They look to keep the leadership for even longer.
"With them being the foundation of the program, we have to build off that. They may not play a lot and be superstars on the court, but they work just as hard every practice," Bowers said.
Starting senior Rachel Poppert said she loved her experience at Westside. She has played on varsity since her freshman year up until now. 
"It was a different program when I started out as a freshman. We got new coaches and talent. The culture of Westside Volleyball started to change," Poppert said. "Over the past four years, I've seen so much in my level of play and knowledge of the game. I'm so glad I got to be a part of making the new Westside volleyball." 
Poppert said she felt her last Senior Night was emotional when she heard her name called out for the last time at home.
"Senior night is emotional because the four years I've played here I have watched seniors play their last game and graduate. It was sad seeing them play their last few games in a Westside uniform. But, now that it's me in that situation, it's hard to believe it," Poppert said. 
Bowers said she feels sad to not have much time left with the girls she's coached for the three years she's been here. She added she believes all seniors had a purpose on the team whether that was playing or pushing the starters to get better in practice.
"The girls know where they stand, and they are fighting to get playing time. As their coach, these four girls are amazing. We wouldn't be where we are without them and their dedication and hard work for the team. This teaches the underclassmen a lesson, just because they're seniors and don't play a lot doesn't mean they're just going to quit or have a bad attitude. They continue to work hard. To be a role player is just as important as being a starter. I commend them for that," Bowers said.
With an emotional senior night, Westside looks to stay positive and have a better finish than last season, with only having a few more regular-season games left.
"It's emotional for these girls because they put so much heart and soul into the program for the last four years. It's amazing how it just jumps up on you. We had our senior night so early, usually it's not until October, but luckily we have a lot of season to go with these girls and spend more time with this senior class. It really is emotional because it's a huge part of my life to come into this Westside program," Bowers said.
The Warriors will take on Papillion-La Vista Tuesday night at Papillion-LaVista and the time is to be determined. They look to come off their last two games this season with wins and start having some momentum for the post-season playoffs.
About the Contributors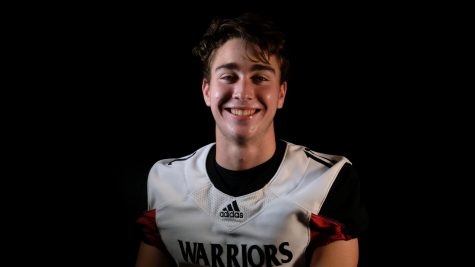 Tristan Alvano, Sports J Writer
Hi, my name is Tristan Alvano. I am a staff writer for Sports Journalism this year. I am a freshman and this is my first year of Sports Journalism. If...