Preview: Westside Swede Center to Open
The Westside Community Schools Foundation has begun construction at Westside High School to install the first premier indoor golf center for a public high school in the United States. This golf center will be known as, "The Swede Center," and it should be opening this fall. Developmental Director for the Westside Community Schools Foundation Terry Hanna helped lead this project.
"As we were putting this together, I was working with Dr. Mike Lucas and Jay Opperman and there was some space that wasn't really being used, and it was hard to find something to be used in that space," Hanna said. But it's actually perfect for any kind of golf because of the high ceilings. 
According to Hanna, Westside Alumni and other community members were helpful with their donations and support. Because of this, the project will be completely funded on donations, and no tax dollars will be used.
"I started talking to people all over the country who are connected to Westside," Hanna said, "We started getting a lot of great financial support from these people, mainly alumni."
The Swede Center will include 1,600 square feet of putting and chipping, a hitting bay, locker rooms, lounge area and a golf simulator.
"[The golf simulator] will kind of remind you of a virtual golf course," Hanna said. "You're in the middle of a room, and there will be a course—any popular course in the world. You can literally play the golf course inside. So you hit into [the] screen, and it's like a big arcade game."
When using the simulator, people will have the opportunity to play one hole, or all 18 holes. Hanna is hoping the golf simulator will help younger children learn the game of golf.
"It's not really for the kids that are in school right now," Hanna said. "It's really for the kids that are not in school at all, or in elementary school. It's to teach them the game. It's a fun game, it's a great game, it's a game that you can [play] your whole life."
Along with having a golf simulator and high-tech golf equipment, the Swede Center will also include information about golf history at Westside.
"Not only are we growing the game of golf, but we're going to educate everyone that walks through that door," Hanna said. "Doesn't matter if they're a first grader, or current senior, or 70-year-old alum, they're going to know the history of golf at Westside. 
The Swede Center will be named after Westside alum Scott Carlson's dad, Merrill "Swede" Carlson. Not only was he a good golfer, but he was also someone who loved what golf stands for.
"I was informed by Terry Hanna of this concept to build the indoor golf practice facility," Carlson said. "Terry offered us the opportunity to name this after my father who grew up in the district, Merrill "Swede" Carlson, and we were flattered that the district, the school and the [Westside] Foundation would consider naming the facility after my father, so we graciously accepted."
As a family, Carlson said he had been looking for different ways to honor his father. Merrill "Swede" Carlson grew up in Omaha, and had financial considerations that prevented him from going to college. Carlson and his family saw the Swede Center as a gateway to form a scholarship that will help future students and future golfers.
"[People] are going to get both an access and introduction to the game of golf," Carlson said. "They're going to get the ability to practice and train with the sport, and it's going to give students and stakeholders all throughout District 66 and the Warrior Community a chance to really further the game of golf."
About the Writer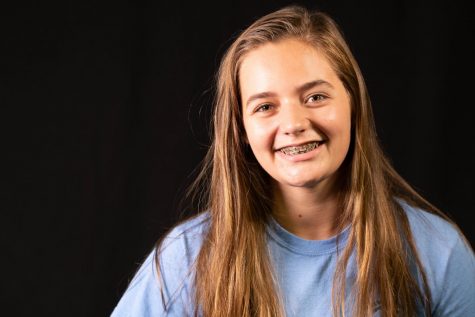 Ava Van Gelder, Wired Managing Editor
Hi, my name is Ava Van Gelder! I am a managing editor for Westside Wired this year. I am currently a junior and a fun fact about me is that I have gone...