Goodbye Rank?
Westside considers getting rid of current ranking system
For many years, Westside High School has used class rank. Class rank is decided by a student's mark point average (MPA), which is determined by group number, or the difficulty, of the classes a student takes. The ranking numbers range from one to five. A five would be an AP class, whereas a one might be a group guidance course. The formula is based on MPA and credits, so the student with the most points will then be ranked as number one and so on, according to the 2019-2020 Course Handbook.
On Feb. 10, Principal Jay Opperman sent out information and a survey regarding class rank. The purpose of this email was to get feedback from Westside students and parents on their opinion on the class ranking system according to Opperman. Opperman provided information from the National Association for College Admissions Counseling (NACAC). NACAC determined that fewer than 50 percent of colleges look at class rank. Opperman said that Westside has been contacting other schools that got rid of the ranking system based on these statistics. 
"We've reached out to other school districts to see where they're at and what they've done [about class rank]," Opperman said. "Millard, Papillion La-Vista and [Lincoln Public Schools] have all gone away from ranking. So, right now we are in the gathering data mode. We've talked to other districts, surveyed students and talked to parents and staff."
Opperman said that surveying and gathering facts will help to determine if Westside will continue with class rank in the future. Junior Victoria Chin said that she believes it would be wise to wait on getting rid of class rank for a while. 
"Since [I am] already [mostly] through junior year, it would maybe be a good thing to keep it for now," Chin said. "Considering future students, I think it's probably a good idea to get rid of it or replace it with the Greek system."
If class rank was taken away, this would not mean that a system of honoring students' work would not be present, but it would just be a different system, according to Opperman.
"We still want some way to honor great work, whether that's the Latin system or system of distinctions," Opperman said. "If we end up [getting rid of class rank], then the next step would be picking a system to determine what level of things you need to do."
 Opperman said that one of his biggest hopes, if rank were to go away, would be for students to explore some of the other opportunities Westside provides. He said that with class rank, students might take classes they normally wouldn't to improve their rank. 
"We want to make sure students are taking classes that they want to take," Opperman said. "You could be driven to take certain classes from a rank standpoint, and [they're] not about what you love."
Westside offers many programs, such as Zoo Academy, the University of Nebraska Medicine High School Alliance program and more. If a student is taking fewer classes, they can add these into their schedule and be  part of a program that is similar to that of a college course. Many of these classes are taken during a student's senior year, as it's a year they should start to explore more, according to Opperman. 
Opperman said that he wants a student's college transcript to show the things that the student is interested in, not necessarily all the extra requirements. He said that he wishes students would take the classes they want to.
"If I were at school here, I would probably have no desire to take AP Comp," Opperman said. "I would take every AP math and science class in the world. That's where my strengths are, that's where my love is, those are just things I was good at."  
It is required by the state of Nebraska that certain classes are taken by each student before the student can graduate from high school. Opperman said that this will not change, but there may be a decrease in the number of classes students will have to take in the future if class rank does go away. 
Chin said she believes some students look at their rank as a way of what colleges they may get into. For students in the upper half, that means they would strive to take more competitive classes and get higher grades. 
"For those who are looking at more competitive schools, I think they want to be in the higher tier," Chin said. "They try to take more AP classes or try to skip levels so they can get more points."
Yet, Opperman said that rank may not be as important when applying for college due to the fact that colleges have started to stop paying attention to rank. There are colleges that look at a student's rank, but they aren't weighing it as much as other things on a student's transcript. 
"I think colleges should look at students as a whole," Chin said. "What's more important, usually, is extracurriculars or [a] student's personality. Class rank can be important because it shows how well you did in high school, but it's not the most important thing." 
A way that class rank could potentially harm a student is if they are compared to a student from a smaller school. If a student is number one at Westside and another student is number one at a smaller school with only 100 in the graduating class, it wouldn't be fair to compare the students based entirely on the class rank, according to Opperman. 
Chin said this is a reason that other systems, such as the Latin system. could be used. The Latin system recognizes students based on their individual accomplishments. It allows for a comparison between students, it just isn't as harsh as class rank. 
"At my previous job, […] our system was we would have more than one number one," Opperman said. "We did have a standard for what would get you first in the class. We didn't get into percentages, so I did like that we were finding a way to divide out these five or six students that were all incredible." 
It is still undecided what Westside High School will do about rank, as administration is still in the gathering information stage. It could be a few years before a decision is made. According to Opperman, at the moment, no current class will be affected by this change. 
"Ultimately, I hope that whatever we decide is the best thing for our students," Opperman said. "No matter where they want to go, whether it's a job, a two-year college, some type of specialty school, a four-year college, I want their transcript to be valued."
About the Writer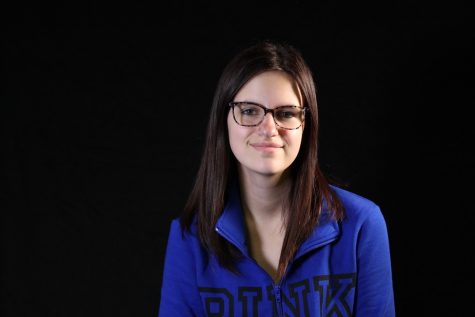 Angelina Pattavina, Lance Managing Editor
Hi, my name is Angelina Pattavina! I am a Managing Editor for Lance this year. I am currently a junior and this is my third year on Lance. If you have...