LIVE/Preview: Millard South at Westside
As the regular season gets into its final stretch, the state title looms closer and closer on each teams' minds. Game by game, quarter by quarter, each team straggles back and forth for positioning headed into the postseason. As the regular season closes out, so does many high school careers for many players on the court. No matter how many games played on the court, points scored, buzzer-beaters hit or games won, all players will get to move on past high school apart of a team bigger than themselves. On senior night, happily lined up with Valentine's Day the Westside Boys basketball team will play the 8-10 Millard South Patriots at Westside High School. With just three more games left in the regular season, the Warriors look to end those games with momentum on their side headed into districts.
This year's team has been lead by a very talented senior class that has been arguably one of the best since the 1980 state championship team. With the 7 seniors apart of the team this year, each and every player has played a part in the team's successful run this season. Many of those seniors have come from different backgrounds and experiences to get them to this point in their basketball career. For a few of these players, these will be their last few times lacing up their shoes, others will move on to college basketball and will look to continue their career further, and one will have his name written on the walls here at Westside. No matter where each player goes from here, the memories of the four years spent at Westside, will be lasting.
Tyler Dovel
Tyler is a senior on the varsity basketball team and has been playing basketball since he was in the 5th grade.
"It's a lot less stressful and you just show up and get better on your own," Dovel said. "The coaches bring a positive atmosphere to the team to make everyone feel at home. My experience has been very positive and I really like all the coaches, it seems like you can always go and talk to them about anything, they are very nice and easy to talk to. The biggest thing I have learned is to own your actions, and not blame, complain, or deflect them towards something else. This has helped me in my own life by teaching me to be more accountable for my actions."
Cal Weidemann
Cal is a senior on the varsity basketball team and has been playing the game since he was three or four. Ever since that moment, he fell in love with the game and hasn't stopped playing it since. He has been on varsity all four years and has a lot of memorable experiences.
"My favorite memory was in last year's district championship game and the shot Carl hit to win us the game. I couldn't play in that game but it was amazing," Weidemann said.
As a junior, he overcame a tragic knee injury that occurred during football season forcing him to sit out his junior year on the varsity basketball team.
"I tore my ACL, LCL, and a tendon in my knee. I did all the rehab and I came back after 11 months and returned to football and basketball," Weidemann said.
Ryan Adkins
Ryan, a two-sport athlete in baseball and basketball, is playing his first full year on Varsity and has made his presence known on the court. Head coach Jim Simons said he feels that Ryan is truly someone he can trust when a player is out and does what is needed from him.
"He's a kid who has really improved tremendously from being kind of a JV player last year to having a significant role for us this year," Simons said.
Carl Brown
"Downtown Carl Brown" as known by many Warrior fans has been one of the Warriors' sharpshooters in his time on the team. Surprisingly, at a young age, basketball wasn't the main priority on Brown's mind.
"I was a wrestler. I was ranked in the country when I was 12," Brown said. "I went to school with a bunch of dudes who played basketball and I would never wanna play."
At around that time in between sixth and seventh grade, Carl started playing pickup games with his friends. Being the taller one of the bunch Carl grew to be a solid player in the paint.
"Everywhere I would go everybody would ask 'do you play basketball' and I'd say no. I started playing pickup games and started having fun with it and then I started to grow even more," Brown said.
Going into high school, Carl thought that it would be a good idea to try out for basketball. Making Varsity his freshman year Brown was used mainly as a sixth man in his first two years on the team. Last season, Brown was given the true starting role he had been working for. To credit his achievements there is one specific person Brown has always been able to look up to.
"My mom. Everything I do is for her. She always tells me she's proud of me, whatever I do," Brown said. "She always tells me her favorite moment of her life was last year when we beat Millard North in districts. That was the happiest I've ever seen her."
Dylan Folda
With an older and a younger brother who both play basketball, it was pretty easy for Dylan to find a way to get involved in sports. His older brother, Zach, played basketball at Westside and is currently playing basketball at Doane University as a Junior. Folda has felt that his family has done a lot for him and his brothers, helping them pursue what they wanna be in life.
"They sacrificed their time, my parents, to get me wherever I needed to be and we were in a lot of activities. I just appreciate them just taking all that time to get me to practice and just little things," Folda said. "Shooting outside with my dad or my brothers [helped] and they would always be giving me tips on how to get better. They've been a big influence for me, not only basketball but just my entire life."
With his background as the leader of Red Shield, the student section at Westside, Folda has filled the role of bringing energy to the team, in times of success and times of hardship.
"You just gotta be positive and you gotta see when guys are having their down days and you gotta try and pick people up. We have a goal in mind and we wanna reach that goal but being in Red Shield and being the 'hype guy' it was kind of just natural to be that fun guy," Folda said.
Jadin Booth
Booth, a commit to the University of Nebraska-Omaha will leave Westside as the all-time leading scorer in the school's history. After Chase Thompson passed the record last year Booth would pass him mid-year with a 31 point night against Creighton Prep on January 10th. Being on varsity all four years, Booth has been a full-on starter averaging at least 19 points each of those years. Within a family full of athletes Booth has been raised in a group of hard work and athletic ability.
"I just grew up with a ball in my hands. My mom was a big athlete in high school, my brother played basketball out in [Philadelphia], both my uncles played college basketball and my family is from Indiana so the list kind've speaks for itself," Booth said.
People's high school experiences vary from generation to generation and from person to person. For Booth, these last four years have gone by like a breeze and knowing how little time he has, he's really made it a motivation for him.
"It truly is some of the best years of your life so being able to cherish these friendships and memories that you'll never forget or probably ever have again is something you just have to take care of," Booth said.
PJ Ngambi
Ngambi has been truly the floor general for the team this year and has been on varsity all four of his years playing high school basketball. Starting playing in third grade PJ started to truly work on his game and bring it to the next level in sixth grade. Playing for the OSA Gauntlet's summer team this past year, Ngambi is looking to advance his basketball career to college.
"It's a big step. Just knowing that you're wanted somewhere and you're wanted and you can go somewhere and make an impact somewhere right away and play is a big thing," Ngambi said.
Being the team's point guard this year Ngambi has stepped into a big role on the court and has worked to help push to make the team. Going into his final games, Ngambi wants to finish out his high school career showing that the team can compete with the best.
"We can play with anybody. Here or away I think we've shown that so far. We've strung it together, shown that we can play with anyone, we can beat anyone. I think it's our time and we'll show up for sure," Ngambi said.
About the Contributors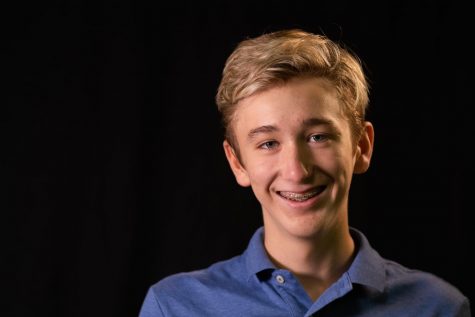 Jaden Taylor, Sports Journalism Staff Writer
Hi, my name is Jaden Taylor! I am a staff writer for Sports Journalism this year. I am currently a sophomore and this is my second year on Sports Journalism....