Playing for a Purpose
Every day, you can find high school athletes working on their game in practice for a chance to show their skills in a matchup once or twice a week. But what if their hard work could pay off in a different facet while still doing what they love? That is the question Athletes 4 Children hopes to answer. This special organization has given Nebraska athletes the chance to donate money for every highlight play they make during their sport season of choice.
Athletes 4 Children is designed to raise money for the Children's Hospital and Medical Center under a "pledge-play-pay" system. This means athletes from all around Nebraska have been pledging a certain amount of money for every tackle, win, goal or hit they achieve, depending on the sport that they play. Last year, the organization received pledges from 34 players across 17 schools. In this school year, Athletes 4 Children already has 19 pledges from various high schools and sports.
The founder of Athletes 4 Children is Garrison Dodge, a recent graduate of Oakland-Craig High School in Oakland, Nebraska. Surprisingly, Dodge said that the organization sprouted from a common dilemma that many Westside students have when preparing for graduation.
"My dad and I were sitting down watching football and we were talking about community service hours and what I needed to graduate high school," Dodge said. "It came up as us wanting to start a charity fundraiser. We were going through names and wanted to tie [the fundraiser] in with sports. [The idea of] Athletes 4 Children came up, and my dad thought it was perfect."
Dodge and his sister were both six weeks premature, so he said the decision was natural to have the money raised from Athletes 4 Children given to the Newborn Intensive Care Unit (NICU) at Children's Hospital. Dodge said his expectations weren't very high for the organization when he began working on it. 
"At the beginning, I thought that we were going to have about ten people doing it," Dodge said. "I thought $1,000 was going to be our goal. Then we got a couple Omaha kids and it just blew up after that. We recently just hit $10,000 in donations."
Dodge said that much of the success of Athletes 4 Children can be attributed to the publicity it received in its initial stages. He reflected on the amount of time that was spent just trying to get schools and athletes enlightened about the organization.
"I don't think I can put a number [on the] hours that we had to email and tweet at teams and coaches in high school [to try to get them to pledge]," Dodge said. "My dad has a couple of connections in Omaha with the news. We had a couple of news anchors come out and do some videos on this, and that got us a lot of publicity. A lot of people heard about it around Omaha, and I couldn't be more grateful for all of the news anchors that took time out of the day. It could not be as big as it is now [without them]."
Athletes 4 Children got in touch with Westside Football after the end of last season, hoping to expose some of their players to the idea of following the footsteps of their peers across the state. Senior Grant Tagge said he immediately latched on to the idea.
"They messaged us about coming by one of the hospitals and hanging out with the kids," Tagge said. "[The team] planned a time to do that and pledged to what we were going to do with the hospital."
Tagge was immediately hooked and said that this interest was due to the organization's unique way of giving back to the community.
"I think it's a really cool way to reach out to kids who look up to you," Tagge said.
This past summer, Tagge decided to join the cause by personally pledging $1 per tackle, $3 per sack and $5 per interception or touchdown. He said that the process of making the pledge can be very personalized for each player. 
"They leave it up to you," Tagge said. "You can match another athlete at your position or just do it by yourself. I just looked at what everyone else did and made it my own."
Although Tagge is the only player from any Westside sport to make this pledge as of now, he is currently talking to a couple of other players on the football team who may be interested in joining the organization. He said that while what he is doing may seem generous, it is just another facet of the program he has been a part of for the last four years.
"It's really cool to give back to [the children]," Tagge said. "Our whole mission in Westside Football is serving others. That's part of being on the team. You have to buy in to serving others."
Garrison said that Athletes 4 Children is a successful organization thanks to the pledges made by Tagge and other players across the state. However, with Dodge currently studying and playing football at Peru State University, his time committed to this project has been severely cut. Because of this new lifestyle, Dodge said that his father has taken a much bigger role in the organization.
"With college and football practice, I am hitting the books from 7:00 in the morning to three in the afternoon and then practice from three to six," Dodge said. "My dad is helping a lot. He has been with me 100 percent of the way and has as much credit in it as I do."
As for the future of Athletes 4 Children, Dodge said that he and his father are taking it one step at a time. He said that no matter what may happen in the next couple of years, the main goal of giving back to the NICU will never die.
"We are taking it year by year," Dodge said. "If we ever just don't have enough kids [pledging], we will still continue to donate every year."
About the Writer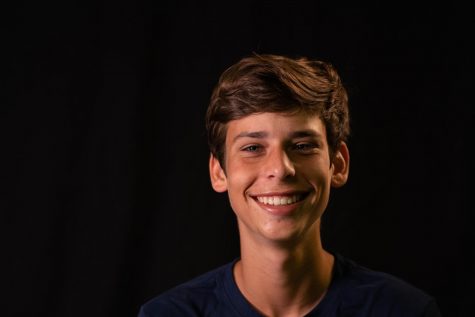 Josh Siegel, Sports Journalism Co-Editor-In-Chief
Hi my name is Josh Siegel! I am the Co-Editor-in-Chief for Sports Journalism this year. I am currently a senior and this is my fourth year in journalism....