Painting a Future: Student Creates Mural at WMS as an Alternative Assignment
Last spring, eighth grade student Jay Sanchez found himself struggling in school. Kelly Schulz, his Spanish instructor at Westside Middle School, devised a plan.
"I wasn't doing so [well] in school," Sanchez said. "Ms. Schulz said that if I could get all my grades up, she was going to find a way for me to paint a wall."
Immediately, Sanchez said he was interested. He has been practicing art ever since he was little.
"At first, I liked drawing a lot, because my grandfather taught me how to draw random stuff, and I was super interested, so I started doing my own art," Sanchez said. "I eventually got into graffiti because I really liked how it looked."
While Sanchez struggled in the rest of his classes, he is a native Spanish speaker. He would often finish his Spanish work before other students. Schulz said she decided to use the extra time to start working on the mural.
"I helped facilitate the mural," Schulz said. "I worked with Sanchez as one of his teachers the whole year, but because he was an advanced Spanish student, he had extra time to be working on more of a personalized project."
Schulz went straight to principal Kim Eymann with the mural idea.  Eymann said she was instantly intrigued. Together, they decided they would have Sanchez work with a professional artist. Following this decision, Sanchez, Eymann and Schulz met often, discussing what artist to contact, the expectations, criteria and how to make the project happen. After six months of meeting with and interviewing different artists in the community, they finally settled on local artist Rob Crawford. He was there to give a professional opinion of the project and help with the painting process. He mentored Sanchez and helped fine-tune the final layout.
"We talked with Mrs. Eymann, and she was in touch with the rest of the administration, and we got to kind of the general idea of the visual elements they wanted," Crawford said.
By the end of the school year, Sanchez and Schulz were ready to begin the project. The idea for the mural was centered around growing up and the opportunities you can create for yourself. Sanchez and Crawford said they decided to start with a baby and show the different stages in life. The figures wind around the school walls. The painting comes to an end after depicting people growing up and having various careers, such as being a ballerina or astronaut.
"The first thing that came to my mind was an evolution line," Crawford said. "[That's] a kind of concept where we start out as small children and work our way through the age group that's at the school, then all the different possibilities as far as where people end up if they make the right choices."
Above the mural, there is a statement which says "Your future is created by what you do today." According to Schulz, this is meant to show students that the work they are doing now is the work that will affect their future endeavors as human beings.
The painting only took about a month to complete but has left Sanchez and Schulz permanently affected.
"I think it's just another sort of indicator or another good reminder that each student has a unique set of abilities or skills, and if you take a step back as a teacher and look at social-emotional learning and growth mindset, each student has something that's worth value," Schulz said. "If a teacher can tap into those unique sets of skills or personalization, then a lot of students can find success, not just in school but have a future mindset or future thought process."
Sanchez said he had similar thoughts about the project.
"Try new things even if you think it won't be that good,"  Sanchez said. "At first, I really didn't want to do it, but I was, like, this could be a really good experience for me."
Sanchez still meets with Schulz weekly as a mentor.
"Jay Sanchez has reinvigorated my passion as a teacher," Schulz said.
About the Contributor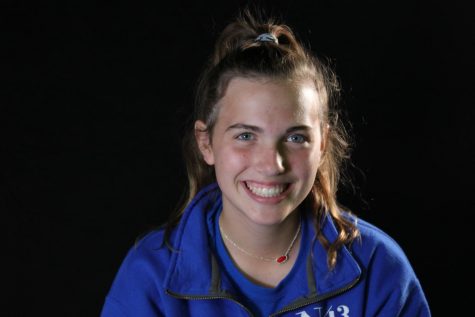 Izzy Dodge, Lance Staff Writer
Hi, my name is Izzy Dodge! I am a Staff Writer for Lance this year. I am currently a freshman and this is my first year on Lance. If you have any questions...