Westside Student Reflects On Central Theme Of Her Artwork
Senior Izzy Nahayo has been involved in pottery since she was a freshman at Westside High School, her original interest in the art program sparking in Middle School. Nahayo is currently in AP 3D Portfolio and said that her main goal throughout her art career is to create pottery that will get her message of diverse cultures out to people. 
"In 8th grade I took Mixed Media at [the Middle School]," Nahayo said. "I really enjoyed what we [did] in [that] class, so when I came [to the high school], I wanted an art class where we could put our hands on stuff."
Nahayo said she has been taking pottery every semester since she was a freshman, and that she has a strong passion for it.
"I really enjoy pottery, it's one of my favorite classes at Westside," Nahayo said. "The freedom to create whatever you want and the structure of creating projects every week…I really enjoy it."
Nahayo said she believes that it is important for people to know more about other cultures rather than just their own. 
"I'm trying to get African culture more 'out there', [so that] people to feel a connection with it," Nahayo said. "I feel like it's important for everyone to know [about] different cultures, so they can know more about other people. I want to be someone that gets the African culture out there through my artwork." 
Nahayo said that she chose to focus her art around African tribes due to her family history.
"[I choose to make artwork inspired by] African tribes because it reminds me of my dad, and what I come from," Nahayo said. "My life is so different from how his was…I'm very privileged and I don't do the stuff they do."
Art Instructor Erin Lunsford is Nahayo's AP 3D portfolio instructor. Lunsford said that she believes Nahayo's work has a unique style, one that she admires. 
"I can definitely see her influence coming through in her artwork," Lunsford said. "With nods [to] the African culture and artists she's referencing, and also her own style as an artist emerging."
Last school year, Nahayo said she was selected to win a Gold Key Scholastic Art award. Nahayo also said that she hopes her artwork is continued to be shown.
"I did an [award-winning piece] on African American architecture last year," Nahayo said. "This year I decided to continue doing something that I know I'm good at. I hope my artwork will [continue] getting displayed so that people can connect to it." 
According to Nahayo, digital arts is a subject of interest to her, but she is not sure if it is a definite career option for her.
"I would like to [pursue] art as a career, but I'm undecided right now," Nahayo said. "I think it'd be fun, but I'm not sure if I'm necessarily good enough to do it, [so] we'll see."
Similar to Nahayo, Lunsford said she believes Nahayo has the potential to pursue a career in art. 
"I always like it when students pursue a career in the visual arts," Lunsford said. "[With her potential], It's definitely something she can pursue."
Nahayo said that the piece she is currently working on displays the bonds between humans and animals.
"Right now I'm working [on a piece that shows]  the strong connection that humans have with animals," Nahayo said. "They're aware of all of the animals, they know how to avoid or control them, [but also] connected with them in a spiritual way as well."
Lunsford said that Nahayo sets the bar as a student, especially in the art classroom.
"She's an example of what students should do, she goes above and beyond," Lunsford said. "[She's] a perfect example of someone investigating a specific theme and excelling at it." 
About the Contributor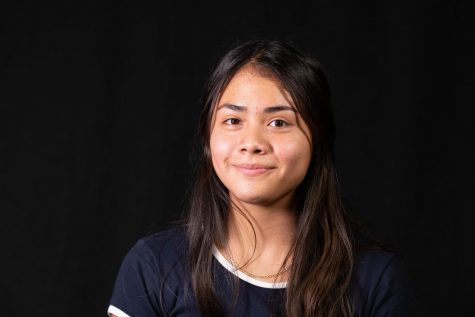 Anavela Santos, Wired Staff Writer
Hi my name is Anavela Santos! I am a staff writer for Westside Wired this year. I am currently a sophomore and this is my first year on Wired. If you have...