Student Reflects On Year Long Exchange Program In Germany
When Junior Laila Seran was a freshman, she discovered the Rotary Exchange Program that would allow her to study abroad in Germany. Later that year, Seran was accepted into the program. On August 13, 2018, Seran left home to experience Germany's culture and language. 
"[I wanted to study abroad because] my grandma is from Germany [and] I wanted to learn more about my culture and background," Seran said. "When I applied I was 14, so [my parents] didn't think I'd get in."
Seran's mother, Robin Seran, had many different emotions about her daughter traveling to another country.
"I had mixed feelings regarding Laila going to Germany," Robin Seran said. "I was excited and envious of all the travel and experiences she would have but I was nervous because she was a little bit out of my control, meaning I had to rely on other parents to watch over her." 
In order to prevent homesickness, Robin Seran said the program did not allow her to contact Laila during the first three months of her stay in Germany. 
"There was a rule where we couldn't have contact for the first three months to help with any type of homesickness," Robin Seran said. "So during those first three months, we weren't able to contact her, and I was grateful that we had an exchange student to help keep my mind off of Laila."
Laila Seran said that arriving in a foreign country initially came with multiple challenges but improved as the school year began.
"When I first arrived it was kind of stressful because I knew little German, and I was jetlagged,"  Laila Seran said. "It was a little tough but after the first month it got a lot better [because] by the time I started school, I started making more friends."
Laila Seran said her classmates in Germany were very welcoming. 
"At first [my classmates were] kind of closed off but once [I got] to know them, they were really funny [and] nice," Laila Seran said. "They showed me a lot of places [in Germany and] took me to some of the big cities near me [which] was pretty fun."
Laila Seran said that she initially did not know much about German culture and traditions but her host families helped her learn about them. 
"[My host families] were super nice and really accepting," Laila Seran said. "[For example], if I didn't get something or know something, they were totally fine with it and explained everything I didn't know. [They] helped me learn a lot."
Laila Seran said she was happy to be able to visit her relatives that live in Germany.
"[My] host family took me down to Bayern, which is the lower part of Germany, to visit my aunt that lives there," Laila Seran said. "So I was really happy about that."
Laila Seran said she thinks German culture is not too different from American culture. 
"I didn't think the cultural differences were as big as I thought they [would be]," Laila Seran said. "Family dynamics were similar, you help around the house, you clean your room, you eat together. It was pretty easy to adjust."
Laila Seran said that her favorite part of the experience was the Europe tour with the other foreign exchange students in the program. 
"My group went around Europe together for three weeks; that was probably my favorite [part]," Laila Seran said. "With the organization I went with, there [are] people from all over the world, so [now] I have friends from South Korea, Taiwan, Brazil, South America, everywhere."
Laila Seran said that while she was in Germany, her friends planned a surprise birthday party for her to help with her being homesick that day.
"On my birthday I was kind of feeling homesick since I didn't have my family there to celebrate with me," Laila Seran said. "Some of my friends texted me to come to Hannover, which is like the next biggest city [in Germany]. I just thought I'd go hang out with a few friends…[but] they ended up actually throwing me a surprise birthday party with 70 other exchange students. It just made me feel at home."
Laila Seran said she is planning on visiting Germany next summer.
"I have a lot of friends there so I'm going to go back and visit them," Laila Seran said. "I'm also just going to go around Germany sightseeing."
Laila Seran said that her trip to Germany was an amazing experience filled with many emotions.
"[Germany] was a rollercoaster of emotions," Laila Seran said. "I was happy a lot but I was [also] homesick a lot, too."
Having stayed there for a year, Laila Seran said that it was hard to leave the life she made there.
"My feelings coming home [were] pretty sad because I just spent the year making a new life and new family, [Germany] was like my home," Laila Seran said. "I was leaving home, to come home."
About the Contributor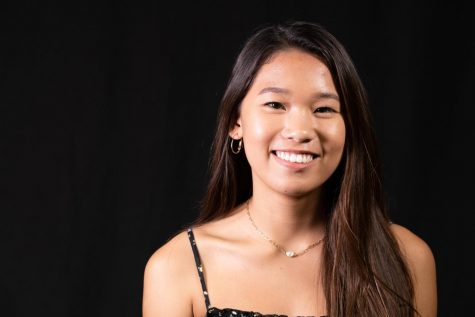 Olivia Villotta, Wired Staff Writer
Hi my name is Olivia Villotta! I am a staff writer for Westside Wired this year. I am currently a sophomore and this is my first year on Wired. If you...