Girls Varsity Basketball Assistant Coach Resigns After Seven Years
Hang on for a minute...we're trying to find some more stories you might like.
After seven years of coaching the Westside Girls Varsity Basketball team, Assistant Coach Kalen Carlson has decided to resign from her position. Carlson announced her resignation on Twitter on Saturday, August 24.
"I have decided to step away for now," Carlson said. "I have loved every minute that I have had the opportunity to coach for this program and have been so blessed to be able to be a part of two state championships and many other amazing moments. With a new role in my teaching career and other personal things, this was the right time for me to step away." 
Carlson said that her newfound responsibilities within Westside's DECA program are mostly why she resigned as a coach.
"Most of it was time since I'm taking over pretty much a lot of the responsibility of DECA this year, that's kind of like a whole other job itself," Carlson said. "I felt like it wouldn't be fair to give my 50 percent to everything."
Carlson has been in the Westside district for seven years now, the 2019-2020 school year being her first year at Westside High School. She previously taught at Westside Middle School as a Business and Technology teacher for seventh graders, and before that she taught at West Campus. 
"Teaching is what I'll probably do until I retire, that's my career," Carlson said. "Coaching was part of it, but coaching is something that you never know how long it'll last." 
Carlson said that she has been playing basketball since she was a student at Westside High School and that ever since she has been inspired to coach. 
"I played basketball in college and I loved it," Carlson said. "I also played basketball here at Westside and loved it. That is what made me want to start coaching." 
Carlson said that she will always stay involved with the team.
"I will probably still be at almost every game," Carlson said. "Whatever they need me to do, I'll be [there]." 
Carlson said that coaching basketball has made a large impact on her life. 
"Not coaching anymore makes me miss my players," Carlson said. "I thought things over for a long time. I have been coaching for the program for seven years now [and] have created a strong bond with it." 
Carlson believes her resignation was the right choice for her personally and it will positively impact her students as well. 
"It's a great program," Carlson said. "What Coach Clark, Coach Davis and all of the other coaches and what they're doing to the program is absolutely amazing. So it wasn't an easy decision at all, but it is was is best for me personally. I think it will be best for students, too, because I can give them more time as well." 
Carlson said that she believes coaching in the future is not out of the question for her.  
"There's always a possibility [for me to go back,]" Carlson said. "I'm still coaching a club [team] throughout the winter and summer. So I'm not never saying never but for this year, it just wasn't going to be. 
Senior Jasmine McGinnis-Taylor, has been playing with Carlson since she was in sixth grade.
"I've known [Carlson] since I was little," McGinnis-Taylor said. "She used to coach another team of mine." 
McGinnis-Taylor said that Carlson has helped her improve her basketball skills throughout the years. 
"She's really been there when we needed her, when we would go through hard times at practice," McGinnis-Taylor said. "She was always there at our practices, she never missed anything related to us."
McGinnis-Taylor said that she expects Carlson to keep in touch with their team and still be there for them.
"Hopefully she comes back one day," McGinnis-Taylor said. "I'll miss her funny jokes and her sarcasm, and her support that she gives will definitely be missed."
About the Contributor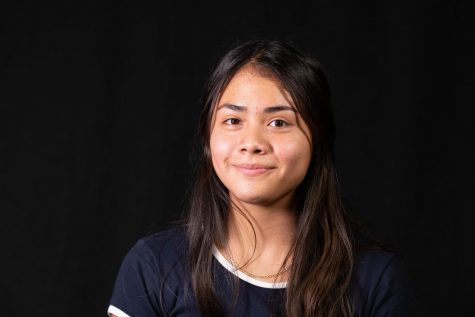 Anavela Santos, Wired Staff Writer
Hi my name is Anavela Santos! I am a staff writer for Westside Wired this year. I am currently a sophomore and this is my first year on Wired. If you have...