The Future of DECA
Three DECA sponsors will leave Westside for the 2019-2020 school year
This school year marketing instructor Sarah Schau and two of the other DECA advisors, business instructors Katie Harmon and Bryce Trout, all announced that they are leaving the Westside district, along with DECA. For over 30 years, Westside High School has had an involved DECA group that has grown more each year. DECA is an organization for marketing students. In this club, students learn skills that will benefit them in the future in the business world. In the past 11 years, Schau has seen Westside's DECA grow from eight student national qualifiers to 55.
There are currently four DECA sponsors. The fourth is Brad Metzler. Metzler is staying at Westside next year, while Trout is going to Millard South and Harmon is starting up her own business. Schau will be taking on a dean position at Bellevue West.
"I've had my [administrator's] degree for nine years, so I thought it was time to either move on or stay here forever," Schau said. "It was the hardest decision I ever made. It makes me sad but excited at the same time."
Schau and Harmon both had the opportunity to work with the former Westside DECA sponsor, Don Gilpin, for a few years before taking over the organization themselves. Most of the DECA sponsors witnessed how the club was run through student teaching.
"I was immediately amazed by all the opportunities that DECA gave students," Harmon said. "They really allowed students to take what they were learning inside a classroom and apply it to the real world outside. Seeing the connections that students made with local businesses and seeing kids compete at competitions and really push them to use what they're learning in a real-world setting has been great."
Junior Morgan Mumford joined DECA this year, and said she has already gained a lot from her experience. According to Mumford, DECA has been a way for her to step out of her comfort zone and try new things, like roleplay, in competitions. Mumford said she likes what they do in the club because it deals with real-world experiences. Over the past year, Mumford said she was able to develop relationships within DECA with students and teachers. Harmon was the one who encouraged and guided Mumford in her projects this year, and, from this, a relationship grew.
"Just through [DECA], I've been able to develop a relationship with her where I can contact her or talk to her during the day," Mumford said. "It just feels like a normal conversation. She is my teacher, but she is also an adult that doesn't seem like a teacher to me."
Mumford said she hopes to see DECA run the same way next year, even though most of the sponsors are leaving.
Talk between the marketing teachers and students has lead people to believe there will be a decrease in class numbers. In order to be part of DECA, one must take a marketing class, which is taught by the DECA sponsors. The sponsors are widely known around the school due to their teaching styles, so news that they were leaving caused some questions on what students will choose to do their junior and senior year. Harmon, Trout and Schau all said they haven't noticed a drop in numbers yet, but they don't know what is going to happen.
"I've heard students talk about not taking marketing next year, which I would hope they still do because it's a very beneficial class to them," Trout said. "I try to encourage them to keep taking it. The numbers might decline just because that's just what happens when sponsors leave."
Trout said that a drop in the club wouldn't be a bad thing either, because it would give the new sponsors room to grow and learn their own way around DECA. Although Trout's position will not be filled next year, Harmon's and Schau's positions will be.
A change in staff will allow for things to change in different ways. According to Schau, this could cause the number of students joining to decrease, but it's normal in this situation.
"It's just natural [for class groups] to drop," Schau said. "I think when any teacher leaves, the numbers will go down a little bit. It won't take too long for the new teacher to build their own program. I have faith that Westside DECA will be fine."
Taking Schau's place is current middle school instructor Kalen Carlson. Harmon's replacement is undecided so far. Carlson attended Westside as a student and was a member of DECA before becoming a teacher.
"Westside DECA is really lucky in the fact that we have Kalen Carlson coming to take over the chapter here at our school," Harmon said. "She experienced it as a student and when she student taught. Now, she gets to be in charge of it. She was in marketing and DECA with Don Gilpin, who taught Schau and [me] how to run the class. It's nice to see that there's someone who's experienced coming to take over."
As a group, DECA will still do a lot of the same things that they have been doing for many years. There will be competitions to participate in, such as Metro, state and Nationals. These events will always be a part of DECA. Any other activities, however will vary in type.
"We usually run an event at Metros and state," Trout said. "Then we will do community service type stuff, like last year we did Highway to Harvey to help hurricane victims down in Houston. I helped with that … We also have social events like going to the Bellevue Berry Farm, and we have a DECA Thanksgiving."
All these events will continue on into the 2019-2020 school year. The only thing that will change about Westside's DECA is the sponsors. The club will still stand for the same things and the marketing classes will be taught the same curriculum, according to Mumford.
"The teachers are leaving, but the club is still the same," Mumford said. "The teachers are a huge part of it, but the main principles of it and what we are doing are staying the same. We will still be doing all the activities. That part's not going to change."
About the Contributor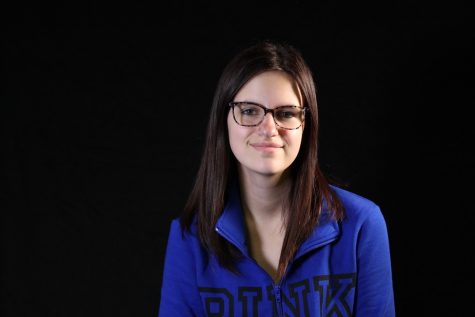 Angelina Pattavina, Lance Managing Editor
Hi, my name is Angelina Pattavina! I am a Managing Editor for Lance this year. I am currently a junior and this is my third year on Lance. If you have...