PREVIEW: Girls Soccer vs. Lincoln Pius X
Hang on for a minute...we're trying to find some more stories you might like.
The Westside Varsity Girls Soccer team finishes their regular season tonight going up against the unranked Lincoln Pius X Thunderbolts. The seven and six Warriors look to get some extra momentum going into Districts this next coming week after a teeter-totter sort of regular season for the team. The team bounced back from an opening day loss to number two ranked Marian by shutting down a strong Omaha Central offense lead by captain Payton Haliburton and then clobbering a struggling Burke squad ten to nothing. After that, the Warriors seemed to be on a sort of roller coaster throughout the rest of the season. With a tough schedule, the team never could quite bounce a top-ranked team, losing to fifth-ranked Lincoln East and sixth-ranked Papio South by narrow margins as well as losing a one to nothing game to undefeated Millard West. The unseasonable cold that started off the season also did seem to have an effect on the team as well as others.
"With both teams being inside for two weeks it's just really sloppy soccer. The teams are now just starting to get into a rhythm," Westside Coach Nathan Moseley said. "When you can't play on a full-size field, scrimmage and just get used to playing with each other and you're forced into smaller spaces and traveling back and forth and all of those things, it's really hard to gain any traction early on."
With the cold, the Warriors have also had one of the tougher schedules this season. All of the teams six losses have been against ranked teams. Even though the schedule has Warriors record in a place the team didn't originally hope for coach Moseley sees positives heading into the final game of the regular season.
"We're still figuring things out and we have the players that are capable of doing it it's just the matter of putting it all together," he said. "It all starts on the offensive side of the ball. If we're not winning and putting pressure on their defense then it's easy for their defense to push up and then we're losing out on the midfield and then our defense is under pressure the whole game."
The offensive woes have been the biggest struggle for the team this year especially with the loss of Senior forward Ryley Nolin due to a torn ACL early in the season and has been a concern for many players, including Senior forward Sylvia Fehr.
"We need to score some goals. We've had a lot of shutouts and we just haven't been able to finish in games," she said. "We had a few rough games but we're doing a lot better now. We just played Millard West who's the top team and only lost to them one to nothing so it's looking good for the rest of the season."
Even with this, the team's defense has seemed to hold strong throughout the entire season only allowing a 1.15 goal's against average and having the second largest goal differential amongst unranked teams(+25). The Warriors in order to win tonight and head into Districts with confidence need to show off their strong defense against Lincoln Pius' wishy-washy offense as well as putting pressure on the Thunderbolts defense early. This season for the Thunderbolts the team that scored first has won every single game. Getting pressure early in the team's defensive zone as well as staying clean and persistent on defense will give the Warriors the best chance at improving to eight and six.
About the Writer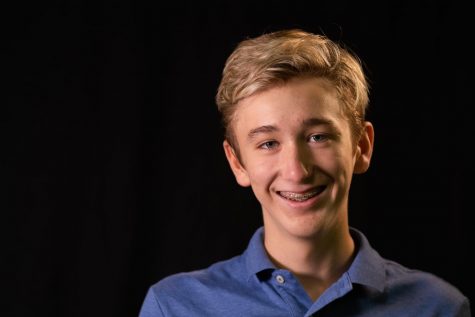 Jaden Taylor, Sports Journalism Staff Writer
Hi, my name is Jaden Taylor! I am a staff writer for Sports Journalism this year. I am currently a sophomore and this is my second year on Sports Journalism....