Student Sells and Crochets Dinosaurs
Some of the most successful business owners in the world start at a young age, and sophomore Grace Roberts is becoming a bit of an entrepe-saur herself. Roberts' current business is selling crochet dinosaurs for six dollars around school. As well as her interest in business, she also is in many clubs including Student Mentoring Program, Louder than a Bomb, and Skills USA.
Roberts attended a week long business camp this summer where there were a lot of motivational speakers and successful business owners that came in.
"At the business camp I got the idea that I should bring my dinosaurs in [to school] and sell them to people," Roberts said.
Roberts said she has been selling these dinosaurs for a couple weeks now but has been making them since the end of last year. It takes her about an hour and a half to crochet them and she then sews them into the shape of a dinosaur. She can make up to four dinosaurs with one ball of yarn.
"I chose to make dinosaurs because my friend was graduating and I didn't know what to make her," Roberts said. "I thought dinosaurs are cute and I know she likes cute things. My other friend was like make one for me too and I'll pay you so I just kept making them because they're simple and adorable."
Roberts also said that making the dinosaurs are a way for her  to relax and relieve stress. Different parts of the dinosaur are certain amount of stitches long. The head is 45 stitches and the legs are 36 stitches. When she gets to the neck, that's where she doesn't have to think.
"I like getting to the part where I can crochet and not have to think. I like when I don't need to do any counting," Roberts said. "Where I don't have to count [the stitches] on the neck because I can make it however long I want to give the dinosaur personality."
If you're looking for a fun gift to give to someone or something for yourself, Roberts will be selling her dinosaurs in either the Math IMC or the front of the school for six dollars.
About the Contributors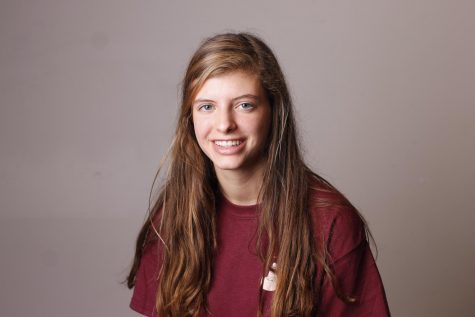 Lauren Kugler, Staff Writer
Hi my name is Lauren Kugler! I am a Staff Writer for Westside Wired this year. I am currently a sophomore and this is my second year on Wired. If you have...