Used Record Store Crawl
Hang on for a minute...we're trying to find some more stories you might like.
A huge trend in recent years would be the return of turntables and records. The popularity of record players has led to young people becoming interested in vinyl again. A store that provides records that are blasts from the past would be the small business Recycled Sounds. The shop specializes in used records at fair prices, which allows everyone to enjoy the fantastic quality of vinyl music. With the wide variety of albums, there is bound to be something for everyone.
Recycled Sounds has thousands of records, CDs, books, posters, and memorabilia. Walking in, you're greeted by tables lined with bins that contain albums from the sixties onward. Covering the walls are posters of iconic bands like the Grateful Dead and U2. Below the posters on the wall, are an abundance of CDs. With CDs fading out of popularity, Recycled Sounds has plenty to spare.
Walking past the broad selection of records, you will find there are more selective categories. There's blues, jazz, an international section, and a section devoted to weird cover art. There's even an assortment simply labeled; 'Women'
While shopping, you'll find that the staff is eager to talk about music, memories, and the store itself. The staff at Recycled Sounds is friendly and will help you find the right kind of music to fit your tastes. They also help explain the layout of the store, which can be overwhelming at first (tons of music, tiny space). While the utter lack of true organization and the tremendous amount of inventory is inconvenient, once you understand the lay of the land, you're all set to explore the variety of music.
If you're looking for a fun records store with extremely fair prices and unique finds, mosey on down to Recycled Sounds.
Recycled Sounds Basic Information:
Address: 322 N. 76th St. Omaha, NE
Phone: 402-991-6311
Facebook: recycledsoundsomaha
story by natalie gill, photos by emma rieser

About the Writer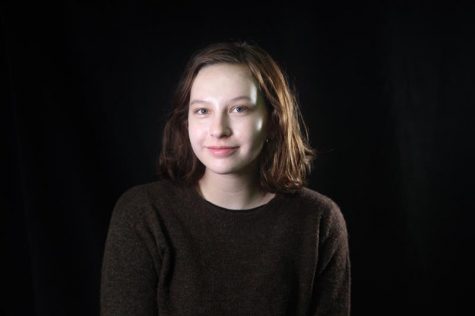 Natalie Gill, Apollo Managing Editor
Hi my name is Natalie Gill. I am the Managing Editor of Apollo. I am currently a junior and this is my third year in journalism and my first year on Apollo....